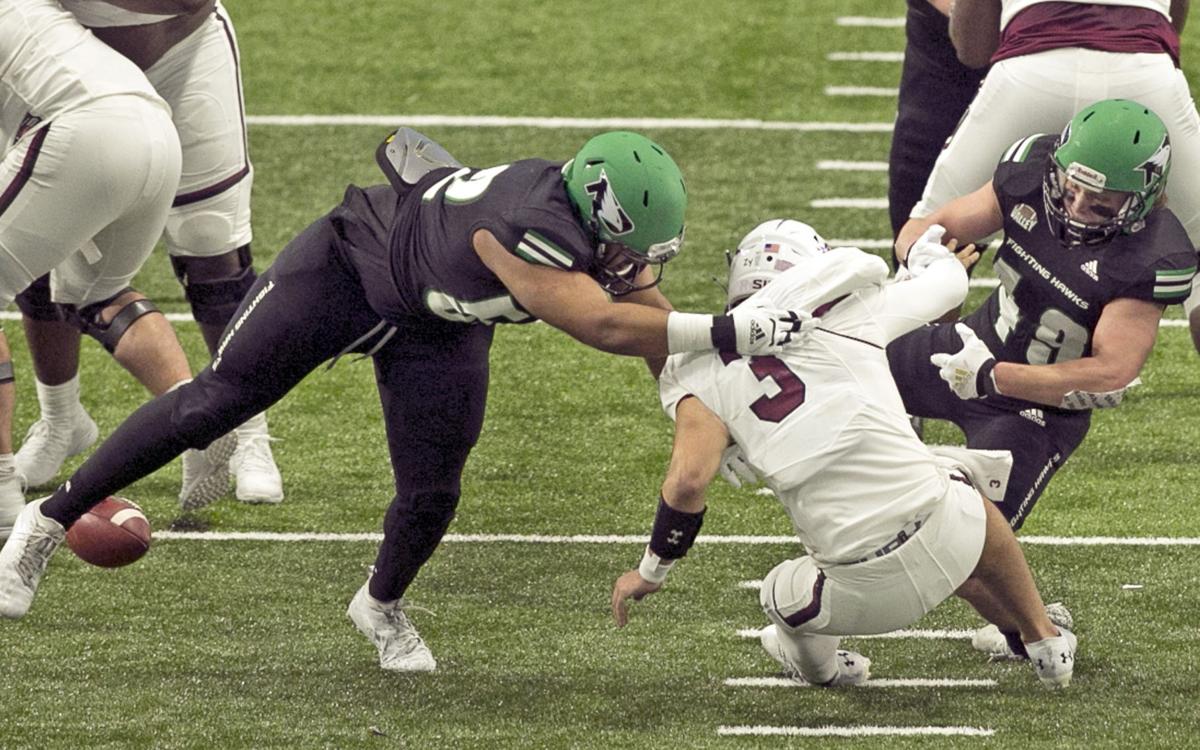 CARBONDALE — SIU may have to take on the top-ranked team in the FCS without its starting quarterback.
Senior Karé Lyles sustained a rib injury in the second quarter of Saturday's 44-21 loss at North Dakota, and is questionable going into this weekend's game against undefeated and No. 1 North Dakota State (2-0, 1-0 Missouri Valley Football Conference). Lyles was sacked from the blind side by cornerback C.J. Siegel at the Alerus Center in Grand Forks, North Dakota, and fumbled the football. It was returned for a touchdown, and Lyles did not return.
Nic Baker, who led SIU (1-1, 0-1) to two scoring drives in relief Saturday, will start if Lyles can't go, Salukis coach Nick Hill said at his weekly press conference Monday. Hill was scheduled to meet with his team's medical staff later Monday. The players were off Monday, but Lyles was able to get a workout in and was at his normally-scheduled meetings.
"He was moving around well at the meetings, but the day after you get off the plane, and you got a sore rib, you're not gonna feel real good," Hill said. "It's something players have to manage through. It's really up to the pain tolerance you can handle with a rib, so, we'll see."
Lyles completed 12 of 14 passes for 74 yards and the only touchdown pass for SIU, an 8-yard floater to running back Justin Strong on the opening drive of the game. Lyles lost two fumbles, the last one off the blind-side corner blitz. Baker completed 12 of 23 passes for 153 yards. He was intercepted twice, as the Salukis committed five turnovers in their first game since last fall's win over No. 25 Southeast Missouri State.
North Dakota (1-0, 1-0) scored 28 points off those five turnovers to win its first MVFC game.
The Bison beat Youngstown State and new coach Doug Phillips 25-7 Sunday in Fargo. Sophomore running back Kobe Johnson rushed for a career-high 114 yards and a touchdown. Redshirt freshman Jalen Bussey added 43 yards and two touchdowns for the Bison, who improved to 2-0 on the season with their 39th consecutive victory. 
Senior quarterback Zeb Noland, in for Trey Lance, the Walter Payton Award winner who went into the NFL draft, made his first NDSU start and went 9 of 18 passing for 74 yards. Eight players made catches for the Bison, with senior wide receiver Cole Jacob leading the way with four targets and three receptions for 28 yards.
NDSU leads the series against SIU 9-3, in a history that dates back to 1963. The Salukis have played the defending national champions tough, with a 10-point win in 2009 the biggest margin of victory for either team in the series. The Bison have won eight straight in the series, including 9-3 in 2011 and 21-7 in 2019 at Saluki Stadium.