CARBONDALE — Coaches are wearing face shields, masks or both, players are going from helmets to other coverings every moment outside of a drink of water, and the locker room that was built for 100-plus players is now divided into two meeting spaces.
Welcome to SIU football practice in 2020.
"Obviously, we're one of the first teams in the country to start training camp, college or pro. I think the guys have been really resilient, going back all the way to when spring ball was canceled," Saluki coach Nick Hill said in a teleconference with local media Saturday. "And there have been a lot of moving parts, but we're excited to get back together even though it's a little bit different going through this."
SIU completed its second practice of the fall Saturday morning amidst rainy conditions, Hill said. The team began preparing for the opener at Kansas Aug. 29 on Friday. The Salukis have banned the media and the public from viewing practices because of safety reasons.
In order to limit interactions with each other, which could limit the spread of the coronavirus if it found its way to Saluki Stadium, everyone on the field wears some kind of face guard. The offense now dresses in one of two outdoor tents set up outside the field, with the defense in the other one. The training room is now located in a tent in the middle, and the locker room inside the Banterra Center is now divided into two very large meeting spaces.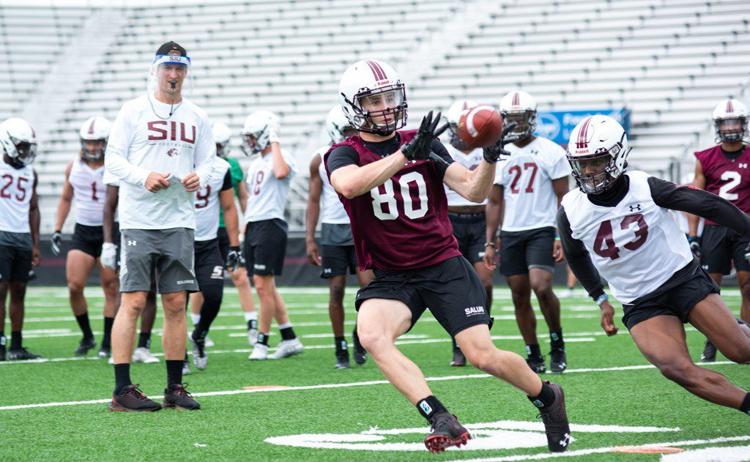 Some meetings still take place in the Salukis' team room, located right across the hall from the football offices, Hill said. That room seats approximately 120 people, and is used for meetings that involved between 10-15 people. The football team's largest meeting space is now the campus' second-biggest facility, the 8,284-seat basketball arena.
Cody Crider, an outside linebacker who was granted a sixth year of eligibility by the NCAA earlier this year, is trying to figure out where to go, how to get there, and trying to get back into football shape. COVID-19 shut down SIU's spring workouts just a few practices in and eliminated their normal summer strength and conditioning, which usually lasts eight weeks.
"We have been working out for three weeks," Crider said on a teleconference with local media, noting players were able to work out with the team's strength and conditioning staff before practice began. "We (came to campus earlier) than some other guys have. (Strength coach Meade Smith)'s done a good job of not rushing us or pushing us too hard. To get into football shape anyways, it don't matter how much conditioning you get. You're gonna have to play football to get into football shape, so that's what we're doin'."
After Sunday, Hill hoped the team could start to get past the logistics of practice and start focusing on actually practicing. The squad has done some 7-on-7 passing drills, but no team drills with 11-on-11, deciding to wait until the team's latest coronavirus test results come back. As of Friday, SIU's football team had zero positive tests.
"Everything is adjusted and moved around, but, like I told our team, once we get into Day 3 and Day 4 on this, it's gonna seem normal, and everybody understands where to go and where to be," Hill said.
Be the first to know
Get local news delivered to your inbox!