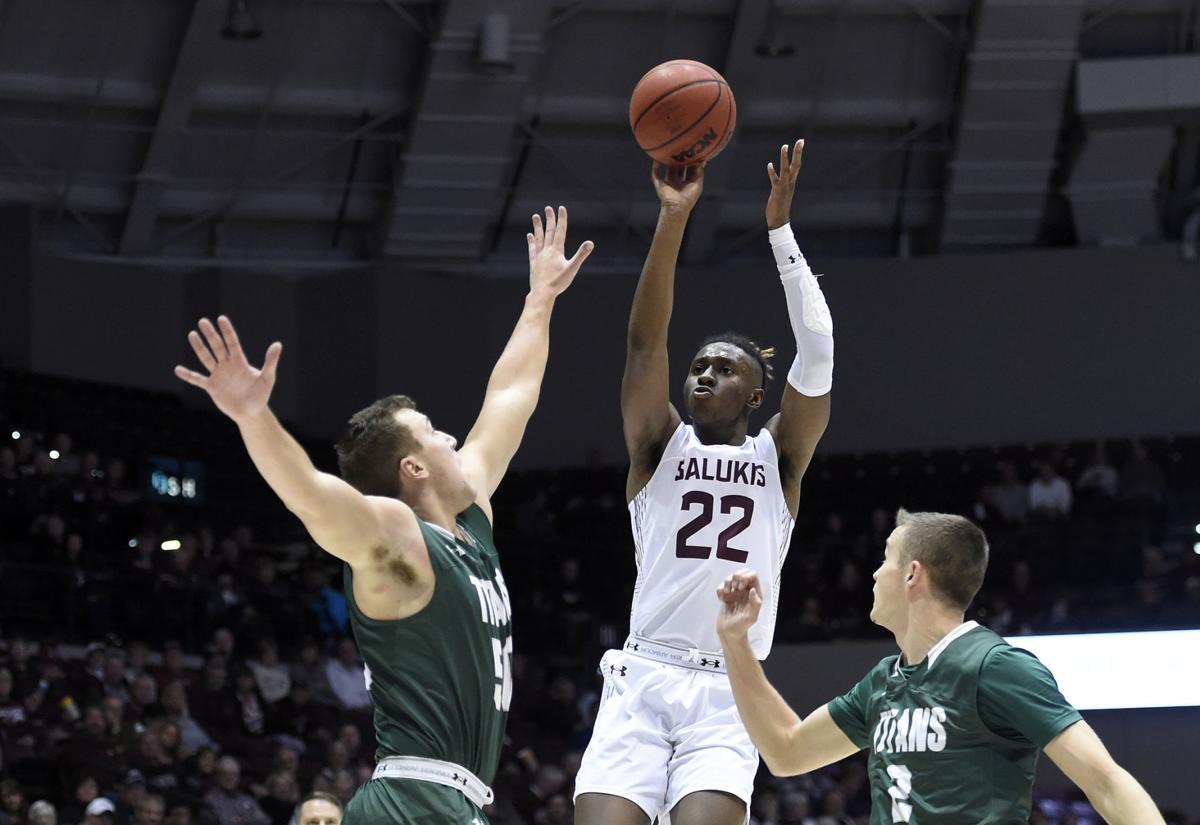 CARBONDALE — Harwin Francois was supposed to help SIU at the offensive end, too, but the 6-foot-4 sophomore guard's defense is the main reason he's averaging nearly 19 minutes a game through eight games.
Francois, a first team all-conference pick in his one year at Daytona (Florida) State College, was one of the most efficient shooters in the NJCAA. With teams focusing on power forward Khadim Sy, the Mid-Florida Conference Player of the Year that signed with Ole Miss, and two other high-major recruits, Francois got a lot of open looks, and knocked them down at the rate of 47.8% from the 3-point line. He shot 48.9% from the field for a 25-7 Falcons squad that finished 21st in the final poll of the season.
Through eight games with the Salukis (3-5), Francois has 27 points, nine field goals, all 3s, 12 rebounds and three assists. He's started four games because his length and active hands have helped SIU lead the Missouri Valley Conference in field goal percentage defense.
Opponents are shooting 39.5% against SIU entering today's game against Norfolk State (3-6).
"He has helped us a lot in different games. My challenge to Harwin is always to impact the game in other ways than just shooting," SIU coach Bryan Mullins said. "He can be a very good defender. He can be a very good rebounder for us. He has to have that mindset every single game. He's capable of doing that. That's why we loved him. That's what I recruited him out of junior college. He competed on every single possession."
Daytona State was 10th in the country in field goal percentage defense (opponents shot 39.2% against them) and 45th in scoring defense. Opponents averaged 72 points a game against the Falcons, who were in the same regional as former No. 1 Florida Southwestern State, No. 8 Northwest Florida State, No. 9 Chipola and No. 18 Eastern Florida State. All four schools won 27 or more games.
You have free articles remaining.
With guys like Aaron Cook, Eric McGill, Ronnie Suggs and Lance Jones driving the ball to the rim, Francois has been able to hang out on the perimeter and wait for the catch-and-shoot chest pass. He is just 9 of 25 from the 3-point line this season (36%), with more opportunities coming, and has been frustrated with his start.
"It has been, but the coaches have been talking to me and telling me to keep my head up and let the game come to me," Francois said. "Don't try to force anything."
Francois knows how to be more than a shooter on the floor. He was his JUCO team's third-leading rebounder and averaged 20 points, seven rebounds, 3.5 assists and two steals per game as a senior at Cape Coral High School. Francois helped Cape Coral reach its first state semifinal, where it finished 24-7.
Things started to fall for Francois against San Francisco, the best team the Salukis have played so far this season. Francois hit 2 of 3, all from deep, and followed it up with a 3-of-5 performance against Murray State from behind the 3-point line. Before playing Saint Louis, he was 8 of his last 11, but missed both of his 3-point attempts against the Billikens on Sunday in 16 minutes.
"We get it down to (center) Barret (Benson), everybody's going to be trying to dig, so we're going to have outside shooters," Francois said. "We're still growing, offensively, and we're working every day on that. We're trying to figure it out."
SIU will try to get back on the winning track against the Spartans at the Banterra Center, where it's 2-1 this season. The Salukis beat the preseason favorite from the Mid-Eastern Athletic Conference, North Carolina Central, by 16 points Nov. 26. Norfolk State was picked tied for third in the MEAC preseason poll and has dropped five straight games. The Spartans have not beaten a Division I team this season and lost to Division II Caldwell Nov. 26 at a tournament in Monmouth, New Jersey, 64-54. They came back the next night and challenged the host school, but fell 75-71.
The Salukis and Spartans have never met on the court. SIU is a combined 4-1 against current members of the MEAC.