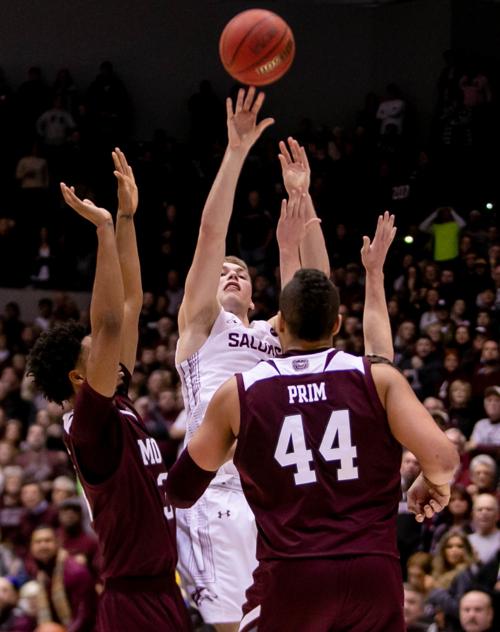 CARBONDALE — Three months ago, SIU's men's basketball team found itself down two against Delaware with about six seconds to go.
With the ball at the other end of the court, coach Bryan Mullins drew up a play to try to either get a quick two or a game-winning 3-pointer. When freshman guard Trent Brown's first inbounds pass was tipped up in the air, taking about two seconds off the clock, and his second was deflected out of bounds near midcourt, he had to scrap it. The Salukis tried to find seniors Aaron Cook and Eric McGill, but had to settle for a hard pass to center Barret Benson on the left wing with 0.9 seconds on the clock. Benson's desperation 3-pointer fell short, and SIU fell 56-54 at the Sunshine Slam in Florida.
Saturday night against Missouri State, with his team tied up at 66 with 1.6 seconds to go, Mullins pulled another play out of his pocket. One the Salukis worked on every week since last October, and reviewed at every pregame shootaround.
"We go over that play every single shootaround, late-game situations, and they executed it exactly how we do it every single game for the past 26 games, the day of the game," Mullins said.
Ronnie Suggs took the basketball from the official behind the far baseline with 1.6 seconds to play, with a 6-foot-8 jumping jack named Tulio Da Silva about two steps in front of him. Eric McGill and Marcus Domask lined up near the left side of the 3-point line, and as soon as McGill ran to the right to join Benson and point guard Lance Jones, Domask started posting up Josh Hall. Suggs, a lefty who'd thrown a few hundred of those three-quarter-court passes, lobbed it over Da Silva, where the 6-6 Domask caught it, dribbled once to his left, and drew a crowd.
With 6-4 Ross Owens in front of him and the 6-7 Hall on his right, Domask rose up, fired from about 18 feet out, and sent more than 6,500 fans at the Banterra Center into delirium. Salukis 68, Bears 66.
"We work on late-game situations all the time, and that was why," Domask said. "Ronnie threw a great pass. I had to seal my guy off, and then I caught it, and coach told me I could have one dribble, so I took the dribble. I thought I was going to cover a lot more ground, but they had a lot of defenders right there, so I just rose up, and it went in."
You have free articles remaining.
Owens was still standing just inside the 3-point line, with his hands up, when Domask hopped all the way down to the other end to celebrate with his teammates and the fans that nearly saw the end of SIU's nine-game homecourt winning streak. Da Silva, last season's Missouri Valley Conference Newcomer of the Year, put Missouri State (11-14, 5-7 MVC) up 66-65 with 39.4 seconds to go. He missed the free throw, but the Bears weren't done.
Domask tied the game at 66 with the first of two free throws, but after Bears coach Dana Ford called timeout, he missed the second. Keandre Cook missed a 3, but Ja'Monta Black grabbed the offensive rebound with six seconds left. Missouri State found Black all alone on the left wing for a 3, but the freshman guard missed it, and SIU's Barret Benson came up with the rebound on his back and called timeout with 1.6 seconds to go.
Then, Suggs, Domask, and a little Banterra Center magic took over.
"When I put up the ball, I felt like it had a chance," said Domask, who was named MVC newcomer of the week for the third time this season on Monday. "To turn around and see the crowd, if you could just have that vision that I had when I turned around and saw the crowd go crazy, it's just unbelievable."
SIU (15-10, 9-3) captured its seventh straight win, its longest since its last NCAA Tournament season (2006-07), and won its 10th straight game at home. The Salukis, who were picked last in the preseason poll and have 11 newcomers, stayed a game back of Northern Iowa (21-3, 10-2) in the standings with six games left.
Cheerleader OK after fainting
An SIU cheerleader who fainted after Domask's game-winning shot was treated at the Banterra Center on Saturday night by Saluki athletic trainers and EMTs, and was expected to make a full recovery, according to an SIU official.
The cheerleader was placed on a stretcher at the far end of the court as game officials looked at the replay monitors to make sure Domask's shot counted, and if there was any time left on the clock. She was wheeled off the court with a towel over her face, and taken near the teams' locker rooms.