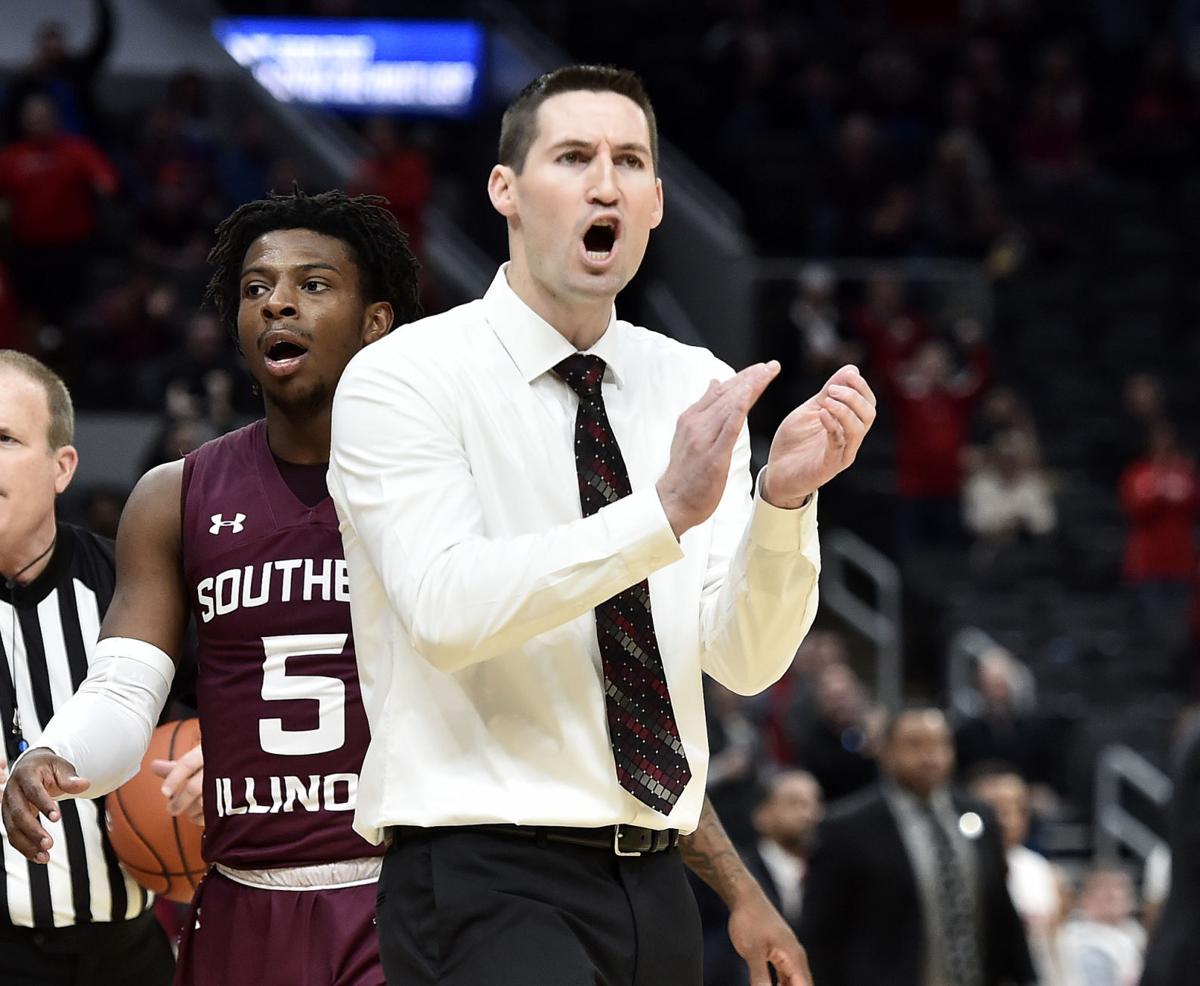 CARBONDALE — The SIU men's basketball team will play in the Louisville bubble event that is scheduled for Thanksgiving weekend, coach Bryan Mullins told season ticket holders in a special Zoom call Wednesday night, according to a tweet from voice of the Salukis Mike Reis.
Mullins told The Southern Illinoisan Monday he had not signed to play in the event yet. The Salukis agreed to play Tulsa on Nov. 28 earlier this year, but Mullins said after the Golden Hurricane committed to a multi-team event (MTE), namely the four-team CBE Hall of Fame Classic in Kansas City, Missouri, they will likely push that game to the 2021-22 season. The Louisville event, which will feature eight teams, according to the Louisville Courier-Journal, is scheduled to take place at the Yum! Center beginning Nov. 25, the day before Thanksgiving. It is not clear how many games SIU would get.
The Louisville event will feature Duquesne, Little Rock, Prairie View A&M from Texas, UNC-Greensboro, Western Kentucky, Winthrop and the Cardinals, who went 24-7 last season, according to the Louisville Courier-Journal. SIU would be the eighth team to commit to the event if it signs. Winthrop (24 wins), UNC-Greensboro (23), Duquesne (21), Little Rock (21) and Western Kentucky (20) all won 20 games or more last season, and Prairie View A&M, which has won the last two SWAC championships, went 19-13 last season. The Salukis finished 16-16 in Mullins' first season, return two starters, and have eight newcomers, nine if you include sitout Ben Harvey.
SIU has to play at least 13 games to be eligible for the NCAA Tournament, but should be able to get there easily just off its 18-game Missouri Valley Conference slate. The Salukis may be in search of those games in Louisville, as Saint Louis hasn't agreed to a date for this season, and they could lose the scheduled road game at San Francisco and the home game against Eastern Washington because they involve cross-country flights. SIU's other games are at Southeast Missouri State on Dec. 2, under an hour away from Carbondale, a home game against Southern Mississippi, which is located within driving distance, and a home game against Murray State. 
SIU's four-team event in Puerto Rico was canceled in September. The Salukis began practicing for the 2020-21 season Wednesday.
NCAA Tournament returning to St. Louis
The Enterprise Center in St. Louis will host first and second-round games for the 2026 NCAA Tournament, the association announced Wednesday. The games, hosted by the MVC, will be Friday and Sunday, March 20 and 22, 2026. Ticket information will be announced later. Des Moines was awarded men's basketball first and second-round games in 2023 at Wells Fargo Center, with Drake as the host.
The home of the MVC men's basketball tournament was supposed to host a regional this year before COVID-19 canceled the NCAA Tournament. The 2026 event will be the 19th NCAA basketball event in St. Louis and the 17th men's event. The Gateway City hosted the 2001 and 2009 Women's Final Fours at the Enterprise Center and the men's Final Four at the old Edward Jones Dome in 2005. 
The MVC has also hosted a men's basketball regional in Kansas City and assisted with men's tournament games in Omaha in 2008 and 2012, when Creighton was still in the league.
The University of Dayton will continue to host the NCAA First Four through at least 2026, the association announced. It has served as the start of the Division I men's tournament since 2001. The Division I women's basketball tournament will undergo a format change beginning in 2023, with regional play at two sites a year. Eight teams will play at each site. 
Other regional championship hosts
2023 — Division II men's and women's cross country regionals, Evansville, Ind., Angel Mounds
2023 — Division II women's golf championship, Eureka, Mo., Fox Run Golf Club
2024 — Division I men's ice hockey regional, Maryland Heights, Mo., Centene Community Ice Center
2025 — Division I men's ice hockey championship, St. Louis, Enterprise Center
2025 — Division II men's basketball Elite Eight, Evansville, Ind., Ford Center
2026 — Division II men's and women's swimming and diving championship, Evansville, Ind., Deaconess Aquatic Center
Be the first to know
Get local news delivered to your inbox!