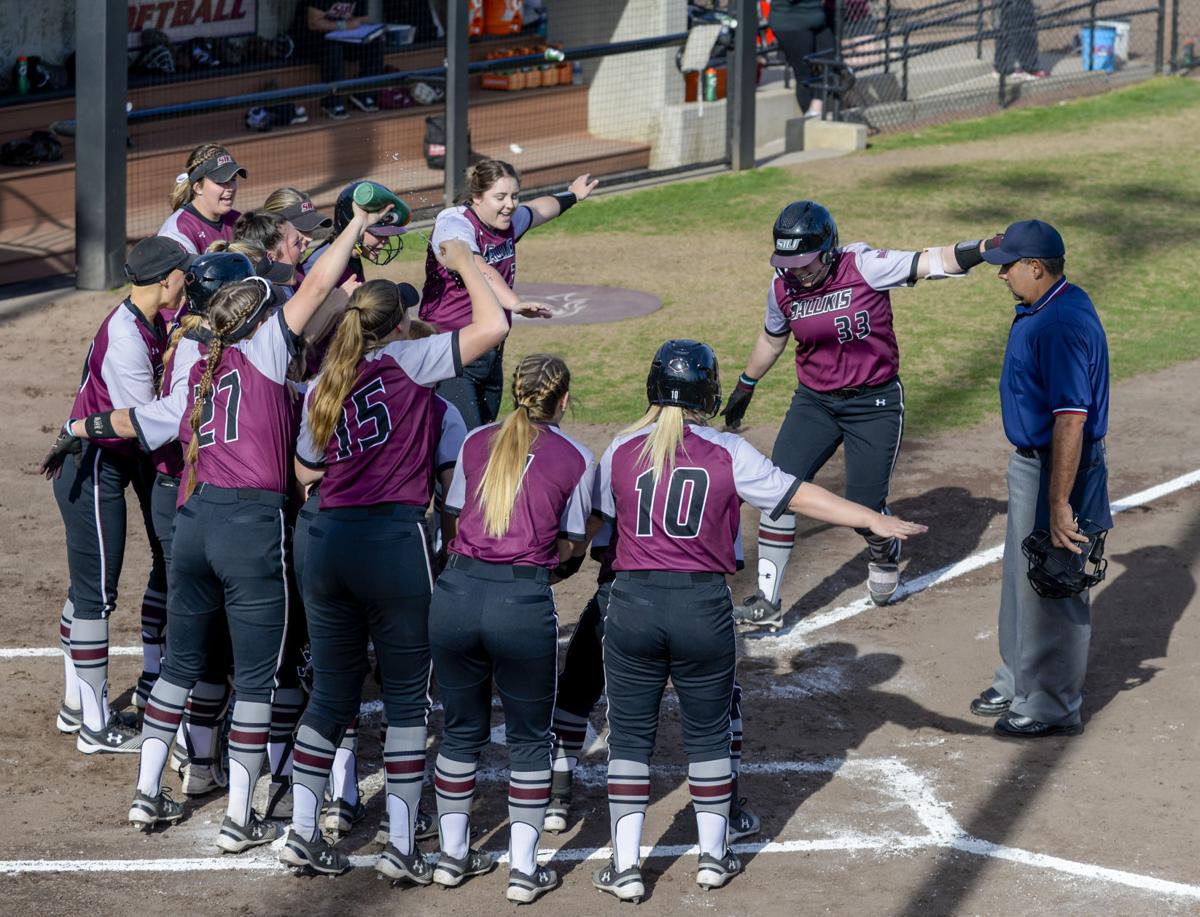 CARBONDALE — The SIU softball program added five student-athletes for the 2022 season Wednesday morning, the first day of the NCAA's early signing period. They are expected to officially join the team next fall.
Outfielder/first baseman Addi Baker (North Manchester, Indiana), outfielder Emma Austin (Brookport), pitcher/designated player Alexis Rudd (Greenwood, Indiana), utility player Reagan McGahey (Charleston) and outfielder/second baseman Chloe Scroggins (Danvers) signed with the Salukis. 
A senior at nearby Massac County High School, Austin was named to the Southern Illinois River-to-River all-conference team after a sophomore season in which she slashed .434/.456/.606 with 12 extra-base hits and a team-best 18 stolen bases. She recorded at least one hit in 21 of the Lady Patriots' 25 games as a sophomore, which included multiple hits in 13 games. On the travel ball circuit, Austin plays for Illinois Force, the same travel team as current Salukis Tori Schullian, Sarah Harness and Danyelle Eilers.
Austin led her travel team in batting average, hits, runs and stolen bases during the 2020 season.
"Emma is no doubt one of the premier recruits out of the Southern Illinois area in her class," SIU coach Kerri Blaylock said in a news release. "She is a fierce competitor and pound for pound one of the strongest and fastest players that will ever suit up in a Saluki uniform. Emma was a player we identified very young and wanted to make sure she stayed home here at SIU."
Baker earned all-conference honors in three different sports, including back-to-back seasons in softball. The Wabash County Player of the Year in 2019, she hit .606 with a 1.279 slugging percentage as a sophomore. Baker helped her travel ball team, Indiana Magic Gold, to third-place showings at the Premier Girls Fastpitch Nationals in 2017 and 2019. She also starred for Northfield's volleyball and basketball teams, hitting over 1,000 kills and averaging 11 points and seven rebounds a game on the hardcourt. Baker is also a three-time academic all-conference honoree.
McGahey burst onto the scene as a freshman, hitting .523 with 13 home runs, 14 doubles and eight triples for a Charleston High School squad that won its first-ever Apollo Conference title. The Lady Trojans won 27 games that year, the most in school history. McGahey came back and batted .566 as a sophomore with seven homers, nine doubles and six triples with 39 RBIs. A two-time all-area selection and all-conference selection, she plays travel ball for Premier Fastpitch, the same team as fellow signee Chloe Scroggins.
Rudd helped Center Grove High School win its first state title since 2015 as a sophomore. She went 5-0 in the circle in six starts with a 2.59 ERA and 43 strikeouts. Rudd hit .376 with 11 doubles and 16 RBIs. Rudd will be the second member of her family to play Division I softball. Her older sister, Jordyn, is a junior at Northwestern.
Scroggins, an outfielder/second baseman from Danvers, batted .432 as Olympia High School's leadoff hitter in 2019 with a team-high 52 hits, 12 doubles and a .482 on-base percentage. The Spartans advanced to the state tournament for the first time since 2009 in Class 2A. A four-sport athlete, Scroggins also competed in volleyball, basketball and swimming. 
Vaughan inks with women's golf
Kylee Vaughan, the 2019 Southern Illinoisan Girls Golfer of the Year, signed with the SIU women's golf program on Wednesday.
Vaughan finished sixth at the Class 1A state tournament in 2019 and ended the shortened 2020 season with a sixth-place finish at the Class 1A Salem Sectional. She was 18th at the state tournament as a freshman and finished 12th as a sophomore. Vaughan burst onto the scene as a junior, winning every 18-hole competition she played in other than the state tournament. She won the Massac County Invitational, Marion Invitational, the Black Diamond Conference meet, and her regional and sectional. 
Vaughan will join a Saluki squad with a local flavor. Three other locals currently compete for SIU, junior Ryleigh Vaughn of Carbondale, sophomore Amelia Lawson from Massac County High School and sophomore Megan Breslin of Pinckneyville. The Salukis played two fall tournaments this year, finishing third out of 11 teams at the Hoover (Alabama) Invitational and eighth out of 15 teams at the Lady Red Wolves Classic in Arkansas. SIU's next scheduled event is next February in Corpus Christi, Texas, at the Islander Classic.