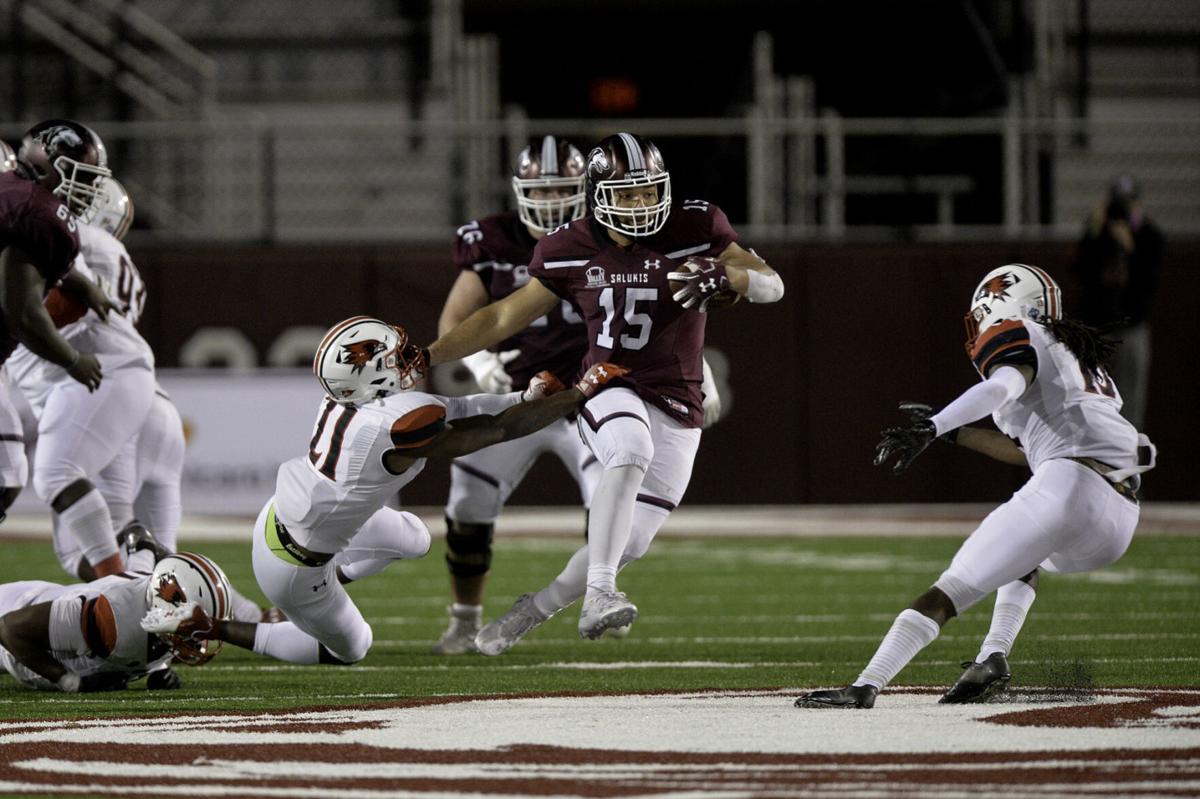 Last year was particularly difficult for our local high school athletes, having the rug pulled out from under them by COVID-19, but SIU's athletic department also struggled through a horrid 2020.
The Salukis weren't without high points - Jeremy Chinn getting drafted and nabbing over 100 tackles for the Carolina Panthers, the football team's win over Southeast Missouri State, baseball and softball ending the season on winning streaks - but the lost ticket revenue hurt. SIU still hasn't replaced men's golf coach Justin Fetcho, and I'm not saying they should right now, there is only one senior on the eight-man roster and he could return next fall, and it's been hard to connect with donors through video.
The horizon is approaching for a busy 2021, including the most packed spring we'll ever see if all the sports get off the ground. Volleyball is less than two weeks away from its first match of the spring 2021 season, track and field and swimming and diving aren't far behind, and the men's golf unveiled its spring schedule Friday. The football team will start practicing before the end of this month, in hope of playing eight conference games beginning in frigid February. Thank you, Lord, for the Saluki Stadium press box. How will they fare? Will the men's basketball team snap a 13-year postseason drought?
Here are three more burning questions for 2021:
No. 1 — How do the Salukis get back on track?
Well, after this weekend's series got postponed, first the men's basketball team has to get healthy, and back in shape. Then it's a matter of getting back to the defensive mindset that helped it go 16-16 last season. This year's team has to play harder on defense, plain and simple, and find some help for forward Marcus Domask.
Domask, a 6-foot-6 sophomore, is leading the team in scoring (14.3 points per game), assists (14), and is tied for the lead in rebounding (3.8 per game) and 3-pointers (seven) during conference play.
"He's played well and knows he's going to be at the top of the other team's scouting report," SIU coach Bryan Mullins said. "This past series, he got good shots. Drake didn't really double-team him; they played him straight-up. He was able to get some good looks. He missed some 3's the second game and missed some layups the first game. I think he got to his spots where he wanted to go. He has to continue to play with a ton of confidence."
No. 2 — How will Jarnigan get her department through 2021?
This year doesn't just present SIU athletic director Liz Jarnigan with financial problems. It presents a lot of logistical problems, in terms of staffing. Right now, there is one stretch during the spring that the Salukis are scheduled to host more than 130 events in 150 days.
Beyond her staff, Jarnigan is concerned about the more than 300 student-athletes' mental health as they'll likely have to stop and start their way through the season.
"Are we practicing? Are we not practicing? The start and the stops, you're practicing, you're quarantining, your isolating, you're back to practicing, you're competing," Jarnigan said. "The game's canceled. All of that. The mental strain that has put on everyone, and particularly the student-athletes, has not been lost on me, and, so, working hard to care for the mental well-being of our student-athletes is important. I think about the financial health of our department, and realizing that we've got such difficult days ahead to sort through our financial situation, and the impact COVID has had."
No. 3 — Will you get to see the Salukis this year?
On television, yes. On the internet, through ESPN+ or ESPN3, yes. In person? Probably not until the summer, or the fall of the 2021-22 school year. Things are just not progressing in Illinois as quickly as I, and so many others, had hoped.
High school coaches, players and administrators can complain all they want about not being able to play high school sports, and I, too, feel like they should get an opportunity this spring, but no one is going to play without Gov. J.B. Pritzker's permission. He sees it as a health risk he's not willing to take. That extends to college sports, and until those policies change, SIU can't open up the Banterra Center for 25% capacity, or Saluki Stadium for more than players' family members.
For basketball, 25% capacity is not unreasonable, but there's no way Illinois goes from not playing, and not practicing, to going full-go in February. Hopefully we can get fans back for some outdoor summer sports, the high school and college football seasons, and next fall's events.
TODD HEFFERMAN covers SIU Athletics for The Southern Illinoisan. Contact him at todd.hefferman@thesouthern.com, 618-351-5087 or on Twitter at @THefferman.