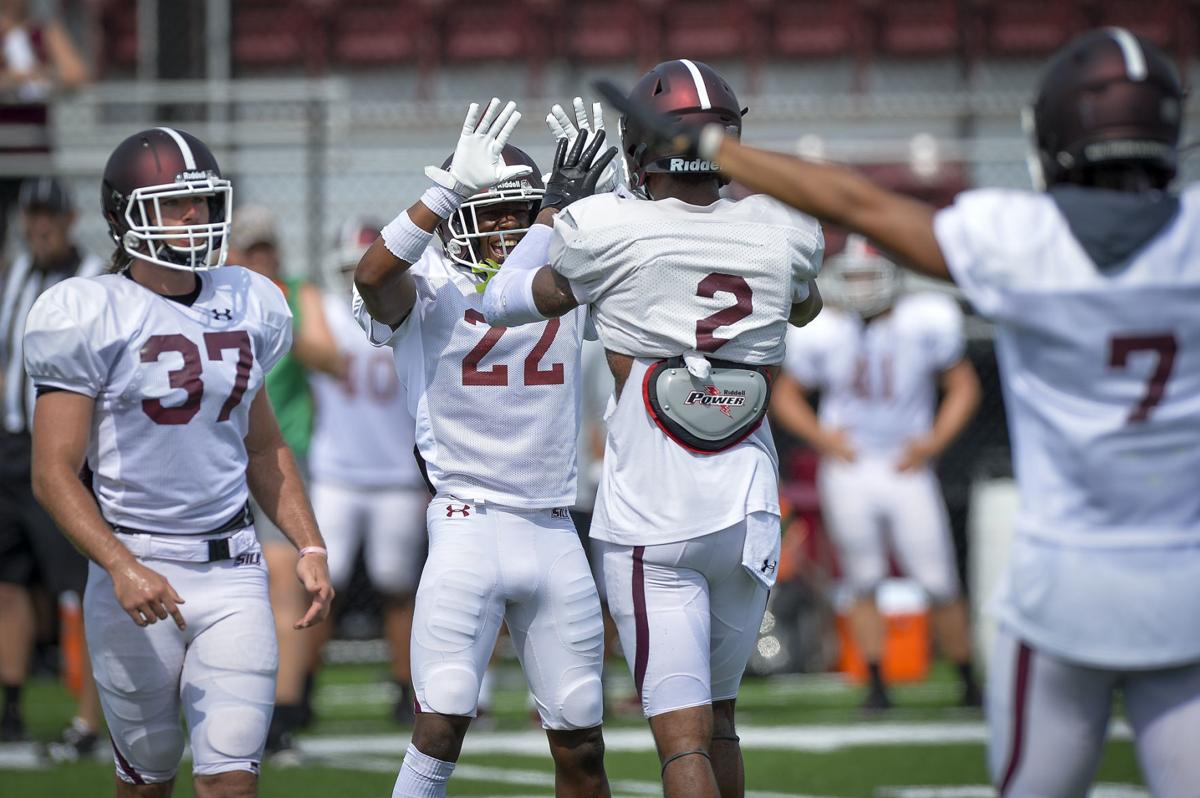 Tre' Strong is enjoying the trees and the green grass of the Midwest, but he's really got his eyes on something else in Carbondale.
A transfer from Utah, Strong (he is not related to SIU safety Justin Strong and linebacker Bryson Strong) played in nine games for the 17th-ranked Utes last season. Most of that was on special teams for the 9-5 squad. Now in his fifth and final collegiate season, the 6-foot-1, 195-pound cornerback is trying to unseat seniors Tory Lewis and/or Madre Harper for a starting spot at Saluki football camp.
"Being a fifth-year transfer, I've got one year left, and I just wanted to show them that I can make plays," Strong said. "Inside, outside. No matter what time of the game it is, I'm gonna make plays. I'm gonna go out there and compete to the best of my ability for my team. I've tried to do that every day. Work hard, run to the ball, the little things just to be a champion."
Lewis, another fifth-year senior, started six games before a season-ending injury last year. Harper, a fourth-year senior who came to the Salukis from Oklahoma State last year, had 46 tackles in 10 games. Harper started five of the final seven games, but when you allow a school-record 40.7 points per game, nothing is set in stone.
You have free articles remaining.
SIU coach Nick Hill brought in several new cornerbacks this season to go with three freshmen, including Strong and two junior college transfers. Jonathan Thompson, a 6-foot, 177-pound junior from Atlanta, had 27 tackles, one interception, one forced fumble and two pass breakups in seven games last season for Highland Community College. Christian Maddox, a 6-2, 192-pound junior from Pima (Arizona) Community College, had 36.0 tackles, two interceptions and 2.5 tackles for loss last year. 
Strong made a big impression with a diving interception of a Karé Lyles pass in the end zone during SIU's first fall scrimmage last week. He started 12 games in two years at Montana State and grabbed a combined 33.0 tackles. A two-time all-conference basketball player, Strong helped Skyview (Montana) High School to the 2015 state championship. He finished second in the state in the triple jump that same school year. 
Strong's ability is another reminder of SIU's strong transfer game. Tight end Nigel Kilby, who came from Garden City (Kansas) Community College last year, is an NFL prospect and could be one of the Salukis' top receivers this fall. Wyoming transfer Avante Cox is fighting for a starting spot at wide receiver. Punter Andrew Anckle, a transfer from South Dakota that played behind Lane Reazin the last two seasons, is in the middle of a position battle with Nico Gualdoni and Australia native Jack Colquhoun.
If redshirt freshman Nic Baker doesn't win the quarterback race, it will go to Lyles or another transfer, Stone Labanowitz from ASA Junior College in New York State.  
Win or lose the starting spot, Tre' Strong will be in SIU's defensive back rotation. Whenever he gets back on the field, he's looking forward to the green grass of the new Saluki Stadium turf, and the roar of the crowd that could go with it.
"I feel like the defensive side of the ball, that's what wins championships," he said. "When you've got your crowd behind you, and they're going crazy, and you make big plays, whether it be a pick-six or a big hit, or just a routine tackle-for-loss. The energy that crowd gives you, I feel like, is way different than anything on the offensive side of the ball."  
TODD HEFFERMAN covers SIU athletics for The Southern Illinoisan. Contact him at todd.hefferman@thesouthern.com, 618-351-5087 or on Twitter at @THefferman.