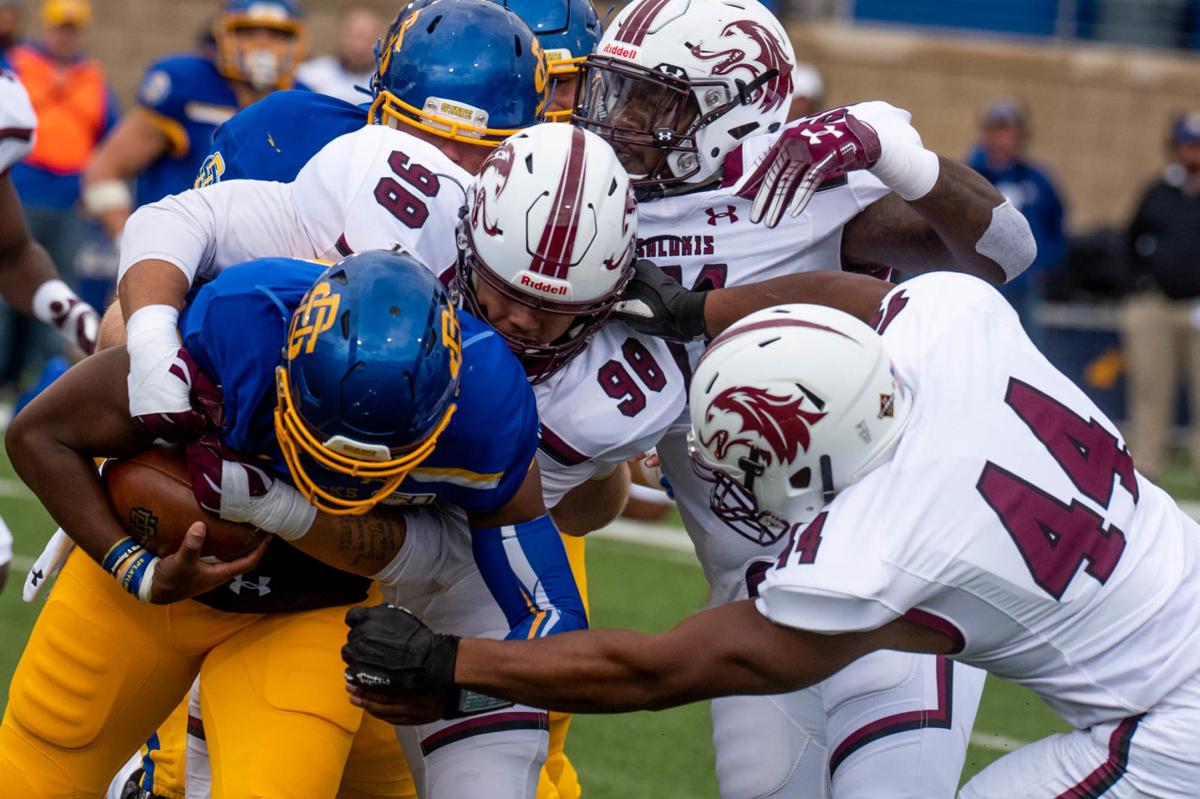 You could say SIU's defense had more break than bend in Saturday's 28-10 loss at No. 3 South Dakota State. You could also say, for the first time in a long time, that side of the ball kept the Salukis in the game more than the other.
The Jackrabbits (4-1, 1-0 Missouri Valley Football Conference) got 226 of their 393 total yards in five plays. Cade Johnson caught a 58 yard touchdown pass when two SIU defenders ran into each other downfield, and Pierre Strong Jr. had a 64 yard touchdown run midway through the third quarter. Strong added a 30 yard run for a first down and another one for 48 at Dykhouse Stadium.
On most of those big plays, the Salukis had guys at the point of attack to make a play.  
"We just missed a lot of opportunities, not wrapping up on tackles, and just bad pursuit," said SIU safety Joe Patterson, who had a team-high eight tackles. "I feel like that was the key to those big plays breaking."
The Salukis' defense had four sacks and 12 tackles for loss, with nine different players getting at least a half a tackle. Defensive end Jordan Berner had a whale of a game, getting two tackles for loss, a sack, a pass breakup and blocking an extra point attempt. Defensive tackle Malik Haynes had six stops in the middle of the line against one of the best rushing teams in the Valley.
You have free articles remaining.
Strong, who will be a league player of the year candidate by the end of the season, followed up his 188-yard performance last year against SIU with 229 yards and a touchdown on 20 carries. Strong averaged 11.4 yards a carry.
"He doesn't ever really juke anybody. He's a long-standing guy, got great vision, decent speed," SDSU coach John Stiegelmeier said. "What I really admire about him is his humble spirit. At times, he gets a little excited, but for the most part, he's a very humble young man."
And when SIU got two three-and-outs to start the second half, nursing a 10-9 lead, the offense should have gotten excited. Instead, it struggled to establish the run, struggled even more to protect quarterback Karé Lyles, and earned just four first downs in the final two quarters. The Salukis rushed for a season-low 107 yards and threw for a season-low 108, but at least they were balanced.
SIU left Brookings, South Dakota, eager to get back to work. Through, possibly, the toughest part of its season, the Salukis return home for their only back-to-back home games of the season this weekend. SIU (2-3, 0-1) hosts No. 13/14 Illinois State (3-2, 0-1) Saturday night for the Black Out Cancer game and gets No. 17/18 Youngstown State (4-1, 0-1) for Homecoming Oct. 19. 
The Salukis are good enough to beat both, and bad enough, at times, to lose to both. They will get All-American safety Jeremy Chinn back, most likely, this weekend from a foot injury that snapped a streak of 29 straight starts. Running back D.J. Davis, the team's all-purpose yards leader, is probably about two weeks behind him, and middle linebacker Bryce Notree about two weeks behind him.
Even without those guys, the defense showed it can keep the Salukis in games moving forward. That's something they haven't had in the last two years, and gives the offense hope it can figure things out without the pressure of having to score 28-35 points to win. After the Homecoming game against YSU, SIU has four straight games against teams currently with losing records before ending the year against No. 1 North Dakota State on Nov. 23.
TODD HEFFERMAN covers SIU Athletics for The Southern Illinoisan. Contact him at todd.hefferman@thesouthern.com, 618-351-5087 or on Twitter at @THefferman.