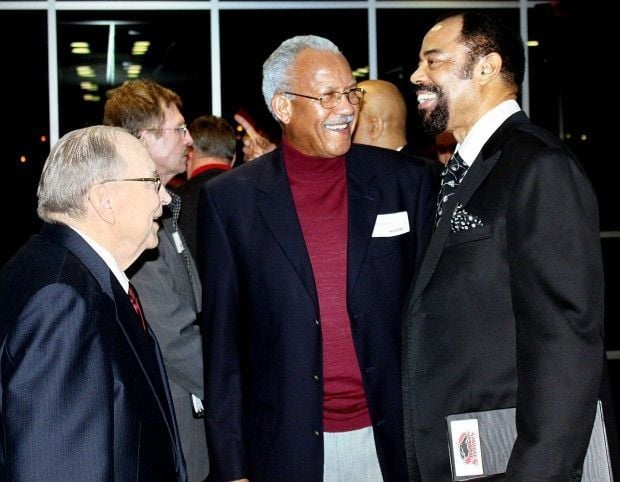 The only Saluki to coach Charlie "Chico" Vaughn and Walt Frazier, George Iubelt was part of four of SIU's greatest basketball eras between 1960-1989.
Born in Orient, Iubelt began his coaching career at Galatia High School and West Frankfort before joining high-flying Harry Gallatin's staff in 1959. With Vaughn, the Salukis averaged 84.1 points per game in 1959-60 and 87 the next year, 0.10 points per game off the school record set two years earlier. SIU won 20 games in each of Vaughn's three seasons, and he remains the program's all-time leading scorer. 
Iubelt, who died at the age of 96 on July 15, really made a name for himself under Jack Hartman. In a completely different system, Iubelt helped SIU become a defensive team. The Salukis went from allowing 70 points per game in 1963 to 63.8 five years later.
"We got to see a whole different kind of basketball, and that's where George really was in his glory," said John Phelps, a former Saluki golfer who was one of Iubelt's closest friends. "He was a masterful defensive coach. He started with one style of game, and then Hartman came, and they ran a slow-motion offense and played rock-hard defense, sort of like what we're seeing from coach (Bryan) Mullins right now."
With Frazier and Dick Garrett, two future NBA players, SIU averaged 70.2 points per game when it won the 1967 NIT. The Salukis were even more talented at the defensive end, where they allowed 57.9 points per game.
Iubelt was going to retire from coaching and just teach health education at SIU before Cindy Scott approached him about coming on as her part-time assistant. Back then, in the early 1980s, the women's team had only one full-time assistant, Julie Beck. Iubelt thought about it, and then agreed to take the plunge.
SIU's women's team went to four NCAA Tournaments under Scott, the program's all-time winningest coach who was inducted into the SIU Hall of Fame in 1994. Iubelt was aboard for three of them, as well as the only two undefeated Gateway Conference runs in league history (1986 and 1987).
"George's defense was Jack Hartman's defense," said Scott, noting his desire to cut off the baseline and use help-side defense in the lane. "We were always so good, defensively, as a team, always tops in the country, defensively. And that was his thing. He loved to coach defense and he so believed in that system. I still think it's the best defensive system there is."
SIU's 1987 squad went 18-0 in the Gateway, won the league tournament at the Banterra Center (it was known as SIU Arena then) and received a No. 5 seed in the NCAA Tournament. Forward Bridgett Bonds was the Gateway Player of the Year, and Scott shared the league's Coach of the Year honor with Missouri State's Valerie Goodwin-Colbert. The Salukis, who reached their highest Associated Press ranking in school history in December of 1987 (13th), beat Louisiana State in the second round of the NCAAs after receiving a bye to reach the Sweet 16.
They were defeated by Louisiana Tech 66-53 in the regional semifinals to end a challenging 28-3 season. The Salukis battled injuries late but still finished 18-0 in the Gateway and captured the league tournament.
"The kids loved him. He had never coached girls before," Beck said. "Coming from Walt Frazier and Mike Glenn and working with Bridgett Bonds and Petra Jackson... we lost two starters and we went to the final 16, and the finals of our conference. Our top-two conference scorers went down and we still went to the final 16. In 1987, we had to come up with a whole new offense."
Iubelt was a part of 484 wins at SIU before retiring in 1989. A Saluki Hall of Fame inductee that same year, he was an assistant for 20 years here and tutored some of the program's finest players. Three of them have their jerseys hanging in the Banterra Center rafters, Frazier, Vaughn and Amy Rakers (Fogle). His former players continue his legacy, from former Carbondale High School girls coach Marialice Jenkins to current Illinois Central college leader Karrie Redeker.
"The three of us, combined, we just had a really good fit and had a lot of fun," Beck said. "Marialice Jenkins was probably in the middle of that. She loved him, and she still coaches his defense. Karrie Redeker still runs his defense."
TODD HEFFERMAN covers SIU Athletics for The Southern Illinoisan. Contact him at todd.hefferman@thesouthern.com, 618-351-5087 or on Twitter at @THefferman.
Be the first to know
Get local news delivered to your inbox!