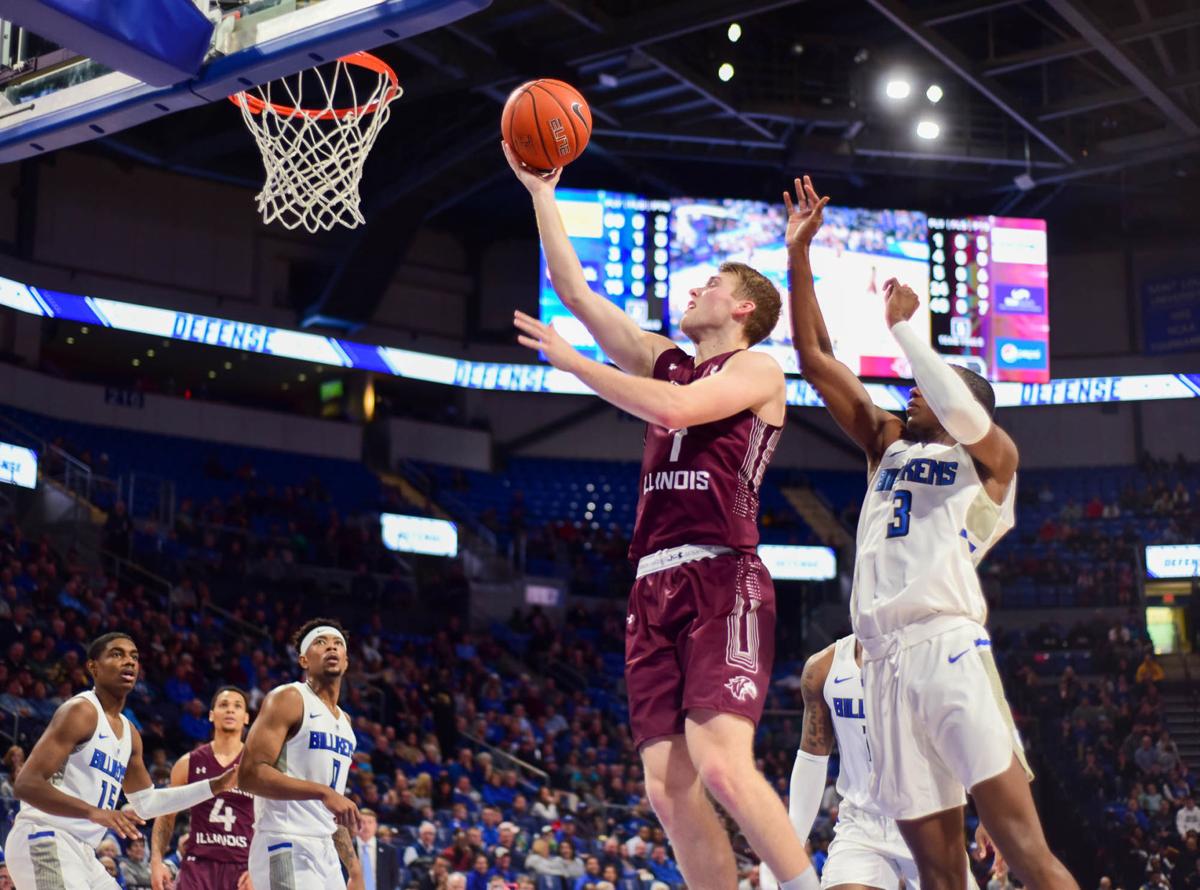 Even with two senior guards, SIU's men's basketball team has been terrific and terrible in the same game this season.
Aaron Cook made scoring look easy at times, which is why the Salukis (3-5) miss his playmaking ability. Even if Cook couldn't score himself, he could get by his man and create something for somebody else. After watching SIU commit six shot clock violations, and avoid another with a 3-pointer from Eric McGill that nearly banked home Sunday at Saint Louis, I'm even more convinced of Cook's value to this team.
With four newcomers starting right now, and five freshmen in the top nine, you knew the Salukis would struggle to be consistent. Their effort has been consistent, which has been refreshing, and that's going to get them some wins during the Missouri Valley Conference season, but SIU must find a way to finish the games it should win. The Salukis blew a late lead against Delaware in Florida, and a 10-0 run in the final few minutes cost the Salukis a road win at Murray State — 39 free-throw attempts by the Racers did them in, too. SIU controlled the first half at Saint Louis, but allowed the Billikens to escape with a win after a late 11-4 run, 69-60.
You have free articles remaining.
Saint Louis coach Travis Ford knew his team got away with a lackluster first half at the Chaifetz Arena.
"We just gotta get off to better starts. We gotta be more consistent in both halves. We played at very high levels, and we've played at very low levels," he said. "Those highs, you gotta have those highs. They're called spurts and runs. Then you gotta be able to sustain it with good, solid play, and luckily, for the second half, we did do that. In the second half we had great highs and we were able to sustain it."
Forward Hasahn French scored 13 of his 15 points in the second half and fellow junior Jordan Goodwin had 14 points, 19 rebounds and four assists. SIU is missing its leader right now, and must beat people as a group.
"I thought Marcus (Domask) and Barret (Benson) gave us a great lift, and Lance (Jones) really stepped up as a freshman point guard," SIU coach Bryan Mullins said. "In the last 10 minutes of the game, when Barret got in foul trouble, and I thought that hurt us a little bit and they started to beat us up inside, and we have to be tougher and continue to learn how to close out games and learn how to compete for the full 40 minutes."
SIU's season has been one of memorable runs. The Salukis never trailed in their three wins so far, jumping out big on Division III Illinois Wesleyan, UTSA and North Carolina Central. They battled Delaware, Murray State (19 lead changes) and Saint Louis (five lead changes) but were not able to close them out. We'll find out today, when Norfolk State (3-6) comes to town, if SIU can put another team away early.
TODD HEFFERMAN covers SIU Athletics for The Southern Illinoisan. Contact him at todd.hefferman@