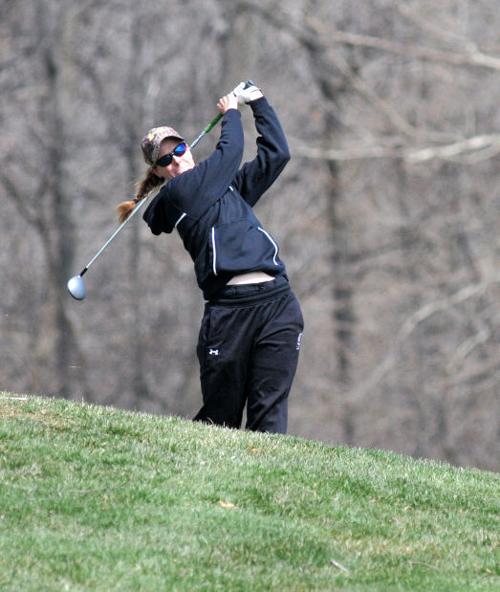 CARBONDALE — Cassie Brooke (Rushing) is just getting back into the game she thought she would never leave.
The Marion native was one of the best prep golfers in Southern Illinois history, winning All-South Seven Conference honors all four years and helping the Lady Wildcats to the 2008 Class 2A state championship with twin sister Ashleigh. Marion finished third in 2009. She was the Southern Illinoisan Girls Golf Player of the Year three times, sharing the award with her sister as a senior.
At SIU, she became one of eight golfers in Missouri Valley Conference history to earn all-league honors all four years. Her 84 rounds under 80 between 2010-14 are still a Saluki record, and her career scoring average (77.1 shot per round, minimum 40 rounds) was a school record before Brooke Cusumano broke it in 2017 (76.9).
"We had a really good run in high school, and I still keep up with the friends that I made at the time, and our coach, Mary Thomason," Cassie said. "I miss the memories of competing in golf rather than actually playing competitive golf, if that makes sense."
Academically, Cassie majored in sports administration and was a three-time Women's Golf Coaches Association All-American Scholar. After college, she pursued her lifelong dream of playing professionally. She overcame shoulder bursitis and a steroid shot in 2014, playing for two years in Florida and California, before a tournament in Alabama told her to go in a different direction.
In a qualifier for an LPGA event, she shot 3-over-par in what she thought was one of her better rounds as an aspiring pro. 
"I told my swing coach that was one of the best rounds that I could have played, and I think I missed the cut to go to the tournament by two," she said. "I honestly don't think I could have played any better. He said 'But you didn't qualify,' and I said 'Exactly.' Obviously, I know it takes time. With me playing as well as I did, and not coming close to qualifying made me realize that I was not where I was supposed to be, or even where I could get to. And it was very eye-opening."
Cassie, 28, decided to take some time off. She took up photography, first taking wildlife shots. Birds interested her because of their colors and natural settings, and they reminded her of her grandmother.
"She passed away, but she loved birds," Cassie said. "It made me feel a little bit closer to her."
Her biological clock spoke to her, too.
"Things change in your life," she said. "If it's going to take 10 years (to be a pro), I'm going to be 32. I want to have kids. There are other things in life that I would really like to do, and I don't foresee having kids and playing golf very doable."
So she started taking different shots with her own photography company, Hidden Trails Photography in Carbondale. She also partners with Southern Illinois Mercantile Company, a consignment shop that also serves ice cream and coffee. Married with a young daughter, she specializes in children's studio photography and hopes to one day own her own studio. Ashleigh teaches third grade in Johnston City and had a daughter eight months ago. 
After about a two-year hiatus, Cassie has picked her clubs back up. But only casually.
"I've actually started to play more often," she said. "I honestly took about a two-year break, coming off trying to play professionally. I was so burnt out and I just didn't feel like playing, but now I'm starting to get excited about playing again."
Be the first to know
Get local news delivered to your inbox!