On the week he signed with the Chicago Bears in March, veteran quarterback Andy Dalton was asked how he might react if the team were to draft his replacement.
"I've been the starter and helped the backup throughout my career," Dalton said March 21. "It's (about) what you can do to help the next guy. We'll see if that's the case and what we do in the draft."
Even with the sour public reaction to Dalton's arrival, those who follow the Bears closely understood general manager Ryan Pace and coach Matt Nagy were eyeing this spring's draft for a new quarterback treasure. And Dalton, now 33 and entering his 11th NFL season, certainly had to understand those dynamics.
The Bears might have propped him up on social media as "QB1," but only because it was far less sexy to send out a tweet and a picture of Dalton with the caption "Placeholder."
On Wednesday afternoon, following the Bears' organized team activity practice at Halas Hall, Dalton made it clear his focus and mindset didn't change on the last weekend of April, when Justin Fields entered the picture. Yes, Fields immediately claimed the title of "franchise quarterback of the future" when he was selected with the No. 11 pick. But Dalton is locked in right now as the Bears' steady veteran starter, responsible for playing at a level high enough that the team can oversee Fields' development at a reasonable pace.
To that end, Dalton hasn't altered his approach to maximizing his opportunity.
"I knew the situation I was going into regardless of whether they drafted somebody or if they didn't," he said. "I was on a one-year deal and I was going to be the starter. So my mindset didn't have to change.
"I already knew I was going to do everything to be the best player I can for this team and to help us win a lot of football games. That's been my goal from the very beginning. So whatever happens after this year happens."
Similarly, Dalton's mindset isn't changing during this phase of the offseason program. The Bears are in their first of two weeks of organized team activity practices. And from June 15-17 they'll hold their mandatory minicamp at Halas Hall. For Dalton, this June stretch presents an important acclimation period that should allow him to build rapport with teammates and improve his timing within the offense.
At the very least, that should make his entry into training camp practices much smoother.
"It's just being around everybody," Dalton said, "and getting to be in the huddle, call plays and see how guys communicate. (It's) seeing how we're handling things up front and making sure everybody's on the same page within the skill-position group. It's stuff where if I had gone right into training camp and we didn't have any practices, I would have been starting from the beginning a lot later in the process."
The process is underway with an internal expectation that Dalton will be the Bears' Week 1 starter against the Los Angeles Rams in September. Along with that, though, he is expected to be a helpful mentor to Fields. And on that front, Dalton is doing what he can to help.
"It's just the position I'm in," he said. "Everybody should enjoy it. All our experiences in our lives are for us and other people. You're just trying to pass that along."
Coach Matt Nagy has been pleased with the way Dalton has handled himself to this point. Nagy understands Dalton's 10 years in the league give him extensive experience to manage the offense and play winning football.
Nagy has praised how quickly Dalton is digesting the playbook and stressed the need for the veteran quarterback to continue furthering his understanding of his teammate's strengths and weaknesses.
Dalton has shown on the practice field that he can make anticipatory throws with ease. And he hasn't been afraid to correct pass catchers who, for whatever reason, aren't in the right spot at the right time.
"These wide receivers are going to come out of OTAs and … they're going to see that when that ball is supposed to be there, that ball is going to be there," Nagy said. "So they better get ready to put their hands up to catch it. You better be at right spot at the right depth and be making your route adjustments accordingly."
"He's got that fire," Nagy said. "He'll get pissed and tell you if you do something wrong. I like that."
Added Dalton: "It comes with experience and understanding how things should look. Playing the position of quarterback, you're obviously going to have a voice. But then you throw the experience and how long I've been doing this into the mix and I think you're in that leadership position where you want to make sure things are going the right way."
Dalton's diligence should be a plus for the Bears in the short term. Fields' time is coming. But in the meantime, the Bears have confidence that Dalton can be a reliable bridge.
---
5 awesome castles on Illinois college campuses
About Altgeld's Castles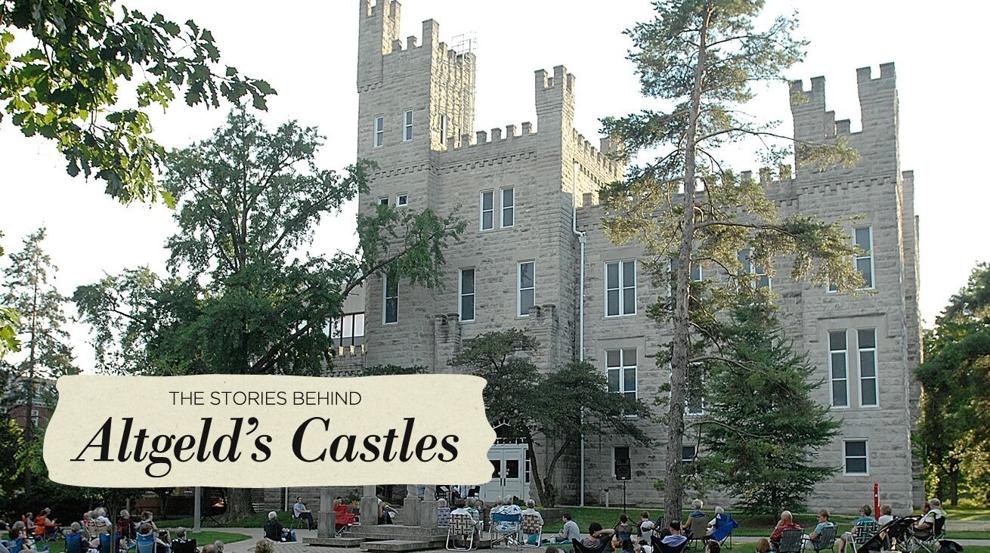 John Peter Altgeld (1847–1902)
"Altgeld's Castles" are buildings in the Gothic Revival style in five Illinois universities, all built at the initiative or inspiration of Illinois Governor John Peter Altgeld, pictured above.
Altgeld served as the 20th governor of Illinois from 1893–1897.
During his term as governor, Altgeld expressed certain opinions on how buildings should be erected in the state of Illinois. In his second biennial message to the state legislature, he discussed how buildings were being constructed without consideration for their outward appearance.
He stated that it was time for buildings to become more aesthetically pleasing in addition to being functional, and he suggested the "Tudor-Gothic style" as the most inexpensive way to do this. Consequently, several of the state universities in Illinois erected buildings which resembled castles in his honor. (Wikipedia)
---
Altgeld Hall — Southern Illinois University at Carbondale
Altgeld Hall, built in 1896 at the cost of $40,000, is the oldest surviving building on Southern Illinois University at Carbondale's campus. It originally housed the library and laboratories for the departments of physics, chemistry and biological science, and a gymnasium.
Following a major remodeling project in 1958, Altgeld became the home to the School of Music. From 2002 until 2004, the building underwent a massive renovation. (Wikipedia)
Altgeld Hall — University of Illinois at Urbana–Champaign
The University of Illinois at Urbana–Champaign's Altgeld Hall was completed in 1897 by architects Nathan Clifford Ricker and James White.
The Board of Trustees initially adopted the classical design by prominent Chicago architect Daniel Burnham. Altgeld's opposition to the classical design ultimately caused Burnham's withdrawal from the project.
Since its construction, Altgeld's building has undergone many names and purposes. Governor Altgeld had a huge interest in education and believed that the campus should have a library, so the building was originally used for this purpose. At the time of its construction the building became known as simply the University Library.
In 1927, though, the Law Department decided it needed a new place on campus and it moved into University Library, renaming the building "Law Building." In 1940, the Law Building was renamed in honor if its creator, and was hereafter called Altgeld Hall.
Eventually the Law Building was yet again converted into a new purpose, housing the Mathematics Department while the Law Department received a new building. Though the Mathematics Department and the Mathematics Library reside in this building, one can still see the title "Law Building" engraved on the north entrance. (Wikipedia)
Cook Hall — Illinois State University
Now known as John W. Cook Hall, this building was once known as "Altgeld's Folly." When the original plans were drawn up for the construction of the building, Governor Altgeld rejected them because he wanted a building that looked more like German castles along the Rhine river.
In 1898 the building was completed by local architects, Miller & Fisher, who took some creative liberties in the castle's construction. Though the building contains turret styles with towers and battlement like Governor Altgeld wanted, the architects also added their own flair by using Bedford limestone.
The building was designed to be fireproof, which is why the University utilized it as a library. The building was also originally used as a gymnasium. 
After being a gymnasium for so long, the building eventually came to also house the University radio station, WGLT. More recently, Cook Hall has been remodeled to become the School of Music building. The building holds practice rooms, rehearsal halls, and many classrooms.
Cook Hall is the only building on the Illinois State University campus that is on the National Register of Historic Places. (Wikipedia)
---
Altgeld Hall — Northern Illinois University
Built between 1895 and 1899, Altgeld Hall was originally called the "Castle on the Hill," built by Charles E. Brush of Chicago. The general contractor was William J. McAlpine. Construction started on September 17, 1895 and was completed on September 22, 1899 at a cost of $230,000.
When Altgeld Hall first opened, it housed the entire university. It was a classroom, boardroom, library, gymnasium, administrative office building, and lecture hall. It housed chemical and physical laboratories, executive offices, a 1,200 seat auditorium, biology labs, a study hall, a museum, and classrooms.
Altgeld Hall underwent a $24 million renovation project which began in 1999 and ended with the rededication on October 7, 2004. The Altgeld restoration was undertaken to rescue the university's landmark structure, which was badly deteriorated. The interior of the building was remodeled several times over the years, but major structural problems went largely unaddressed.
A time capsule was buried under the front arches on NIU's 75th Anniversary in 1974. It will be opened on the 150th anniversary in 2049. (Wikipedia)
Old Main — Eastern Illinois University
Old Main, formally named the Livingston C. Lord Administration Building, was completed in 1899. Old Main was built with Indiana limestone with a Gothic revival style with turrets, towers, and battlements. This distinctive outline is the official symbol of the school.
Eastern Illinois University and Illinois State University are the only schools with "castles" not named after Altgeld.
Old Main was constructed as Eastern Illinois University's first building in 1899. (Wikipedia)
You may also like...