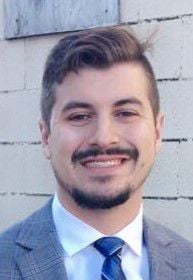 Sunday has always been my favorite day of the week. Especially during the NFL season when I have my legs propped up while sitting in my recliner with bottomless chips and salsa at my disposal.
Mix in pizza, which is normally my meal of choice. I'm usually pretty straight forward with my pie toppings of pepperoni and banana peppers, but lately my girlfriend and I have been hoarding Casey's taco pizzas between Fridays and Mondays.
I like my food how I like my sports — fulfilling, tasteful and in wide variety. I relate with both because they affect my mood and are necessities in my life. Say you're sitting at a restaurant on a Friday afternoon knowing you have a date in the evening. When you're deciding between the loaded bean burrito or house salad which one would you go with?
With six years of serving experience at steakhouse restaurants, it baffled me how many prom dates ordered a full plate of ribs. There were occasions when the girl would wear her dinner out of the restaurant, but that just goes to show there is a time and place for specific meals.
Relating this to sports is challenging but still doable. There are different levels of sports in my life because I waver back-and-forth between high school and professional events. Maybe it's just my friend group, but we are all passionate about the NFL teams we root for.
Enough so that we compete in fantasy football leagues which are a great way for friend groups to stay in touch. I could go an entire NFL offseason without speaking to one of these guys, but once football season rolls around, it's like getting a visit from a distant relative that gifts you in cash.
Whether it's the Bulls, Cubs or Bears, I've had my fair share of ups and downs as a Chicago sports fan. Sprinkle in the competitive nature of fantasy sports between my strong-minded friend group and me. Going back to Sunday being my favorite day of the week, this is only true if two things happen — the Bears and my fantasy teams win.
Otherwise my week is ruined until the following Sunday, or so it feels like.
Prep sports have never caused me this much headache outside of meeting a tight deadline on a Saturday night. There's something wonderful about watching young athletes come together to achieve a certain goal. It's one of the things I miss most from playing in high school sports because of the camaraderie.
But I told myself back then that I wouldn't dwell on the past, so I won't start now. Side question: how much should one's body already ache at 26 years old? Asking for a friend.
Even with the aforementioned late story deadlines, I'd deal with those 24/7, 365 days a year, over the challenges in which COVID-19 has presented. The light at the end of the tunnel has been high school sports getting back in action between golf, cross country and tennis, so far this fall.
I still enjoy asking coaches and players how it feels to be back after a long offseason of uncertainty. The same uncertainty that plagues other sports that have had their schedules pushed back to later months.
Carbondale girls golf coach Marialice Jenkins wasn't taking anything for granted when I interviewed her following Tuesday's win against Murphysboro and Herrin at Hickory Ridge Golf Course.
"I'm thrilled that the kids are able to enjoy it because there's a lot of sports that keep getting pushed back and don't know what's going to happen," said Jenkins. "I think the biggest thing it's provided is some kind of normality. With everything else that's going on, they're able to come out and do normal things like practice, play and see other teams."
I've had a mixed bag so far since returning to cover live sports again. The majority of people are still split on wearing masks, I'd call it roughly 40% of people do and 60% don't. That part of the job is frustrating because we need to do everything we can to ensure the safety of others, and in this case student-athletes.
Think of wearing a mask as one of those necessities I listed earlier, except put it ahead of everything else. That way we can enjoy going out to eat pizza at restaurants again instead of ordering takeout for the gazillionth weekend in a row.
Be the first to know
Get local news delivered to your inbox!