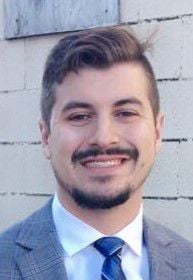 When a coach says 'There's No "I" In Team', I assume Marion Wildcat senior Chase Isbell is listening close by with a notepad and pencil at his disposal.
During my weekly roundup of prep football coach interviews, Marion (5-0, 4-0) coach Kerry Martin highlighted Isbell as a key to his team's success this season. But don't be too quick to look at a Wildcat box score or highlight reel because the team has enough weapons to finish with a new stat leader every week.
If you want to try mental toughness on for size, then take a page from Isbell's book of life lessons we should all plagiarize.
Set to enter the year as Marion's starting quarterback, Isbell underwent a global pandemic that threatened not only his senior football season, but all of high school sports. He then took it a step further by perfectly executing a position change from quarterback to running back that has since led to success on the gridiron for him and his team.
Isbell's decision came after Mount Vernon transfer quarterback Hunter Simmons stepped onto the field with an electric arm and legs fast enough to crack 100 yards against Centralia last Friday. Isbell, who served as Marion's backup last season, could have taken one look at Simmons, chucked his mouthpiece into oblivion, knotted up his cleats and tossed them over a phone line but he didn't.
Instead, he showed every single one of us, myself included, the correct way to handle adversity during the tough moments that life likes to throw our way. That very decision has worked out tremendously for the greater good — being one game away from an undefeated season, even with a six-game schedule, is still a massive accomplishment given what high school athletes have been put through over the past year.
All it took was a little leadership and a little self sacrifice. Isbell performed what many adults and professional athletes still struggle with on a daily basis — props to his parents.
I'll drop the mic and let Martin spit some facts for a bit.
"Chase was our top candidate to start at quarterback this year, the decision to start Hunter had nothing to do with plays on the field. Chase kept both feet in the boat and made the change acceptable. His willingness to take a new position, excel at it, and do it with class was handled in a way that you don't see upper level athletes handle it."
A lesson I've learned in my own life during the pandemic is that situations are situational. Working from home and watching hours of the Pat McAfee Show taught me that, but one 12 minute phone conversation with Martin introduced me to Isbell and how to embrace change.
While I will be covering Nashville at Althoff this Friday, I encourage every Marion and Carbondale fan at the game to keep a close eye on Isbell in the backfield. Wildcat fans are used to chanting his name, and I know asking a Terriers fan to root for a South Seven opponent seems deranged, but maybe a silent salute?
Hey, as Lil Wayne once wrote: 'Real G's move in silence like lasagna.'
Much like Isbell's leadership.