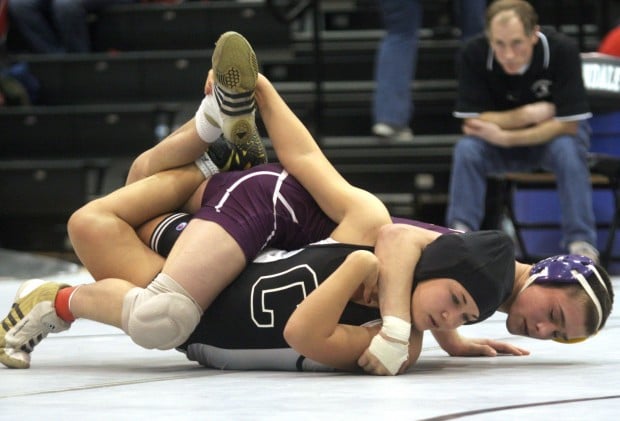 Alli Ragan gets historic 100th win
CARBONDALE - While Carbondale's Alli Ragan may not have been the first girl to be a varsity starter on a boys high school wrestling team in Illinois, she has quietly become the best after surpassing the 100-win milestone last week.
She started the season needing five wins to become the first high school girl in Illinois history to win 100 matches.
"The 100 wins is cool overall, but it's not that big of a deal to me, because my goal this year is to place at state," Alli said. "Records don't really matter as long as you try your hardest."
Even though the historic achievement was not high on her list, she didn't waste any time doing so winning her first four matches before losing her first try for her 100th. As it turned out, the manner in which she won her historic match was fitting, considering her attitude toward that record.
The milestone victory came as a result of a forfeit against Cape Girardeau, when her opponent was moved at the last minute to another weight class. Maybe her reputation as a good wrestler caused the switch, but no matter the motivation, the daughter of a wrestling coach became a trailblazer.
She has since improved her record to 14-1, including winning her first tournament title Saturday at the Mascoutah Invitational.
Passing the 100-win milestone is a big deal for any athlete in any sport, but for a girl competing against boys in a physical sport like wrestling, it's nothing short of amazing considering all her victories have been against boys.
"I've not wrestled any girls during my high school career, in fact, I've not really seen other girls in the meets," Ragan said. "I've been mainly competing against boys my entire life either in wrestling or in judo, so competing against them in high school is no big deal."
Ragan, a senior at Carbondale Community High School, started her high school career with a big bang becoming only the second girl to earn a trip to the Illinois state tournament following Caitlyn Chase from Glenbard North, who broke that barrier in 2005 as a junior.
You have free articles remaining.
As a freshman, Ragan posted a 39-8 record, won her first conference title and finished second in both regionals and sectionals before losing in the preliminary round of the state tournament.
The next two years, Ragan posted a 56-20 record with two more conference titles and her first two regional crowns, but she was eliminated in the sectionals both times, failing to earn a return trip to Assembly Hall in Champaign.
If she makes it past sectionals this year, she will set another milestone becoming the first girl to earn a state berth more than once and will have a chance to also be the first girl to win a match at the tourna-ment. Both she and Chase lost their only matches before.
"As I've said before, my goal this year is to place at state," Ragan said. "I will settle for nothing less."
In addition to Chase, who is currently a freshman at Missouri Baptist University, two other female wrestlers have played a big part in Ragan's career and opportunities.
The first was Mary Kelly from Mahomet Seymour, who won a regional title her senior year in 2002. After graduating from Northern Michigan, she continued her wrestling career by finishing second at U.S. World Team Trials and U.S. Nationals and is training to make the 2012 Olympic team.
"I can't tell you the first girl I recall, but I can tell you the first good girl and that was Mary Kelly," said CCHS coach and Alli's father Dennis Ragan. "Along the way there were girls who tried it, but they usu-ally weren't wrestling varsity and usually didn't make it through the first year."
The second was Ashley Hudson, who earned a state tournament berth in Missouri as a junior in 2006 and finished with a 98-33 career record. She is currently a junior at Oklahoma City University.
"Ashley started wrestling in the second grade (in our junior program) before they moved to St. Louis around the sixth grade," said Dennis Ragan. "She was kind of the girl Alli looked up to as to 'there was a girl in the room wrestling' and 'it's nothing new'. They hung out together, and she and Alli's older brother, Jared, were workout partners, so it was an easy transition for Alli."
In figures compiled by the National Federation of State High School Associations in a 2008-09 survey showed that only 1,034 schools in the country that had girls teams with 6,025 participants compared to 10,254 schools with boys teams and 267,378 participants.
"It's important for girls who get involved in wrestling to have role models," Dennis Ragan said. "They need to have that other girl and they say 'if they're doing it, I can do it.' So hopefully, somewhere down the line, Alli will be somebody's inspiration to say they can do it against the boys and believe in them-selves."
After competing against boys almost her entire life, Alli has this advice for the girls who aspire to fol-low in her footsteps.
"Definitely start young, because it helped me," Alli said. "Then you don't have to be one of the boys, but you also can't look at yourself differently when you're out there because they don't look at you any differently. You have to be a wrestler not a girl wrestler."