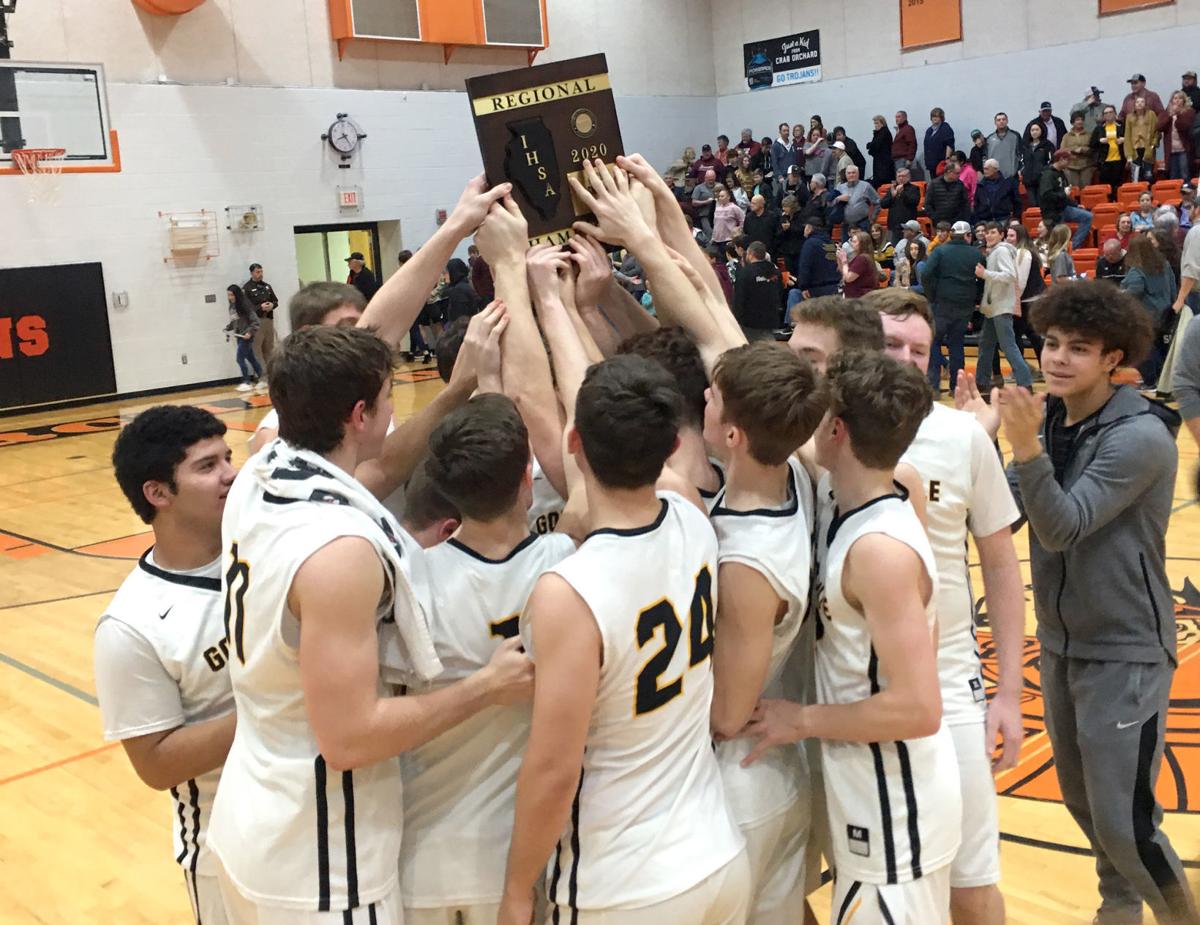 Goreville is in the midst of its best boys basketball season on record, taking a 34-2 record into Tuesday's Class 1A Carbondale Super-Sectional. 
To make matters more fun, the game is a rematch from two years ago as the Blackcats face reigning third-place finisher Moweaqua Central A&M at 6 p.m. inside SIU Carbondale's Banterra Center.
"The previous mark was 26 wins in 2012-13 — we've done well," said Goreville coach Todd Tripp. "We have all those guys back from last year's team that finished 18-15 and then we had some transfers, so we thought we had a chance to be good. It is the blend of this group. They get along good and really push each and root for each other. And that's what makes us really good. They saw those guys do it two years ago and they don't want to just be a part of it they want to be the main ingredients."
Goreville started the season winning its first 20 games and comes in with a 13-game winning streak. Central A&M is on a six-game winning streak and has won 22 of its last 23 games.
Goreville and Central A&M met two years ago at the Carbondale Super-Sectional, with the Blackcats winning, 74-61. That season, Goreville eventually finished fourth.
Central A&M (30-3) advanced to the rematch having won its third regional and sectional titles in a row.
The Raiders return four players from the team that faced the Blackcats two years, including senior guards Jacob Paradee and Connor Heaton, who scored 23 and 19 points, respectively, two years ago as sophomore starters.
The Blackcats return three starters in senior forwards Landon Albright and Trent Glidewell and senior point guard Luke Brown. Junior guard Kanon Webb also had some playing time as a freshman.
"Albright was an all-conference player last year," Tripp said. "He's been so consistent for us throughout his high school career. He got to play spot minutes and filled in well his sophomore year when we went to state. He does the dirty work having to guard bigger guys. He also can get a rebound and dribble the floor for a layup. He's a much better player than people perceive him.
"Brown has been a constant for us," Tripp said. "He's done a great job with assists to turnovers. When he broke his nose in the championship game at Sesser's tournament and went out it put a scare in us. Other guys had to step up and they did, but it shows what he means to this team because he has the ball in his hands a lot. He don't get all the credit he deserves in my opinion."
Last week, the Blackcats beat Okawville, 60-55, before edging Woodlawn, 59-57, to win its second sectional title in the last three years.
"We knew the sectional was going to be a battle," Tripp said. "But we've preached all year long that we have to play 32 minutes because these teams now if we make a mistake they are going to take advantage of it."
Central A&M comes in averaging 61.8 points a game and giving up 43.8 during its four playoff games, while Goreville is averaging 71.2 and giving up 48.6 during its five.
Albright leads the Blackcats during the playoffs with 14.8 points a game, including 18 against Pope County. He was held to just six points against Woodlawn, but had seven rebounds, one blocked shot and two steals.
"Albright shot 70 percent his sophomore year and last year when he was the shooter and was guarded better he shot 64 percent," Tripp said. "He's shooting about 72 percent this year."
Glidewell is second with 12.0 points and is coming off a double-double against Woodlawn during which he made 10-of-11 from the field for 23 points and pulled down 10 rebounds while also blocking three shots.
"We think we have the advantage on the inside with Glidewell and Albright," Tripp said. "We can get it down there, but somebody has to finish and Glidewell did a great job doing that against Woodlawn. He's a Division 1 baseball signee, but he worked hard to get better at basketball."