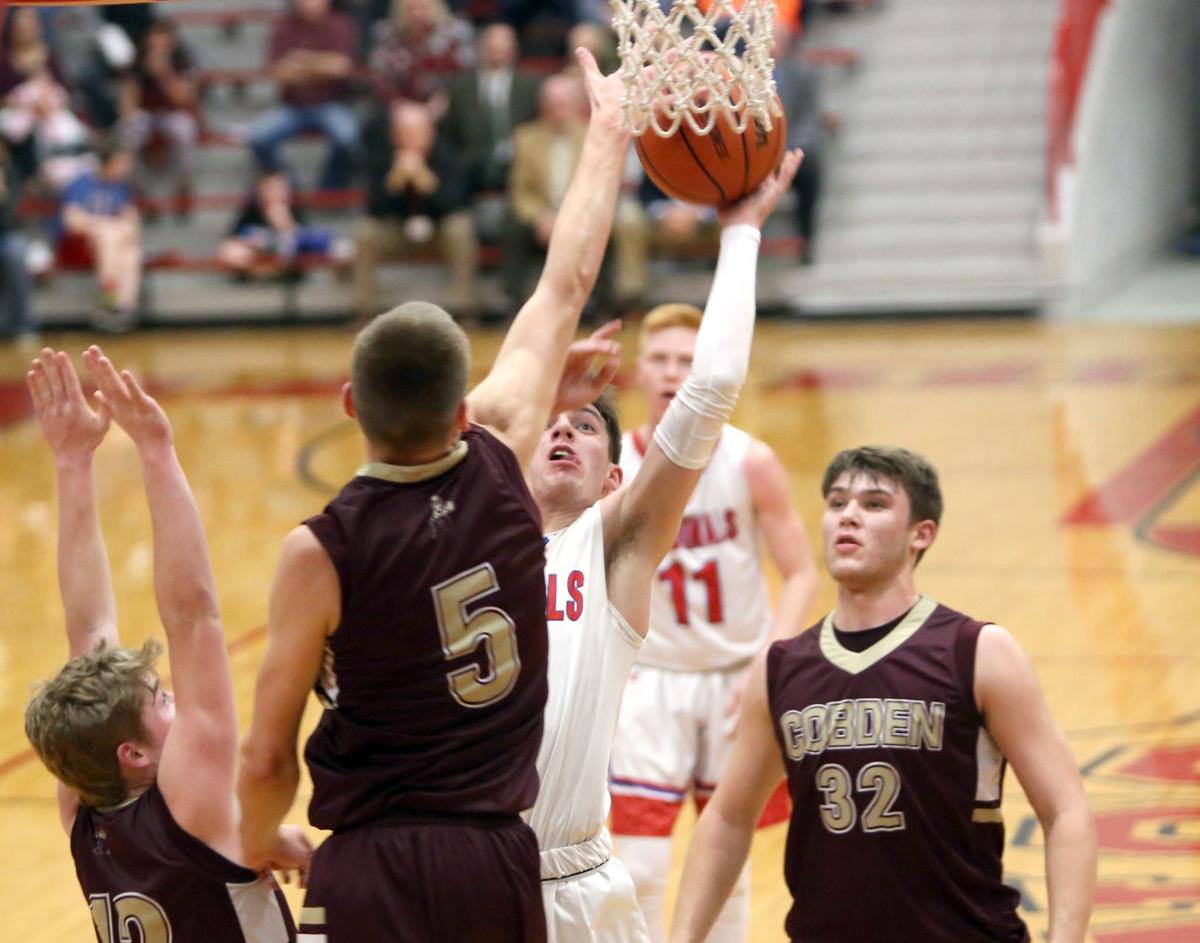 COBDEN — Noah Franklin has the measurables and talent to accomplish any goal he seeks to accomplish.
Standing at 6-foot-7, 205 lbs, Franklin is nearing the CHS scoring record (Harold Blunt, 1,825 points, Class of 1979) with 1,529 career points heading into his senior season.
Franklin averaged 17.2 points, 9.2 rebounds and 5.7 assists as a junior. He has received scholarship offers to play at Division 2 colleges including McKendree, Truman State, Pittsburg State and Quincy, while also receiving two Division 1 offers from Army West Point and, most recently, IUPUI.
"It'd be great to surpass the school's all-time scoring record and reach that 2,000 point mark," Franklin said. "With everything going on, I've come to realize I just want a chance to play again."
The scholarship offers help keep Franklin optimistic for the upcoming season. The lefty shooter is coming off last year where he led the Appleknockers to a 24-9 record and 8-0 record in the South Egyptian Conference. Cobden's regional championship last year was the school's first one since the Amazing Appleknocker team of 1964 — success that Franklin expects to build upon.
"All the offers have been exciting to kind of see your hard work paying off," Franklin said with future plans of becoming a Physical Therapist. "I've gotten a bunch of offers from the GLVC Conference, but I don't know which route I want to take yet.
"It's just nice seeing your dreams and aspirations unfolding in front of you. I've been told by coaches that I have a very high ceiling and my best basketball days are ahead of me."
Franklin's personal achievements include leading Cobden in scoring for three-straight seasons and in assists. His final 11 games as a junior amounted to 87 assists, while grabbing missed shots at an impressive rate throughout his high school career with 841 rebounds.
Franklin's 2019-2020 season also named him to his third-consecutive All South Egyptian Conference Team. Even further, he was named to the IBCA All State 3rd Team, Southern Illinois Coaches Association All South Team, all while being an AP All State Honorable Mention.
Tacking on a triple-double and 16 double-doubles through his first three seasons makes it clear why Franklin is receiving so much college attention. He credits a lot of his success to his basketball coach Wendell Wheeler.
"Coach has helped me in a lot of areas with my game," Franklin said. "He helps you to see the game in a different way and is a little different from coaches I've had in the past.
"He has good connections with his former players and it's not uncommon for him to bring them in to talk to us. It's good to have those viewpoints because it shows he cares about you.
"He wants the best for his players, and it makes the will to win and the will to get better easier to understand."
When asked how he would describe his playing style, Franklin named another lefty shooter he believes best fits his own versatility.
"I'd say I'm like Luke Kennard," Franklin said of the former Duke Blue Devil shooting guard. "A big guard who can shoot a little bit and do everything, while also being versatile. Like me, he had weaknesses and many areas of strengths.
"Right now I'm looking to become a better on-ball defender and tighten up my ball handling skills. The thing I look forward to in college is trying to sharpen your strengths and make your weaknesses not as weak."
Outside of achieving the scoring record, Franklin has a long list of team goals, including winning another conference championship. If his team accomplishes such a feat, then it would likely check off two boxes in CHS history: Winning back-to-back regional championships and reaching the 20-win mark in three-straight years for the first time.
Cobden is set to return three seniors this season including John Eck and Sipriano Zamora — Franklin described the bunch as just getting started.
"We've played with each other and have been on the same team since junior high," Franklin said. "We haven't been on the same varsity level throughout our four years, but it's special to have those guys around and have an opportunity to grow closer together."
Also on the roster is Franklin's 15-year-old brother, Tyler. Noah, a three-year starter, welcomed Tyler to the starting lineup late last season during the Appleknockers' postseason run. On the sideline assistant coaching is their father, Josh, who stands at 6'4" and witnesses Noah's take on playing alongside his brother.
"It's been pretty special because most people don't get to play with their sibling one year, let alone two," Noah said. "Sometimes you often congratulate him and other times you want to knock him out, but we try our best not to butt heads."
As Franklin awaits news on the upcoming season, he is thinking back to last season's sectional loss to Woodlawn. He believes the experience has made his team stronger.
On a personal level, he's remembering going up against former Cardinal Blake McKay, who signed a scholarship last season to play at Lincoln Trail College.
"Once you make it past regionals, the competition gets tougher and tougher," Franklin said. "(Woodlawn) wasn't necessarily an over-the-top team, but they were so sound and defensive-minded...especially when you have a guy like Blake McKay."