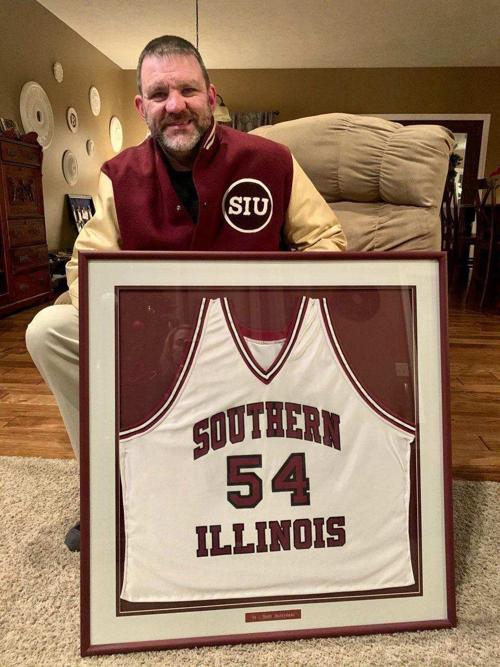 VALIER — The Black Diamond Conference has produced a stunning five 2000-point career scorers in the sport of basketball in its illustrious history, all happening within a 17-year span of time from 1975 through 1992.
At the top of the scoring list is the youngest of the five — Scott Burzynski, who finished his career with the Sesser-Valier Red Devils in '92 with a whopping 2,763 points. At the time he graduated, he ranked sixth all-time among Illinois scorers. He has since fallen to 15th.
The others in the 2,000-point club include: 1980 Zeigler-Royalton graduate Jim Mitchell (27th place with 2,561 points); 1990 Christopher grad T. J. Wheeler (30th place with 2,528 points); 1985 Z-R grad Sean Connor (45th place with 2,390 points); 1975 Johnston City grad Keil Peebles (50th place with 2,324 points); and 2018 Goreville grad Braden Webb (100th place with 2,107 points).
A Valier native, Burzynski was a four-year varsity starter with Sesser-Valier. He played his freshman and sophomore seasons for Ron Van Horn and his junior and senior seasons for Rick Metcalf.
Burzynski led the Maroon and White to four league titles, two of which were shared with the Christopher Bearcats his freshman and sophomore seasons, and one regional championship (1989).
Burzynski, listed at 6-foot-7 inches tall, was more than a scorer. The Red Devils' post player yanked down 1,138 career rebounds, ranking him 18th best today in Illinois history.
"I would say winning the regional championship over Du Quoin my freshman year was my proudest moment as a high school player," Burzynski said. "Becoming the all-time leading scorer at Sesser-Valier was a close second. It meant a lot to me when the previous record holder, the late Ted Farmer, presented me with a game ball the night I broke his record."
Burzynski said the Red Devils fell to Waltonville in the regional title game his sophomore season and the Spartans advanced to the Supersectional. As a junior, S-V again lost to Waltonville, only this time in the regional semifinals.
As a senior, Burzynski and the Red Devils were bumped out of the tourney by the Benton Rangers, who went on to place third in the state tournament that season behind the scoring of Jo Jo Johnson.
Burzynski's best individual performance came his senior year in a game at Waltonville. He poured in 54 points, a total that just so happened to match his uniform number.
Metcalf said Burzynski was one of the main reasons he left Murray State and accepted the coaching job at Sesser-Valier.
"Scott was a dream to coach. One thing he did better than anybody I have ever coached is make a turnaround jumper from up to 10 feet out along the baseline. That's one of the hardest shots to make, but he would routinely make them, sometimes with two or three people defending him. And Scott could also step out and hit a three. He could have scored a lot more points than what he did if I had left him in more games. Many times, he would have 20 points and about that many rebounds after three quarters. Scott was the complete package and was very coachable."
COLLEGE DAYS
Burzynski's playing days did not end with high school graduation. He was offered and accepted a Division I scholarship offer from Southern Illinois University.
Burzynski went on to play all four years with the Salukis and head coach Rich Herrin. And what a run of success he and his teammates enjoyed as the Dawgs qualified for the NCAA Tournament three straight years by virtue of three straight Missouri Valley Conference Tournament championships (1993-95).
"We never got out of the first round (losses came to Duke, Minnesota and Syracuse), but we had some really good teams," Burzynski said.
Burzynski said he thought the Salukis were going to beat Syracuse his junior year.
"We had a shot. They ended up winning by four. We didn't qualify for the tournament my senior year in '96," he said.
That was the year that All-Conference performer Chris Carr left school a year early for the NBA. His absence deeply impacted the Salukis.
Burzynski said he played in half the games as a freshman and every game his sophomore through senior seasons, including a full-time starting role as a senior.
He graduated Southern with a degree in education, focusing on health and driver's education.
ENTERING THE COACHING RANKS
Burzynski said he knew early on that he wanted to follow in the footsteps of his parents — Gale and Earline — both educators. In fact, his father coached eighth-grade basketball 22 years at Christopher Elementary School.
"My dad took nine teams to the state tournament in his time coaching there," Burzynski said. "And he knew he was going to have a very successful year when T.J. Wheeler was an eighth grader, but he turned it over to Russ Hobbs, who went on to win the state championship for Christopher. My dad left because he wanted to see me play instead. I was a sixth-grader on the junior high team at Sesser-Valier at the time. I guess you would call that sacrifice. He and my mom were always at the games supporting me."
Burzynski began his coaching career with a one-year stint at Elverado High School and then accepted a job at Carterville High School, where he taught and coached for 17 years.
During that time, the Lions won three BDC titles, four regional titles, and one sectional title (2015).
"We beat Fairfield and Teutopolis at the Benton sectional before losing to Breese Mater Dei in the Supersectional," Burzynski said. "The win over Fairfield was my 300th as a head coach. We had a great team and a great run that year."
It should also be noted that the 2014-15 team is the only boys' team at Carterville to date to secure an Elite 8 appearance.
After a one-year hiatus, Burzynski was hired to teach and coach at Johnston City. He is now in his fourth year there.
"I guess I knew I wanted to coach since I was in high school," he said. "I saw dad's passion for the game and the compassion he had for his players. I thought that was cool and knew that was what I wanted."
Burzynski said he appreciates the guidance he received, not only from his father, but his high school and college coaches.
"Coach Van Horn taught me so much, not just about the game of basketball but working with teammates. He really wanted the best for all of us. Looking back, I am impressed with how hard he tried to make young players better in the game and life."
Burzynski said Coach Metcalf was highly skilled at scheming offenses, and even more important to him, a big help with the recruiting game. Metcalf helped him transition from small-town high school player to Division I college athlete.
As for Coach Herrin, Burzynski said he has never met anyone more knowledgeable of the game.
"He's superior to all. Coach was a father figure to us players. And he always put us first and wanted the best for us. He did everything he could to make sure we had opportunities in life after basketball."
Burzynski said he hopes to coach for years to come and feels comfortable at Johnston City.
"I love being here and feel like I am part of the family," he said. "That's why this year has been so difficult. I hate it for our kids that they haven't been able to play any games yet. It's disappointing to them and to me. We should be gearing up for a Christmas holiday tournament right about now, but that's not going to happen. I'm especially concerned about our six seniors. I hope they get a chance to play in the spring. I would hate for them to miss their entire senior year."
Burzynski and his wife, Andrea, have a seventh-grade daughter, Emma, and fifth-grade son, Will.