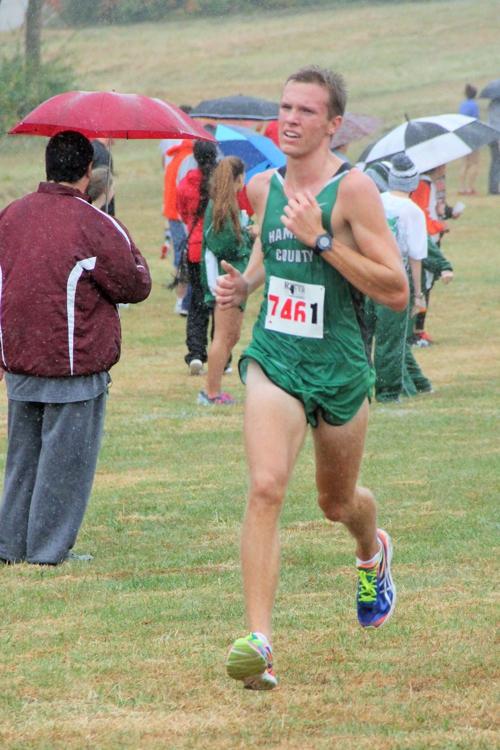 With a blurry view of the upcoming cross country season, Hamilton County's Sam Wilson and his team can at least say they accomplished team photos on Wednesday.
"At least we got pictures in cross country this year since we weren't able to with track season being cancelled last year," Wilson said with hope in his voice.
A simple shift in schedules has created new opportunities for volleyball athletes to try out for fall sports like cross country. Wilson referred to the amount of new runners as a "wildcard" for most schools in the Black Diamond Conference.
The Lady Foxes have added five volleyball players to their sophomore and freshman groups. This gives Wilson confidence in having seven to nine runners that can push for top times, which he called a huge difference from years prior.
Hamilton County features 12 girls and 11 boys on roster. The Lady Foxes get most of their leadership from a junior class that features Maddie Karcher following a state appearance as a sophomore. The two seniors on roster include Jocelyn Moles and Lenora Watt with Caroline Lueke, Dacey Webb and Jessica Hargrove as the few juniors, Martin noted.
Hargrove wasn't allowed to participate in any team meets as a sophomore, but that didn't keep her from showing coaches her talent as a runner.
"Jessica joined us late last season, so she wasn't able to run in any meets despite how badly we needed her to," said Martin. "
Set to lead Hamilton County's boys team are seniors Trace Butler and Shawn Braden. Butler has steadily improved every year under Martin and the coach expects big things once again.
"Trace has been a good part of our program over the past four years," Martin said on his senior. "Some of my sophomores were our best runners from last year, so we should be pretty strong in the upcoming years."
The Foxes' junior running class includes Ben Irvin, Nathan Kaufman and Aaron Meade. Without having track last season, Martin admitted that some of his runners are behind schedule, calling his groups training during quarantine "50/50."
"I'd say half of them put in the miles on their own, while the other half didn't run a lick up until practices began," said Martin. "We have been pretty competitive with times and expect to win the Black Diamond again this year."
Hamilton County's competitors for Tuesday's opening meet at Fairfield still remain up in the air after Mount Carmel shut down all athletic programs on Monday. With many schools being forced to restructure their schedules, other programs such as Goreville still don't know when the first meet of the season is, according to head coach Eric Messmer.
The numbers this fall are down for the Blackcats, with returning senior Cole Rushing set to lead the boys team. Five girls are set to return with senior Emma Vaughn ready to contend atop the conference with Hamilton County for a second consecutive season.
"Cole did a really good job running for us last year and I expect a lot out of him," Messmer said on Thursday. "Emma did really well for us last year, but deals with a little bit of a knee issue. She'll continue to do well because she works hard."
Ellie Grammer is another senior expected to contend in the Lady Blackcats' Top Five group of runners. Goreville hasn't seen the same uptick in volleyball additions that other schools have, which came as a shock for Messmer.
"We have a lot of girls who are trying to golf and run cross country," said Messmer. "I coach cross country at the junior high level, while teaching social science at the high school, and our junior high program is looking pretty good."
Messmer expects Hamilton County to be the team to beat in the Black Diamond this season, while adding that Chester will compete with good numbers. Yellow Jackets coach Chris Kern has a bigger-than-usual girls group after the additions of Josie Kattenbraker and Maddie Cribbs from volleyball.
Kern hopes the additions alongside seniors Amelia Shimonek and Melody Kerna will keep his team competitive after being down in numbers the past couple seasons. Mask regulations and how meets will begin seems to be the biggest question amongst coaches.
Wilson brought up staggered start times and chip timing, which might depend on cost efficiency and the number of schools. Kern has heard a different take on what might happen.
"From what I've heard, the runners are going to wear masks up until the starting line," said Kern. "The runners would then put their masks into a Ziploc bag, which would then be placed in a team box. Expecting them to put on a mask after running three miles could be challenging."
Kern admitted there will be an adjustment period for kids and coaches, but that it won't hold down the competitive nature in the Black Diamond.
Get in the game with our Prep Sports Newsletter
Sent weekly directly to your inbox!