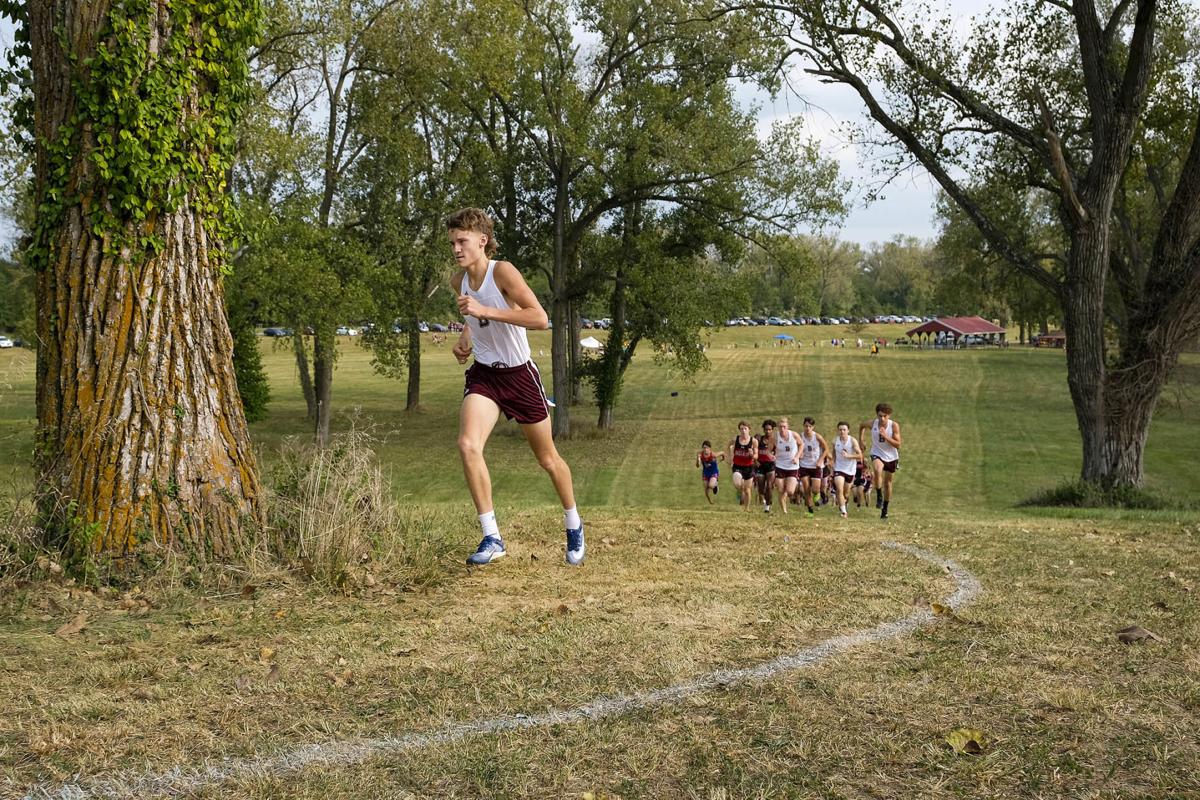 Blood, sweat and tears will be put on display this Saturday at the Class 1A and 2A cross country regionals.
Coaches will seek out team goals that none thought would happen three months ago. Runners will pace for times so fast that time itself stands still. Highland will host the Class 2A schools, while Marissa and McLeansboro play host to 1A programs such as Du Quoin.
"First of all, we are very excited to have the opportunity to compete in a state series event," said Indians coach Eric Kirkpatrick. "If you would have asked me in July if this would be possible, I would have had some doubts."
Du Quoin features Olivia Phillips on the girls side, who has won seven straight races. Phillips, a five-sport athlete, notched first in the conference championship, with teammates Lauren Heape and Jacqueine Crain finishing behind her at 1-2-3. Landen Swiney raced a 15:55 on the boys side with good depth behind him. Nathan Smith can push for under 18 minutes alongside twins Jon and David Gomes to round out a solid Top 4 at Marissa this weekend.
Kirkpatrick added that his group is really excited to see other schools after facing just 10 teams all year long. By comparison, some of the Indians' big invites in the past have featured 20 or more teams.
"This just gives us a good opportunity to see how we measure up to some other competition," said Kirkpatrick. "Teams around the state have put in a lot of hard work and a lot of lonely summer miles."
Pinckneyville will join its Mississippi rival at Marissa behind freshman runner Isaac Teel. Teel won the division with a time of 15:42. Joining him are Steven Hirte, Dylan Bledsoe and Gavin Garavaglia, who all pace for under 17 minutes.
Panthers coach Ryan Bruns likes his team's chances.
"Just like everybody else, we have an opportunity to compete, and we are excited for that chance," said Bruns. "If this year has taught us anything, it is to cherish each day and give it all you have."
Massac County's Ansley Bailey has her sights set on winning regionals at Marissa. The senior will be running at SIU next year and proves why every race by getting off to gigantic leads. Last week it was winning the Ohio conference championship at Riverside Park in Murphysboro with a time of 18:39.
Finishing behind Bailey in conference was Benton's Mia Wills with a time of 20:32. Only a sophomore, Wills is prepared to lead the Lady Rangers with the help of junior Hailey Wallace, Peyton Tieffiel and lone senior Addisyn Miller, who has been battling a thigh injury this season. Brent McLain's girl teams have won three straight years of conference and plan on doing some more damage at Hamilton County High School.
"We're going up against a great girls team in McLeansboro on Saturday at a relatively flatter course than what we're used to running at Benton Park," said McLain. "Boy-wise, every race is another step up so it's going to be fun."
All of 2020 has been fun for senior Reece Johnson and freshman Gavin Genisio in Benton. The duo is well documented as one of, if not the best tandem in the area, and they do it by pushing one another at the top of every race. Johnson won the West Frankfort regional and Benton sectional as a junior, but knows there will be more competition at the top.
"I'm glad we're in McLeansboro because I think I'll run better on a flatter course than in Benton, Murphysboro or Pinckneyville," said Johnson."I'm trying to win regionals again, and I'm hoping Gavin and I continue to finish 1-2."
Carbondale is another school to look out for in Highland this weekend. The Terriers have a nasty 1-2 punch on the boys side between junior Alex Partlow and senior Tucker Poshard. Partlow broke the school record with a time of 15:01.8 at the conference championship in Centralia with Poshard placing second.
Partlow has been a man on a mission his entire junior year since sitting out as a sophomore due to injury. After running a 15:37 at the beginning of October in Marion, Partlow told The Southern that his biggest goal was to break the school record of 15:07.
Another Terrier that's been on a mission is senior Madeline Prideaux on the girls side. Prideaux won her fourth straight conference title in Centralia and remains one of the most talented runners in the area. Kara Holub and Sadie Torre will likely fill out the Lady Terriers Top 3 after placing 5th and 6th individually in conference.
Teams and individuals will advance to sectionals next Saturday.
Get in the game with our Prep Sports Newsletter
Sent weekly directly to your inbox!