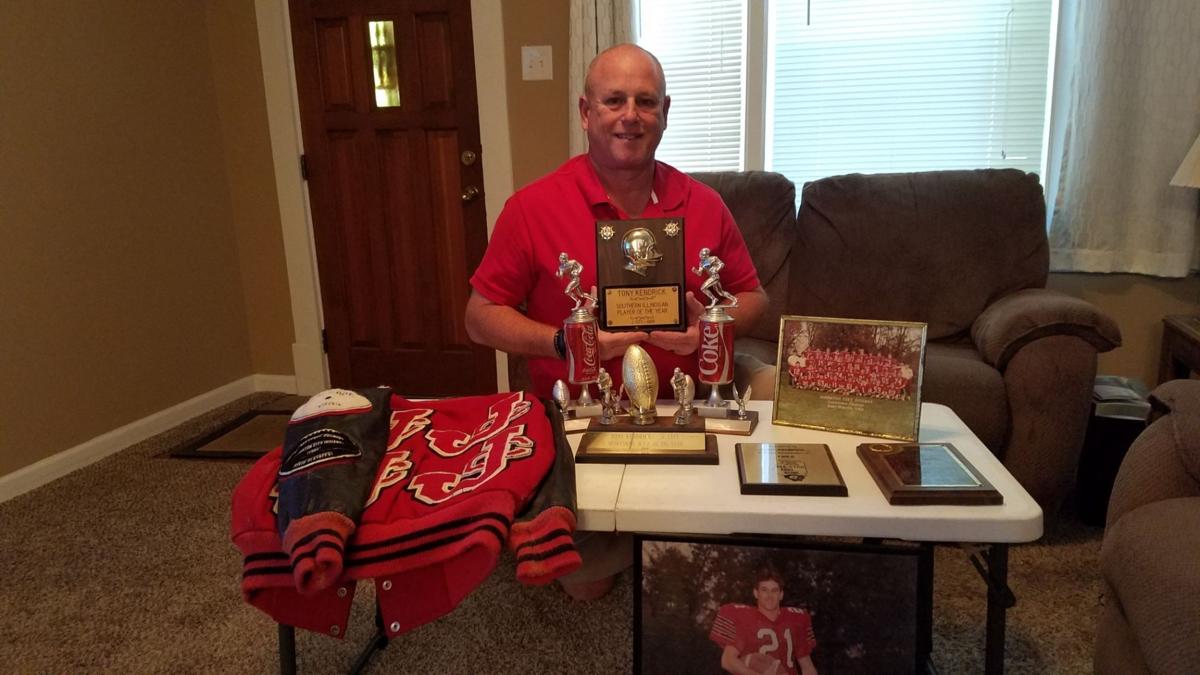 JOHNSTON CITY — Before there was the "Bad to the Bone" soundtrack cranked up to high-decibel levels at Johnston City football games, there was Tony Kendrick. He and his fellow Indians teammates provided plenty of noise and entertainment in 1984.
A speedy halfback, Kendrick was both elusive and powerful as a runner, and was the central figure on the school's first-ever playoff team that season.
As a senior, Kendrick put together a memorable fall season. He rushed for 755 yards on only 83 carries, or a little over 9 yards per carry. He also caught 18 passes for 432 yards or 24 yards per catch, and returned nine kicks for 260 additional yards (28 yards per return). He also scored 13 touchdowns. For his career, Kendrick rushed for nearly 2,000 yards. 
His numbers would have been even more eye-popping had it not been for the fact that his team had a big enough lead in several games and he was not needed to carry the pigskin. And there was quite a bit of talent joining him in the backfield that accounted for some of those carries, too — guys like fullback Tim Husch, halfback Tony Rametta and quarterback Darren Eisenhauer.
Defensively, Kendrick was a standout, as well, at defensive end and outside linebacker, recording 59 solo tackles, two interceptions and two fumble recoveries. 
For his efforts, Kendrick was named Black Diamond Conference Captain, All South, and The Southern Illinoisan Player of the Year. 
As a team, the Tribe captured the BDC with a record of 7-2 and then fell in the opening round of the playoffs to eventual state champion, Anna-Jonesboro, 18-6.
"Those guys were monsters," Kendrick said, referencing the Wildcats' superior size and strength. "We managed to stay with them for a while, but they were a very good team. At least we could say that we were knocked out of the playoffs by the state champion."
Kendrick moved around a lot in elementary school and finally settled in at JCHS his freshman year. 
"I remember having a conversation with the head coach, Jan Jansco, over by the bus barn when I was a freshman," Kendrick said.  "Coach Jansco said, 'Who are you? Are you related to Gordon and Bill Kendrick?' I told him they were my uncles. He said they had been good football players and he would see how good a player I was between the white lines."
Kendrick said that conversation motivated him to show Jansco what he was capable of doing.
"Jan coached me through my junior year and then Ross Babington coached me my senior year," Kendrick said. "Coach Babington was called 'Mr. Golden Arm' by a lot of the guys who had seen him quarterback the undefeated Johnston City team (1969). I certainly had a lot of respect for him. He had a love for the game that really inspired me. He pushed me to play harder and better."
Kendrick said he had an 81-yard kick return for a touchdown against Z-R, a game the Indians won 21-12. In other key league games, he recorded a 73-yard TD catch against Christopher (21-6 victory) and a 94-yard TD run in a 13-0 win over Carterville. 
"Johnston City had a big following for sports. I remember all the tailgating in the end zones at the old football field. It was full of pickup trucks. We had the crowds back then. I guess they saw something with our team that they hadn't seen in years. As players, we fed off our fans."
Kendrick said sports is "what kept me in school" and he also thanks his adopted parents, Delbert and Kathy Hankins, and Ralph and Janet Litton, for helping him through "the hard times" in high school. 
"They're family to me," he said. 
Mike Mooneyham, one of the assistant coaches on the Johnston City squad in '84, said Kendrick was a special athlete.
"Tony was a very tough, hard-nosed kid. You could say he was a typical Johnston City kid — hard-nosed and coachable. He didn't ask any questions about what he was told. He just went out and got things done. He was fast, strong, physical and one of the leaders of that team."
Kendrick also participated in basketball, baseball and track at JCHS. In track, he competed in the 100 and 200 meter dashes, the high jump and long jump. He was a state qualifier in the sprint relays, along with Rametta, Eisenhauer, McCown, Doug Childers, and Chris Shoaff. 
POST JCHS
Kendrick played well in the Southern Illinois East/West Coal Bowl game at McAndrew Stadium in Carbondale the summer after he graduated. His play caught the eye of SIU head coach Ray Dorr, who offered Kendrick a partial scholarship to play for the Salukis. 
Kendrick passed, enlisting in the Army instead. 
But he was not done with football.
Kendrick was selected to play for a semi-pro team in Germany when stationed there with the Army. On three occasions, he was named the MVP for the game. He played both running back and safety. 
"After my two-year stint in the Army, the German team (Neu-Ulm Barracudas) offered to pay me to stay and play for them. It was tempting, but I wanted to get back home. I enrolled at Greenville College and played a year there with my former Johnston City teammate, Tim Hankins."
Kendrick said he still had the itch to play at SIU and walked onto the team after leaving Greenville. Told by head coach Bob Smith that he would be redshirted, Kendrick, now 24 years of age, decided to call it a career in football.
Kendrick went on to pursue law enforcement as a career. He was hired by John A. Logan in 1993 and has stayed an active police member ever since, having worked for several local departments including Herrin, Hurst and Energy. He also served as a part-time officer at Menard Correctional Center, and the last nine years in Creal Springs Police Department.  
When not working as a patrolman, Kendrick may be spotted out and about with his camera. He routinely shoots sporting events. 
"I call photography my peacekeeper," he said. "I remember how important it was to us as players to see our picture in the paper when we were back in high school. But those were newspaper pictures. We never got to keep any of the original photographs, so I shoot pics and give the kids the photos. I would like to think that in some small way that motivates them to play a little better if they know my camera's on them."
Kendrick has been married to the former Susan Vaughn of Herrin for 24 years. They have two daughters: Morgan, a student at SIU majoring in healthcare administration, and Madisyn, a senior at Herrin High School. Madison is completing a CNA program at Logan. 
The Kendricks reside in rural Herrin.
Get in the game with our Prep Sports Newsletter
Sent weekly directly to your inbox!