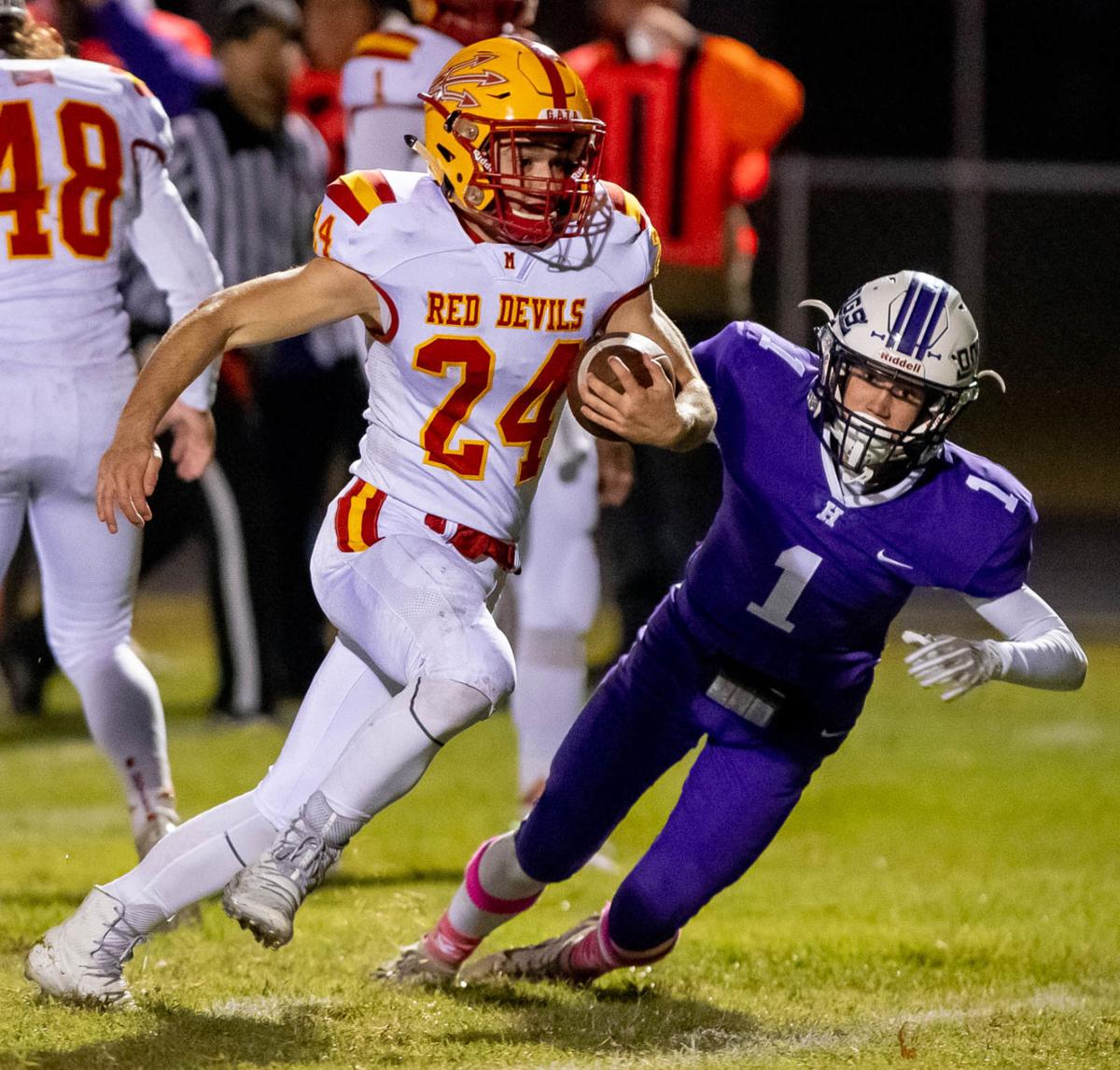 Murphysboro (1-1, 1-1) hosts Harrisburg (1-1, 1-1) on Friday in an SIRR Ohio battle that both coaches believe will come down to turnovers.
It's also homecoming week for the Red Devils, which has its advantages and disadvantages, according to 10th year coach Gary Carter.
"There are a lot of distractions that come with homecoming week," Carter said on Monday. "It comes down to keeping the kids focused. We have no school on Friday because it's Good Friday, so I'll look at getting the kids up so they're not sleeping all day."
Both schools enter on opposite ends of the spectrum in regards to their Week 2 performances. Murphysboro rebounded from a Week 1 loss to Herrin with a 27-0 victory over West Frankfort on Saturday, while Harrisburg took a step back against Benton in a 42-0 loss on Saturday after beating Massac County in Week 1.
Harrisburg coach Gabe Angelly feels his team matches Herrin and Murphysboro in talent level this season. This week he's preparing for a battle against the Red Devils.
"We're looking to put that one behind us," Angelly said of the loss to Benton. "We knew they were a good team and the best team in the conference last year alongside Murphysboro."
Angelly expects more from his offense this week with 6-2 junior quarterback Ben Gulley under center. The Bulldogs' recipe for victory in their win over Massac County was junior running back Bryant Lester rushing for 149 yards and two touchdowns.
"Offensively, we couldn't make plays against Benton and had a couple kids banged up," Angelly said. "The one thing you'll get from Murphysboro is a well-coached team and they play hard. We've had a few of those against them in the past."
Murphysboro starts three sophomores on both the offensive and defensive line. Carter highlighted sophomore center Isaac Derossett as a key piece to sophomore running back Devon Clemons rushing for 140 yards against West Frankfort, including a 41-yard touchdown.
The Red Devils run multiple backs out the backfield. Seniors Payton Austin and Gavin Kuba will fill into the mix and play defense as well. Carter likes Kuba's leadership from the defensive back position for his ability to call out formation adjustments.
"We'll watch more film on Harrisburg as the week progresses, but after our coaches meeting on Sunday we think we have something in place," Carter said. "We've been running the ball well, but just because it was good last week doesn't mean it will be this week."
Starting at quarterback for Murphysboro is senior Ryan Finke. He has the ability to hand it off to his sophomore brother, Ethan Finke, a 6-0, 185 pound fullback used in a multitude of ways.
Murphysboro is plus-4 in the turnover department through two weeks after recovering a fumble and intercepting a pass against West Frankfort. Carter believes his team's timing is only getting better after getting fatigued against Herrin.
"I like having Finke at quarterback because he's seen it all, he's athletic and he can minimize the damage," Carter said. "We played hard against Herrin, but I think we gassed out a little bit."
Given the lack of off-season preparation, Carter substituted more players in and out of the West Frankfort game to keep his kids fresh. He saw it work against the Redbirds with better offensive and defensive line play.
"Last week was about us, I challenged our kids to get better," Carter said. "This week we know Harrisburg is going to play hard and get after it. There might be a trick or two on both sides, but it'll come down to execution and creating turnovers."
While Murphysboro is relatively healthy, Harrisburg could have some game-time decisions to make come game time based on how players progress through the concussion protocol during the week. Angelly hopes his defense can find a way to flush Finke out of the pocket like they did to Benton's Keegan Glover last week.
"All you can prepare for is one week at a time," Angelly said. "It doesn't matter what field we're playing on because this year is about trying to build and make this a good stepping stone."