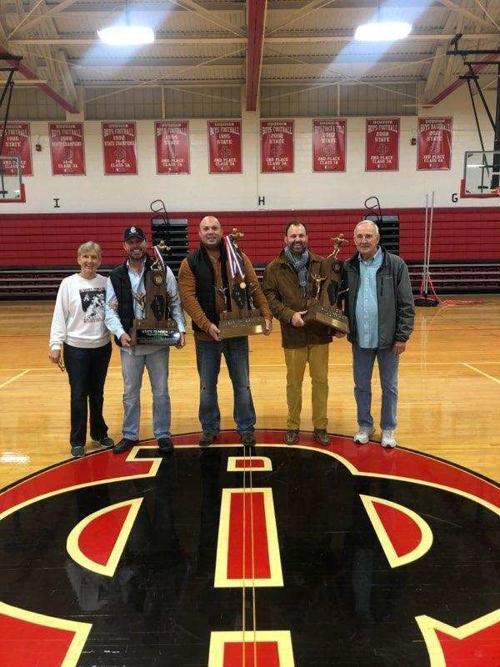 DU QUOIN — Du Quoin High School football has been synonymous with success for close to 50 years. The groundwork to victory was laid by Bob Karnes, who served as head coach from 1968 through 1987, and continued to flourish under Al Martin, AJ Hill and now Derek Beard.
Contributing greatly to the program's decades-long success were Karnes' sons — Jeff, Jason and Jarrod. All three were integral parts of three different Indians teams that competed for a state championship. The end result was two second-place finishes and one state title.
JEFF KARNES
Jeff Karnes, the eldest of the Karnes crew, quarterbacked the 1986 team that went 8-1 during the regular season and fell to Kankakee Bishop McNamara in the state championship game.
A junior, Karnes also punted and was the team's placekicker. Karnes said he often reflects back upon that season and realizes just how close the team came to winning the school's first state title.
"I broke a finger on my throwing hand during the last regular season game and it had to be splinted as I did not want to undergo a season-ending surgical procedure as we entered the playoffs," Jeff said. "And yes, it hurt every snap I took. Still, looking back, I would not have handled it any differently."
During Jeff Karnes' senior season of 1987, an injury again proved pivotal in the team's final outcome. Karnes suffered a knee injury during the Eldorado game in Week 5, which sidelined him the remainder of the season. The Indians still managed to go 9-0 during the regular season with a defense that posted eight shutouts.
"Even to this day, I get very frustrated (when thinking about it)," he said. "I ask what could have been not just for me, but more importantly, for us as a team and community. I wanted us to be the state champion in 1987 and be the best team Du Quoin ever fielded. All my goals, hopes and dreams were vanquished."
The Indians were bumped out of the playoffs by Alton Marquette in the quarterfinal round.
Karnes said he learned much about life through football.
"As a child, the high school practice field or gym was where I did my homework," he said. "They were my babysitter or playground. My father created a culture where younger players looked up to the older players and wanted to be part of something — a purpose-driven life. I can recall a community being brought together when woes were put aside even if just for a Friday night or Saturday afternoon."
POST DHS: After his graduation in 1988, Jeff attended Brown University where he graduated in 1992 with a degree in political science and international politics. He also took premedical requisites. He even managed to play football with the varsity squad a sophomore, where he mostly served as the team's punter.
Jeff was accepted into and received a scholarship from the SIU School of Medicine in Springfield and deferred a year, as he ran the Du Quoin Youth Club and coached a young Nick Hill. 
Today, Jeff works at the Mayo Clinic's urology department and is a member of the urological oncology faculty. He is also currently professor of urology and chairman of Mayo Regional Urology.
Jeff has two children, Henry-12, and Nan-7.
JASON KARNES
The middle child of the family, Jason quarterbacked the Tribe in the early 1990s, leading them to the state championship in 1992. He also played defensive back and was the team's punter and placekicker.
"We went 7-2 my junior year in '91, losing the conference championship game to Murphysboro and then lost the regular season finale to Salem," Karnes said. "We finally got things turned around in the playoffs and advanced to the semifinals before falling to Robinson."
In 1992, however, there would be no slip-ups. Du Quoin was ranked the preseason No. 1 team in the state for Class 3A and would go on to defend that ranking with a perfect 14-0 record.
"We went 9-0 during the regular season and 5-0 in the playoffs," Jason Karnes said. "We had a lot of pressure on us to win, but we seemed to handle it pretty well."
In the championship, game, Du Quoin squeaked past Marengo, 14-10, in what turned out to be a defensive battle.
Karnes said the Indians didn't have many close games during the regular season, but had to work hard to get past Robinson and Marengo.
"We got everybody's best shot. We trailed at the half to both Robinson and Marengo. Rob Eaton broke a long touchdown run to put us ahead in the championship game and we were able to hold on. I had two interceptions in that game. In the Robinson game, I had the game-winning touchdown run. Robinson was a very good team. I will always remember our home crowd. People were standing five or six deep all the way around the field. There must have been 5 or 6,000 people there easily. The atmosphere was electric. You can't ask for more than that as an athlete. Those are the kind of games you never forget."
Jason Karnes said he considered himself lucky to have played for his father, who had shifted over from head coach to assistant, and Martin, another outstanding leader.
"It's a dream come true to get to play for your dad," he said. "And then to help win a state championship for him, Coach Martin, my older brother, Jeff, and with my younger brother, Jarrod, who played on our special teams ... it meant everything to me, and I know how much winning meant to the community. We didn't want to let anyone down. We had so much pride as a team. I couldn't have asked for a better place to grow up. I wouldn't be who I am today if not for God, my family, coaches, teammates, and friends."
POST DHS: Jason accepted a full-ride scholarship to play football at SIU upon graduating Du Quoin in 1993. He redshirted his first year under head coach Bob Smith. He progressed through the ranks to second-string quarterback under new head coach Shawn Watson.
In the spring of '96, Jason transferred to Logan and played baseball for Coach Jerry Halstead. The next fall, he transferred to McKendree University, where he played football and baseball for the next two years. He graduated with a degree in physical education. In 2002, he was hired by Herrin High School as a teacher/coach.
He served as an assistant for four years and then served as head coach 14 years, compiling a 104-45 overall record before stepping away from coaching at the conclusion of the 2019 season. He remains at the school today as an instructor.
Jason and Brandi have two children: Chance-18 and Presli-16.
JARROD KARNES
Jarrod Karnes is the youngest son. He was a sophomore on the varsity team that won the 1992 state championship. He mostly played special teams.
In his senior year of 1994, Karnes was a starting running back and linebacker. The Indians were again the preseason No. 1 team in the state.
"I think that ranking kind of gave us a swollen head," Karnes said. "We lost to Harrisburg in Week 2 and then again to Murphysboro the last game of the regular season. So, we were 7-2 and we felt we should have been 9-0 going into the playoffs. I remember we had a team meeting before the playoffs and that kind of turned things around. We really played well in the playoffs."
Karnes said the Indians opened postseason play with a win over Breese Mater Dei, followed up with wins over Waterloo, Nashville and Carlinville.
"I scored the winning touchdown in the Carlinville game," he said. "We beat them 14-6 and they were undefeated at the time."
In the championship game, the Indians fell victim to a powerhouse in Bloomington Central Catholic, 22-12. 
"We were blowing them out in the first half. We took a 12-0 lead into the locker room, but missed our extra points and felt we should have had two more touchdowns," Karnes said. "Too many mental mistakes. Basically, we opened the door for them."
Karnes said he got roughed up by his older brothers every day at home, which toughened him up when he started playing high school football.
"I always wanted to run over somebody," he said. "And football gave me that opportunity."
Karnes said that for a small town public school, Du Quoin more than held its own against some of the outstanding football programs in the central and northern parts of the state.
POST DHS: Saying that he wanted a "second chance" at football after his Du Quoin team lost in the state championship game to Bloomington, Jarrod Karnes started out his collegiate career at Evansville, where he started at fullback as a freshman.
After he heard the football program may dissolve, he transferred to McKendree University in Lebanon, where he joined up with older brother, Jason, who had transferred there from SIU.
At McKendree, Jarrod suffered a knee injury and redshirted a year. He went on to play three years thereafter as the team qualified for the playoffs twice. He graduated with a degree in education and began teaching. For the last thirteen years, he has been a teacher/coach at Murphysboro. 
Jarrod and his wife, Kari, have five children: Jackson, Maxon, Karis, Maddox and Mace.
Coach Bob Karnes compiled a stunning 136-59 overall record in his 20 seasons as head coach of the Indians. He then continued to serve the program at the request of new head coach Al Martin, mostly as the defensive coordinator.
"Coaching my three sons was the zenith of my coaching career," Karnes said. "As a father who coaches, you dream about it. I was very blessed to get that opportunity. I think it all goes back to those Wednesday nights and the old green shag carpet in our living room. I would be on my knees and they would be running at me. That was our field when the boys were young."
Karnes explained that he was busy coaching sophomore games on Mondays, attended Booster Club meetings on Tuesday, coached freshman games on Thursday and varsity games on Friday. That only left Wednesdays during the work week to spend quality time at home with his wife, Pat, and sons.
Karnes said he is a firm believer that athletics plays a big part in an individual's success.
"You learn the value of teamwork, dependability and punctuality. I have coached judges, lawyers, doctors, business owners, laborers and so many have grown up to be the best people — some I consider to be great friends. That's when you're proud to say you were a coach...because maybe in some small way you contributed to that individual's success."
Long retired as an educator, the elder Karnes continued to serve as a volunteer assistant coach to his son, Jason, at Herrin for a number of years. He now spends his spare time as an alderman on the Du Quoin City Council when not visiting with his children and grandchildren.