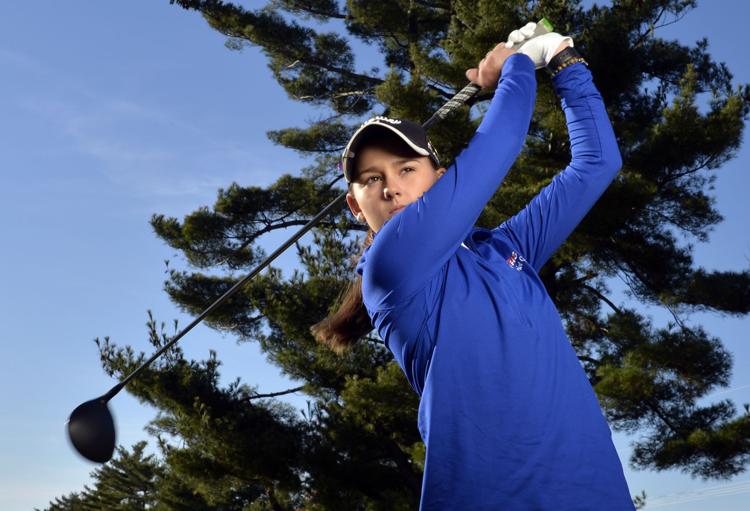 Millie Lawson hides it well.
Outwardly, the Massac County High School junior looks unflappable, whether centering the ball in the fairway, chipping or sinking a crucial putt. Her precision on the course masks the machinations inside.
Lawson controlled those emotions, those self-doubts well this year with an 18-hole average of 79. In addition, she notched medalist honors in regional and sectional competition while leading the Lady Patriots to the Class 1A state title.
Those accomplishments make Lawson The Southern Illinoisan's girls golfer of the year.
"All through my life I've been very nervous during and before playing," Lawson said. "While most kids are warming up on the range, I'm usually in the bathroom getting sick. I've learned a couple tricks to cope. I have been able to go out and practice, I'm taking care of everything else with those nerves.
"I don't want to let my team down with a bad score. I learned this year we had such a strong team, that even when I've had a rough round, my teammates have always had my back. I've just always wanted to perform well and make my dad proud."
Lawson burst onto the Southern Illinois prep golf scene as a freshman. She was a key member of Massac County's sectional championship team that finished second at state.
Her game has improved considerably since then.
"She's just steady," said Massac County coach Laurie Glass. "She works hard all year round. She plays in summer touraments. She really wants to play well for the team. If she plays bad, she's upset because she didn't play well for the team.
"She's not a real longer hitter, she's gotten longer as she's matured. Just about every part of her game is pretty steady. She learned this year how to manage the course better and not make mental mistakes. She's just gotten smarter."
Lawson seconded that assessment, particularly concerning the mental aspect of her game.
"Definitely, some of my choices I make on the golf course, sometimes I like to play a little risky," she said. "I get a little cocky if I think I'm hitting it well. That's probably my downfall."
And, part of her improvement is physical and emotional maturation.
"I think it's a combination of both," Lawson said. "As I get older by swing is starting to get sharper. I think this year has been a turning point for me. I learned more about my game this year than my whole life. It's also about confidence, Confidence is key for me. I've been able to get more confident. I'm trying my best to get under control."
The physical strength she has gained as part of the natural growth process has also contributed to falling scores.
"It's helped tremendously," Lawson said. "Since going into my freshman year, I've been having to deal with a lot of shoulder pain. My left shoulder, I have some spurs in there. Getting stronger and working out has helped my shoulder muscles. Now, it doesn't bother me during a round. I'm a lot more confident with my clubs."
"She just has a really good swing that is really steady," Glass said. "It's a really pretty swing. I think even though she's small, it's more about hand-eye coordination. She plays soccer. She could play basketball, she could play whatever she wants."
With a year left in her prep career, Lawson is looking to the future. She is leaning toward playing at the next level.
"I'm hoping to," she said "I don't know 100 percent, but I'm leaning toward playing. I'm interested in seeing if I get any offers. My dad and I are pretty certain I can take that next step."