CARTERVILLE — With fairways tighter than a waistline the day after Thanksgiving, Crab Orchard Golf Club demands accuracy.
Benton senior Brad Hammond delivered in that department Monday, which is why he left as the Class 2A Carterville Regional medalist. His 4-over par 74 beat freshman teammate Cy Norman by a shot, enabling the Rangers to card a 315 for the team title, nine shots better than Carbondale.
At 6,136 yards, the par-70 layout seems like one that should be tamed, but a closer look reveals it isn't. Although Sunday's rain softened the greens a bit, there was just enough of a breeze to add to the course's natural defenses.
Tack on the pressure of a one-round, make good-or-else vibe and you have a day where par is a great score. Only six of the 46 golfers who teed off broke 80, with no one coming that close to equaling par.
"It's pretty tight, so if you're not getting off the tee, I could see where this course could be very difficult," Hammond said. "The wind started to pick up a bit, so that made it even more difficult, but this was the best I've gotten off the tee all year."
During a rainy practice round Sunday, Benton coach Reggie Norman emphasized placement and accuracy over distance. The message to his players was this: Use whatever club allows you to consistently hit the fairway, even if you have to downshift a bit.
Hammond found that he was so accurate off the tee that he could keep hitting driver.
"We were definitely looking to see what we could do off the tee," Hammond said of Sunday. "Number one, whatever we had to do to stay out of trouble. But after the first five holes today, I knew my driver was working. I didn't have to dial down."
Hammond's score could have been better had he made a few putts. He admitted to not feeling good over the ball all day, calling putting a grind. That can't be the case next Monday at the Charleston Sectional, where the host school can tap into its home course advantage.
You have free articles remaining.
Keep reading for FREE!
Enjoy more articles by signing up or logging in. No credit card required.
The good news for the Rangers is that the Charleston Country Club course is similar to Crab Orchard, according to Norman.
"Charleston is a tight course, but if you put yourself in position, you're going to have a chance to score," he said. "Brad did that today, and if we can shore up some putting, he can go low. He and Cy are in the same boat right now.
"Brad is hitting it better, but if we can get them both on track with the putting, they can be a dynamic duo."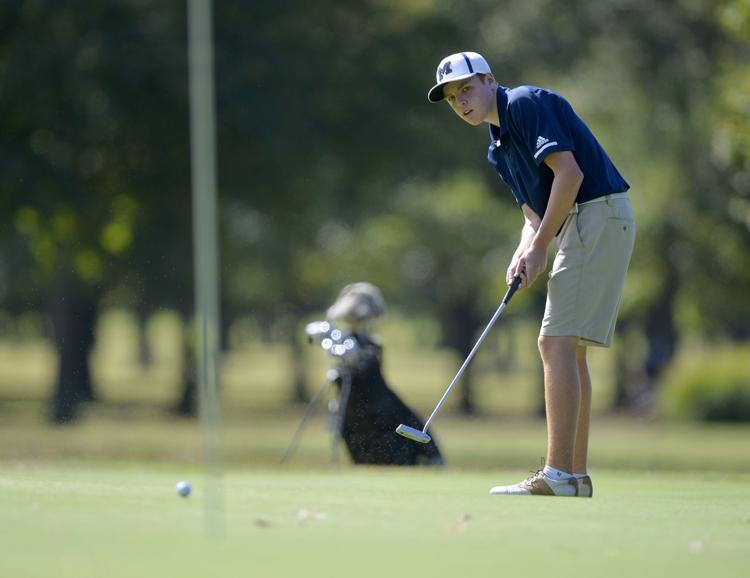 Marion's Isaac Hammet placed third with a 76, followed by Logan Baggett of Herrin and Ian Davis of Carbondale, who tied for fourth at 78. Davis' teammates, Jacob Collie and Riley Coffer, also finished in the top 10 with a 79 and 80, respectively.
The Terriers' 324 was a stroke better than Herrin, which claimed the last team spot for the sectional. Tigers senior Josh Green, who won the SIRR Ohio title last Tuesday at Hickory Ridge, turned in an 80 on Monday.
There was drama for the last individual spot at the sectional. Massac County's Noah Matesevac survived a two-hole playoff with Carterville's Brody Eigenrauch to win the spot, parring No. 2 while Eigenrauch bogeyed.
It wasn't quite as dramatic atop the leader board, where Benton didn't play its best but still won without much worry.
"What I like is that they know this wasn't a very good day for us," Reggie Norman said. "But we still had enough to get it done. They know we have to get after it for the next week. We'll have to play really well at Charleston, and we're going to prepare to win the thing."