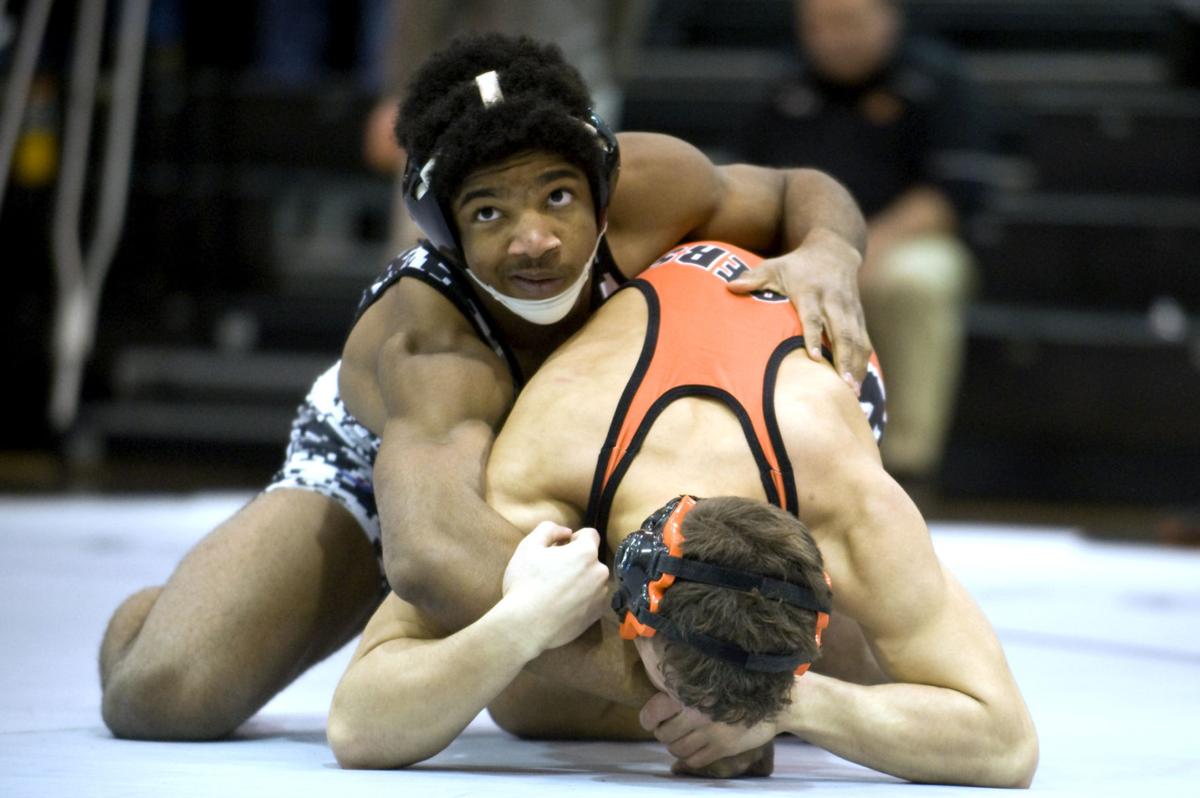 At the beginning of championship Saturday at the IHSA 1A and 2A wrestling tournament, six of the 18 local wrestlers were still alive, and at the end, Carbondale's Cameron Caffey was the last one standing with his arm raised in victory.
The match between Caffey (41-0) and Cody Baldridge of Morris (39-2) in the 2A 182 lbs. weight class was one of the feature matches of the tournament, and it lived up to its billing.
After a scoreless first period, Caffey chose down to open the second period and scored the first point of the match on an escape 15 seconds later. The score remained 1-0 heading into the third period.
"I chose down and knew definitely I was going to get an escape," Caffey said. "I've been having trouble with escapes in practice, but not at all in matches."
This time Baldridge chose down and tied the match on an escape at the 35 second mark. With both wrestlers on their feet, Caffey scored a takedown with 44 seconds left and rode out the remainder of the time to win his first state title in four tries.
"I was constantly taking shots in the first two periods, but I couldn't finish any of them," Caffey said. "In the third I was trying to turn him and ride him out, but he eventually got that escape. I knew immediately he wanted to take me to overtime, but I didn't want to go there ... I'm taking a bunch of shots, pushing the pace and pushing him around the mat and at this point he was breathing pretty heavy. However, he was very strong, so I couldn't just fire at him. I then went for his left leg and he anticipated it and dropped, so I came up behind him for two."
Caffey finished fifth last year at 170 after finishing 11th at 145 his sophomore year and being eliminated after one match as a freshman at 126.
"I got it all done this year with (my fourth regional title), my first sectional title and my first state title," Caffey said.
Anna-Jonesboro junior Arieh Hart (42-4) finished second at 1A 152, losing to Belleville Althoff junior Danny Braunagel (47-0) by a 10-4 decision.
"Arieh had a tough match against the No. 1 kid in the state, but he gave him a match, it was tight up until the third," said Anna-Jonesboro coach Eric Massey. "I knew he was going to be good because nobody works harder than Arieh. He bought into what we were teaching and worked on his conditioning and that's what I think took him to the next level."
Braunagel took a 2-0 lead with three seconds left in the first period by a takedown. Hart took the lead in the second period with an escape off the whistle followed by a takedown, but Braunagel escaped his hold and returned the favor 28 seconds later. Hart escaped with five seconds left to cut the lead to 5-4.
Braunagel extended his lead with an escape, then with 46 seconds left, scored another takedown and was awarded two more points for a nearfall.
Hart transferred from Murphysboro, where he missed qualifying for state last year after losing his first two matches at 126 his freshman year.
You have free articles remaining.
Two of the local contingent faced each other for the fifth time in the 1A 138 third place match, and for the fifth time, Murphysboro junior Ryan Chambers beat Benton senior Oliver Davis by a 5-2 decision. Chambers didn't qualify last year after advanced to state his freshman year and losing his first two matches.
Chambers rebounded from losing an 8-5 decision in the semifinals Friday to advance to the third place match with a 2-1 decision.
"My plan was to give it my all because there was nothing left to save your energy for," Chambers said. "Thinking back, I wish I could have won semifinals, but I'm happy I got third. I put in the work to get here, but I'm extremely grateful for coach Shea (Baker), all the other coaches and my practice partners."
After a scoreless first period, Chambers took the lead 30 seconds into the second period on an escape and held that 1-0 lead heading into the third period.
"He was trying to hold me down, but finally he just let me up because it was pretty clear I was going to get away and he was going to get some time on his feet to take me down," Chambers said.
At the beginning of the third period, Chambers scored a takedown 30 seconds in to make it 3-0 and after Davis escaped scored another takedown to up his lead to 5-1. With 30 seconds, left Davis escaped again and Chambers road out the remainder of the time.
"I got him on a single leg on the left side to open the third period and was able to take the leg and circle around to get my two points," Chambers said.
Chambers finished with a 41-2 record while Davis finished at 35-10, with five of his losses coming to Chambers in the championship matches of the Murdale Tournament by a 4-3 decision, the SIRR Tournament by an 8-3 decision, the West Frankfort Regional by injury default, the Vandalia Sectional by a 4-2 decision and now the state finals.
"Oliver is our only four-time state qualifier, he got a medal and he's an all-stater, so he has a lot of reasons to hold his head up," said Benton coach Duane Bean.
Carbondale junior Zach Williard (42-5) lost in the semifinal Friday by a 10-6 decision to drop to the consolation semifinals, where he advanced by a 5-4 decision to face Austin Kedzie from Maple Park (Kaneland) (34-5). Last year Williard lost his first two matches to be eliminated in his first appearance at the state tournament.
"I wanted to make the finals and I gave it my all, but he was better than me," Williard said. "I was upset after losing the semifinal, but I knew I already medaled and that was my goal."
Williard fell behind 2-0 on a takedown with 38 seconds left in the first period, but tied it up with six seconds remaining on a reverse.
"My strategy was get on my shots and finishing them, which was what has been working for me all tournament," Williard said. "After he got that takedown I wasn't worried and just kept wrestling, and getting that reverse was big, tying up the match (and) giving me a fresh start."
Williard opened the second period by scoring six points on an escape and a takedown. Kedzie scored on an escape near the end of the second period and scored a reverse 18 seconds into the third to cut the lead to 8-5, but Williard scored an escape to win 9-5.
Harrisburg sophomore Kody Cavender (33-7) started championship Saturday in the 1A 132 consolation quarterfinals against Max Kristoff from Belleville Althoff. He was eliminated when the grandson of former Terrier great and Olympian Larry Kristoff pinned him with 46 seconds left in the second period.