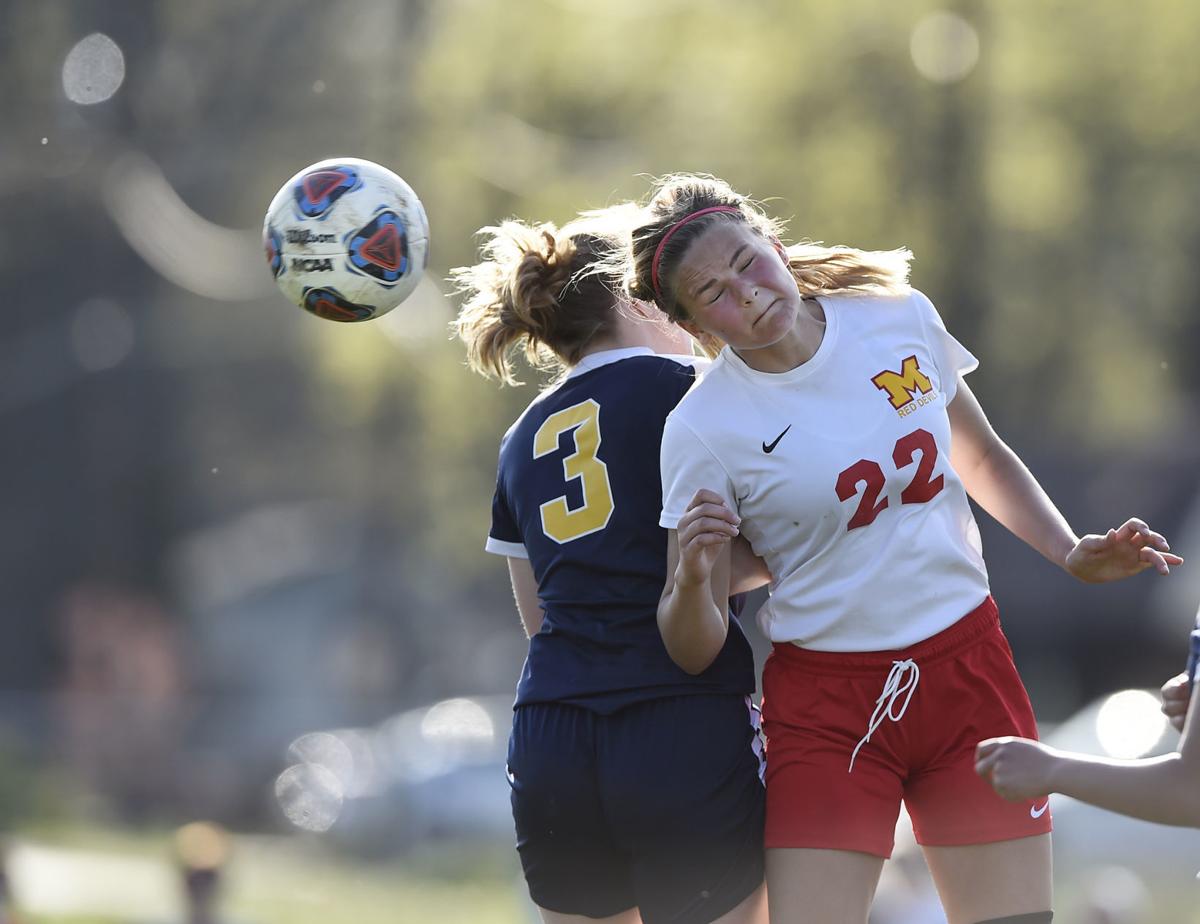 It was a down season for local girls soccer teams last season with only Marion advancing to sectionals in Class 2A. Despite the loss of The Southern Illinoisan Player of the Year Blake Clark, Coach Jaime Clark Verbeck has 10 returning starters to improve upon last year's record 20-win season.
Since Verbeck took over in 2017, the Wildcats have steadily progressed.
Last year, the Wildcats scored the most goals in team history to post a 20-7-0 record and repeat as regional champs for the first time. The season ended with a 4-1 loss to Chatham Glenwood in the sectional semifinals.
Clark scored a team record 59 goals, which was good for sixth on the state all-time list and Marissa Basi had a team-record 36 assists, which tied for second on the state all-time list. In addition, Clark and Basi set career records with Clark finishing with 146 goals to break Jessie Crabtree's 142 goals and Basi set the record for assists with 79.
Verbeck lost seven seniors off that record breaking team, including Basi and three other starters, but returns 12 seniors and two juniors. Crabtree has returned as an assistant this season.
"Blake and Marissa signed to play at SIU, so we'll have to replace over 80 goals and 50 assists, and we also lost two of our strongest defenders (Ana Cuartis and Lauryn Kadela), so that's pretty big shoes to fill," Verbeck said.
The returning starters are seniors Nicole Szidik, Makenzie Miller, Haley Rice, Gloria Wofford and Maddie Goodley in goal, junior Paige Newlan and sophomores Margaux Bruce, Lily Garrett, Adriana Basinger and Adi Wall.
"Margaux scored over 20 goals as a freshman and Nicole has consistently been a first-team all-conference scorer," Verbeck said. "Paige, who was hurt last year, can score and we have a couple of freshmen in Haylee Lambert and Abby Surburg, who can contribute on offense."
Carterville/Herrin (8-7-2) advanced to the regional title game for the first time after beating Mount Vernon 3-1. The Lady Lions record-setting season ended with a 7-0 loss to Marion.
"Last year was the first winning record for the girls program," said Carterville/Herrin coach Chip Lennox. "This year we are more talented and deeper than the starting 11. I can think of four freshmen, including Ella O'Brien, that can challenge for a lot of playing time."
Lennox lost four seniors, but only one full-time starter, but has the other 11 in the rotation back to build upon. Of the 11 four were freshmen, including the goalkeeper Sydney Stuck.
"We were pretty young last year, but they got good experience," Lennox said. "A good amount of the underclassmen that started last year are returning, so we'll have three seniors and four juniors starting. They are a pretty athletic group and gained confidence throughout the season."
The returning starters are seniors Ashton Hawk, Olivia Cripps and Maddie Olson and juniors Annabelle Barnstable, Ainsley Farmer, Kelby Weber and Madison Poshard. In addition to Stuck, Amanda Howerton and Audri Strothman started as freshmen with freshman Diedra Rogers getting a lot of playing time.
Carbondale (9-16-0) suffered through its first losing season since Coach Ortez Davis took over in 2012. 
Davis lost five seniors, including outside midfielder Sage Nelsen and outside defensive back Emma Turk, and will be without middle midfielder Macey Davis, who decided not to return for her senior season.
However, Davis has seven returning starters to build around in three seniors defensive sweeper Audrey Meador, midfielder Rose Kippenbrock and forward Aisha Ruperto, three juniors goalkeeper Ella Summerlin, forward/center midfielder Torrey Taylor and outside defensive back Jodie Meredith and sophomore forward/center midfielder Ana Schurz.
"Last year was a rough year because we had some girls who played huge roles who had to learn on the fly," Davis said. "From what I've seen so far we will be better than last year. We have more pieces to be a more complete team. We're going to be young, but the talent is there. All they need is the maturity."
In Class 1A, the four local teams didn't reach the regional finals for the first time since 2016. Murphysboro reached the regional final in 2018 before losing to Columbia and Harrisburg lost in the 2017 final to Belleville Althoff. The Red Devils are moving their home games to the turf at Doc Bencini Field.
Murphysboro's (16-5-1) season ended early with a 3-1 loss to Waterloo Gibault in the regional semifinals. Coach Michael Lydy returns his leading scorers in senior Lillie Schaldemose and junior Maci Uffelman along with senior middle defender Ashley Jarrett and junior midfielder Jillian Clark.
"I lost maybe 10, of which four were starters, because they decided to do other things," Lydy said. "This year I have a lot of freshmen and sophomores. Out of my 25 players, I list four seniors and five juniors, but two of the seniors haven't played in their life, and only Uffleman and Clark were starters in that junior group. I'm going to start maybe four freshmen, three sophomores, three juniors and two seniors."
Harrisburg (13-8-0) lost in the regional semifinals to Trenton Wesclin 6-1 and has a new coach, but a familiar face in Jordan Baxter who played for the Lady Bulldogs from 2010 to 2013 and graduated as the all-time leading scorer.
Stewart inherits a young team with only two seniors and three juniors to build around, but will have to replace the leading scorers Josie Drone and Devin Butler, who also signed with SIU.
"I have a very young team this year with six sophomores and seven freshmen," Baxter said. "Even though we are a young team the skills are there and I have back senior Lauren McDaniel in goal, who missed last year with an injury. She looks healthy and ready to go."
Massac County (4-8-3) beat Anna-Jonesboro/Cobden 5-1 in the regional quarterfinals before losing to Columbia 13-0 in the semifinals. The Lady Patriots lost seven seniors and returns just two juniors.
Anna-Jonesboro/Cobden (0-18-0) returns former coach Mark Boomer to the sidelines.
A new addition to the region is Pinckneyville, which will be fielding a varsity team for the first time.
Coach Jay Ray will have three seniors, four juniors, seven sophomores and seven freshmen to work with.