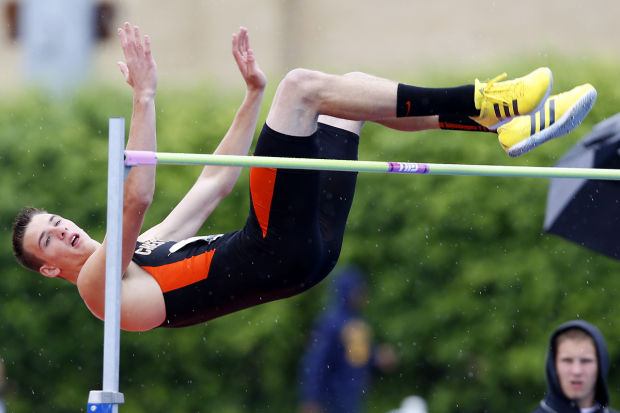 Chester's Kyle Landon picked another prestigious award this week when he was named the Gatorade Illinois Boys Track and Field Athlete of the Year.
An SIU recruit, Landon won the Class 1A high jump and long jump championship. Landon jumped 6-10 to claim the high jump title and 22-1.75 to earn gold in the long jump. Earlier in the year he had jumped 7-2, the third best mark in the nation.
The Gatorade award is based on athletic accomplishments, academic achievement and community service. In addition to the state championships, Landon had a 3.92 GPA and he volunteers on behalf of a food pantry and the Chester youth basketball program.
"He had that 7-2 jump, that was third in the nation," said Chester track coach Steve Spears. "Academically, he's great and he helps out with youth basketball here. There are a lot of great kids you teach. It's just so rare you get that kind of talent with that type.
"He's just humble, no ego, team driven, hyper-competitive, wants to win at everything. A great student, he competes in the classroom just like he does on the court. He's kind to everyone, just naturally, that's just the way he is."
Landon never expected to win the award.
"I was shocked," he said. "I knew I was a finalist, my coach told me. I didn't think, all the people in Illinois, someone would get it before someone from Chester would."
You have free articles remaining.
Landon learned of the award while on break from his job with the City of Chester.
"I was on my break and got a text from my coach," he said. "It was like, 'You've got to be kidding me? Are you messing with me?' I've read people's profiles over the years of people who won that, I'm like, how do you get that?"
Landon played basketball and ran cross country at Chester. Next year at SIU he will concentrate solely on track.
"It's going to be totally different," he said. "I'm going to miss the cross training. Track is fun sport. I'm just excited to see what training for one sport will do. I can only imagine what wonders it will help me do."
Spears said Landon should excel at the next level.
"I use the term self-adjustment," he said. "If you say you need to do this, he's in tune to his body and he can make those technique adjustments that can make a big difference.
"He wants to win at everything he does. He wants to get the highest score on the test. He wants to win the ping-pong match. I've seen him clear 7-3 and I know he can go higher. He's got a chance to make the Olympic trials some day."