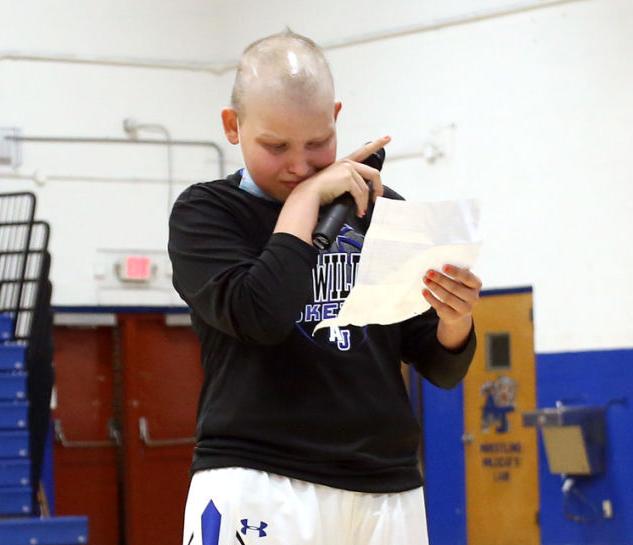 A story of battle and fight comes from Anna's very own Marlee Smith since being told three words that not a single human being is ever ready to hear.
Smith was only 14 when she learned about her diagnosis of Leukemia from Oncologist William Ferguson at SSM Health Cardinal Glennon Children's Hospital in St. Louis, MO. The untimely news for Smith came on St. Patrick Day in 2019, but she wasn't prepared to let cancer define who she was or how she lived her life from that moment forward.
A glowing light in the Anna community, Smith has battled back through the grueling stages of chemotherapy and is now in the remission stage of her fight with cancer. Each chemo cycle lasts three months for Smith and includes spinal taps that are then followed up taking prescribed medication during the off months.
Smith continues to be an inspiration to many in the Anna community. One of those being her basketball coach Matt Denny.
"I've known Marlee long before she got to high school because my daughter, who is a year behind her, grew up playing soccer together," said Denny. "She has changed mine and a lot of others' perspectives on life through her unselfishness and perseverance."
Smith has been a volunteer in her community since joining First Baptist Church in Jonesboro with her family of four. Before Smith got sick she would volunteer to stay in the back with the children during the church services, but has since had to forfeit those duties to protect the health of the children. After being diagnosed, Smith still found a way to give back by going around and delivering toys during Christmas time at Cardinal Glennon Hospital.
"That's just who she is," Denny added. "Most of the kids I coach are good kids but she was always special even before her illness."
According to Denny, Smith is an avid Stephen Curry fan and she puts that shooting range on full display for the Lady Wildcats during the winter. Smith was surprised by her teammates during her sophomore season when the team sported warm-up shirts that read, "Play For Marlee," on the back.
A moment that Smith said she would never forget.
"That was an incredible moment because it caught me by complete surprise," said Smith. "I had missed the beginning of the season because I was still waiting on news from my doctors, but my team and Coach Denny have been incredible through it all by texting me to check up on how I've been doing."
The past three months have been especially rough for Smith due to the ongoing coronavirus pandemic, which left her on strict lockdown according to her mother Angie. The pandemic came right after Smith had just begun earning some of her strength back. Smith had many summer plans of playing golf with her sister Meghan and enjoying travel league basketball for her TC Hoops team out of Cape Girardeau.
Smith also had a pediatric cancer ski trip to Colorado with some friends cancelled, which would have been her first trip since being diagnosed. Despite all of the obstacles, Smith received recent news from her doctors on June 1 that she would be able to start practicing again with teammates.
The best news she had received in weeks according to her mother.
"When I heard that I had cancer I didn't think I'd be able to play sports again," said Smith. "My whole family has been behind me and I have an uncle in Maryland with a young daughter that I know I have to stay strong for."
The support from Smith's community came immediately when students set out a goal of raising $3,000, and surpassed that goal, raising $4,025 for the Smith family. Several students and teachers even shaved their heads in support.
Smith believes God was doing this all for a reason. To bring the community closer and shed some light on people who may not have families there for support, or have enough money to pay the medical bills. Smith is the proud daughter of two parents, one sister, and an oncologist who treated her the only way she could have hoped.
"Dr. Ferguson didn't just look at me as another cancer patient, but as a kid with many hopes and dreams," said Smith. "If you have an illness and want to continue playing sports then yes, absolutely do it. Listening to your body was always my biggest problem because I would go to golf meets after chemo and immediately get sick."
Davis has dreams of attending Saint Louis University and entering the schools Pre-med program after her days of high school hoops and golf are over. Davis became familiar with the program after college students visited Cardinal Glennon Hospital to job shadow some of her nurses.
That only seems to be one stepping stone in a long line of accomplishments coming Smith's way with her radiant attitude and positive demeanor.
The late ESPN sportscaster Stuart Scott said it best when he stepped on stage at the ESPY's to accept the Jimmy V Award for Perseverance nearly five years ago after his battle with cancer, "You beat cancer by how you live, why you live, and the manner in which you live."
Be the first to know
Get local news delivered to your inbox!