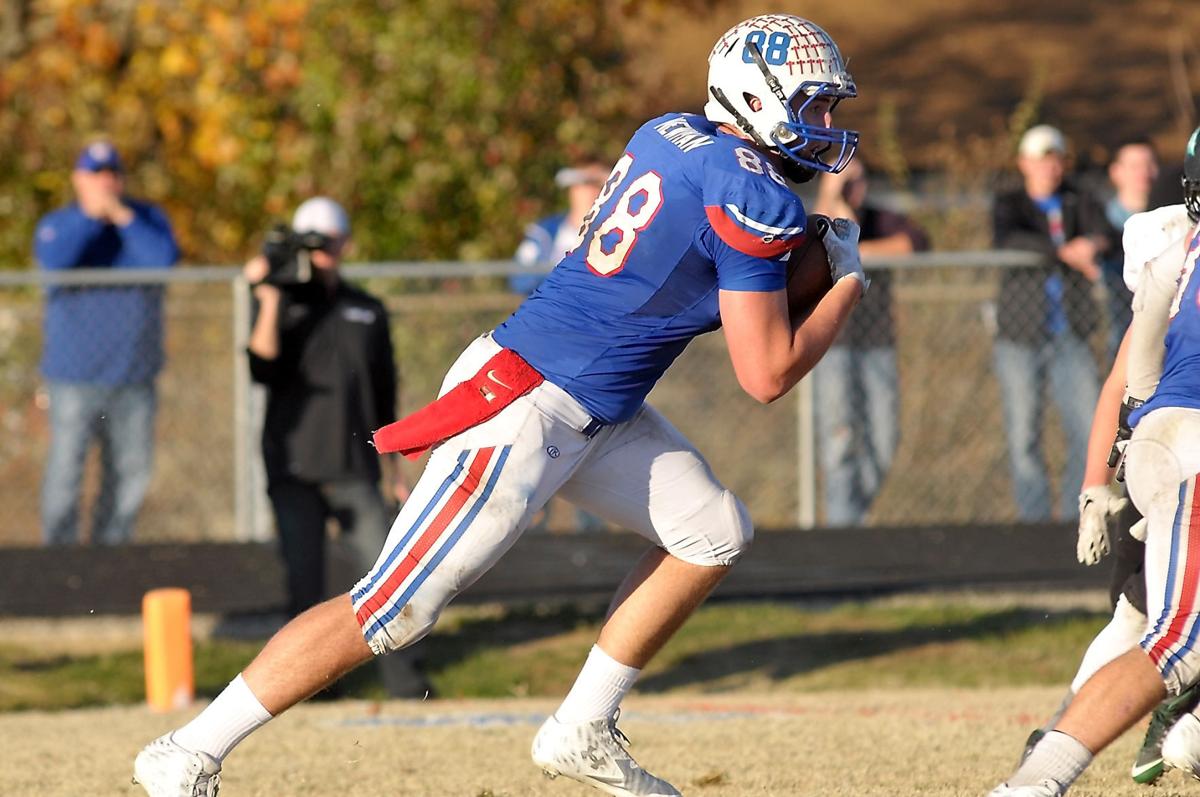 When Royce Newman enrolled at Nashville Community High School in August of 2012, the expectations seemed as limitless as his potential.
He was going to be the next Lucas O'Rear, they said, the guy who pushed the basketball team to contend for state titles. And if he chose his college wisely like O'Rear did with Northern Iowa, he could play in multiple NCAA Tournaments, maybe even reach a Sweet Sixteen and spread the Nashville name around that way.
There was one dissenter among the crowd.
"I told them if he was going to play Division I," Tim Kuhn said, "it would be in football."
Eight years later, call Kuhn prescient. And maybe by this time next year, you'll be able to call Newman an NFL player.
The kid who was once 6-6 and 240 pounds has added 70 pounds and considerable strength to that frame without losing any of the quickness and footwork that stamped him as such a prospect. A position switch to right tackle from left guard has helped the Ole Miss offense become one of the nation's most potent and enhanced Newman's chances of playing for pay.
Kuhn saw this coming, even when he was coaching Newman at Nashville.
"He was on the varsity from the get-go," Kuhn said. "It takes guys like Royce to get a program going."
Want to know why first-year Rebels coach Lane Kiffin has helped revitalize a program that was both dull and sub-.500? Look to the likes of Newman, who has allowed just one sack all year and enabled Ole Miss to average a Southeastern Conference-high 215.7 rushing yards per game.
And also look back five years ago to the day that Newman verbally committed to Missouri. Coach Gary Pinkel, like all the big-time coaches who lusted after Newman, saw a body capable of adding lots of weight. In a high school tight end, he visualized the type of player an SEC school could send to the NFL.
Only Pinkel wouldn't be the guy doing it. He had to retire after the 2015 season due to health concerns. On his way out, he told Newman that if he wanted to re-open his recruiting, he understood.
A variety of schools took another crack at it. Iowa, Illinois and Nebraska were among the suitors. But Ole Miss assistant coach Matt Luke was persistent and friendly. According to then-Nashville basketball coach Brad Weathers, he knew more than Xs and Os.
"He knew where the coffee pot was," Weathers quipped.
Luke's need for caffeine after a long trip from Mississippi fueled his desire to coach Newman. Head coach Hugh Freeze found his way to Nashville and closed the deal. Newman was staying in the SEC, just moving south.
"I'm extremely happy with Ole Miss," Newman said last week.
There have been reasons for him not to feel that way. The program is on its third coach in his five years. Freeze resigned in July 2017 after finding trouble over impermissible benefits to players and numerous calls to an escort service. Luke was fired after going 15-21 in three seasons.
Kiffin is who Kiffin is – a quirky offensive genius. He's an acquired taste to some, abhorrent to others. But Newman also says Kiffin's eye for detail and intensity has paid dividends.
"He really takes care of us," Newman said. "He's a no-nonsense guy. His biggest thing is playing with tempo, and he has the ability to make adjustments throughout a game to take advantage of a defense."
Part of it is because of guys like Newman. Earlier this month, Newman and tight end Kenny Yeboah earned invitations to the 71st Senior Bowl in January. Top prospects dot two rosters, who are coached by the staffs of NFL teams.
As a finish line appears on the horizon, a starting gate seems to be next to it. The kid once said to be the next great basketball player at Nashville – and he was pretty darn good, helping the Hornets come within a double-overtime loss of a 2014 Class 2A state crown – might make his mark in the NFL.
"I don't know if I could describe what it would mean," Kuhn said. "In my opinion, there's a pretty high ceiling for the young man.