CARTERVILLE – Although many anglers have mothballed their rods and reels for the season, Herrin's Dave Henson continues to mine for Crab Orchard crappie on a regular basis.
"I fish it every year until it freezes up the eyelets," said the former Saluki basketball player (Class of 1963). "Then you have to quit. But, it's been warmer this year.
"I'll go 3-4 times a week. I try to golf once, but I try to fish three times a week, then you know where they're at. You can track them (crappie). In October and November, it's as good as it gets. Once the water gets down to 50 degrees, it gets good. I'd say November is my favorite."
And, Dec. 10 was a nearly perfect day for fishing. The temperature hovered near 70, it was slightly overcast with a steady breeze out of the south. A former Rend Lake devotee, Henson has been concentrating on Crab Orchard for the past six years.
"You don't have to count them (crappie)," he said. "You don't have to measure them. I have a good place to clean them. It may be even better at Crab Orchard. I'm catching bigger crappie, and maybe not more, but I'm catching bigger crappie."
Henson has used the past six years to familiarize himself with Crab Orchard. If conditions aren't right, he always has a Plan B, or C, virtually to the end of the alphabet.
That worked in his favor last week.
Henson bounced across the choppy surface to one of his honey holes, located near Snake Island -- he fishes so frequently that the GPS coordinates for his favorite spots are committed to memory. But, on this day, someone had already beaten him to the spot.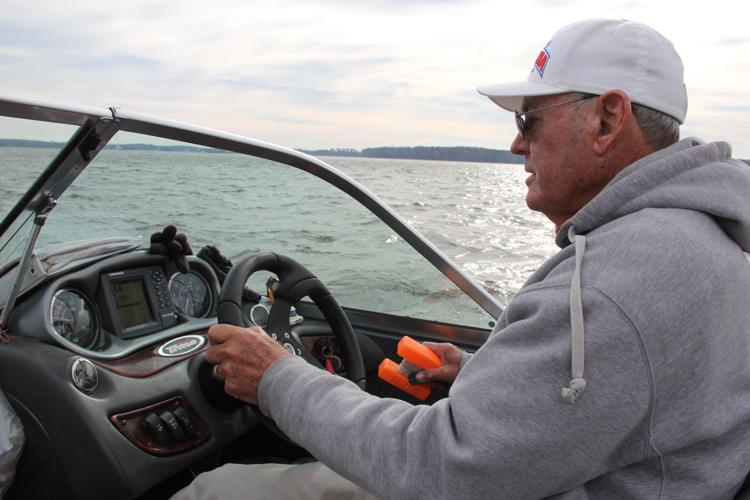 Undeterred, Henson trolled to another spot on the same underwater ridge. He grabbed a pair of six-foot rods, each baited with a pair of jigs. Henson perched on the bow of the boat, a rod in each hand and trolled up and down the ridge.
Although he caught several fish, Henson was uncomfortable fishing so close to another angler. Pulling up his trolling motor, he announced he was headed to the" 300 Hole", a spot that earned that moniker after he and a friend caught 300 fish in the location one afternoon.
"An old-timer, Vince Byrne, showed me the lake and gave me at least 100 hot spots," Henson said. "By the time I fished them, about 20 were good because they do wear out because the brush disappears. I do have a book with another 20 hot spots. I could go to 30-40 hot spots in a week.
"Wind eliminates half of your spots, right off the bat. If it's going to rain, I'll fish in the rain, but if it's raining too much I'll get under the two bridges. You can catch them under the bridge if you can put up with the noise."
Although the "300 Hole" produced good numbers of fish, Henson occasionally looked over his shoulder to see if the Snake Island spot had been vacated. Ninety minutes later, the urge to return was too strong to ignore.
And, the move proved productive as Henson reeled in fish after fish.
Like most crappie fisherman, Henson has a favorite technique. He uses six-foot spinning rods with 10-12 pound test line and fishes exclusively with jigs.
Except for an occasional gratuitous "I'll be back" reference, the thought of quoting Arnold …
"About 8-10 years ago I got rid of minnows," he said. "I found out you don't need minnows to catch fish. So, why use the minnows and get your hands cold? And, the expense, keeping them alive -- I'm 100 percent jigs now, and I think you can catch just as many."
And, he uses heavier jigs than many crappie anglers.
"I like an eighth-ounce on the top and a quarter-ounce on the bottom," Henson said. "I can feel it. When you get over 70 you don't have the touch, so I like that extra weight. And, an excellent fisherman told me about it, 'Don't be afraid to use a quarter-ounce, I'm catching bigger fish on them.'"
And, the proof is in the angling – 3-4 times a week.
"Crappie are good to eat," he said. "Other people like to eat them. I like to give them away. I like being out in the fresh air."