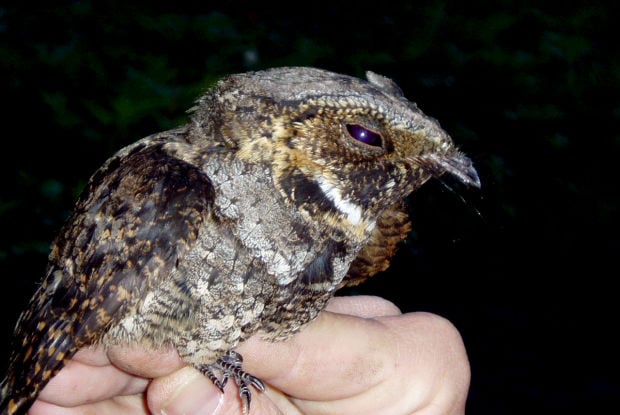 Anyone who has camped in the eastern United States has had this experience.
You've spent the evening sitting around the campfire after a satisfying dinner. A nice gentle breeze cools the evening air as you settle down for a night of blissful sleep.
"Whip-poor-will. Whip-poor-will. Whip-poor-will."
Initially, you close your eyes and smile, enjoying the sounds of nature.
However, 30 minutes, you're still hearing, "Whip-poor-will. Whip-poor-will. Whip-poor-will."
Unfortunately, that evening serenade is becoming increasingly rare throughout Illinois, indeed throughout the whippoorwill's range.
"We've known for quite a while their populations are crashing," said Mike Ward, a professor of natural resources and environmental sciences at the University of Illinois.
There are a couple different hypotheses for the whippoorwill's decline. One is the decline in moth populations. Whippoorwill's feed exclusively on moths and other flying insects.
"Historically, if you drove down a back road, your windows would be covered with moths," Ward said. "That doesn't happen any more."
Most moth populations seem to be in decline. Some scientists believe that may be the result of agricultural pesticides, but Ward said that is merely speculation at this time.
"People don't really monitor moth populations, so we don't have a great deal of data on them," he said. "There are some species that people anecdotally notice, you just don't see them anymore."
You have free articles remaining.
Whippoorwills essentially fly about the forest with their mouths open, eating moths and other insects.
"On nights with full moons they fly around a little bit more, so they are probably seeing the moths," Ward said. "They have huge mouths."
The other issue is forest management. Whippoorwills thrive in open forest. The presence of invasive species such as honeysuckle, buckthorn and autumn olive are making many forested areas unsuitable for this nocturnal bird.
"What we suggest is for people that own a back 40 of some forest, do some management, do some burns and open it up," Ward said. "If people could do that, it would probably help out."
The decline probably results for a combination of the two factors. Ward said a related species, the common nighthawk, is also in a steep decline. Since both species feed heavily on moths, it appears that a dwindling food source is at least partially to blame.
At one time Ward said there were hundreds of thousands of whippoorwills in Illinois. They were found in every county.
"They no longer occur in Champaign County," Ward said. "In the Chicago area, there is only one area you can go hear them."
Southern Illinois has the greatest concentration of whippoorwills remaining in the state.
A robin-sized nocturnal bird, the whippoorwill is rarely seen. A mottled brown bird, it blends in with the forest floor.
"During the day, the only way you can see them is if you flush them off the forest floor," Ward said. "If you're driving around at night, you might see them at the edge of the road. If you want to see them, go to the Shawnee and drive along the gravel roads. You'll see them at the edge."
The Audubon Society estimates there are still 1.2 million whippoorwills. The bird's range includes the eastern United States west to Iowa, Missouri and northern Arkansas. The southern edge of their range runs through northern Georgia, Mississippi, Alabama and South Carolina.
As of yet, the whippoorwill has not been listed as endangered or threatened in Illinois.
"They've talked about it," Ward said. "We need more solid data before we can list them."