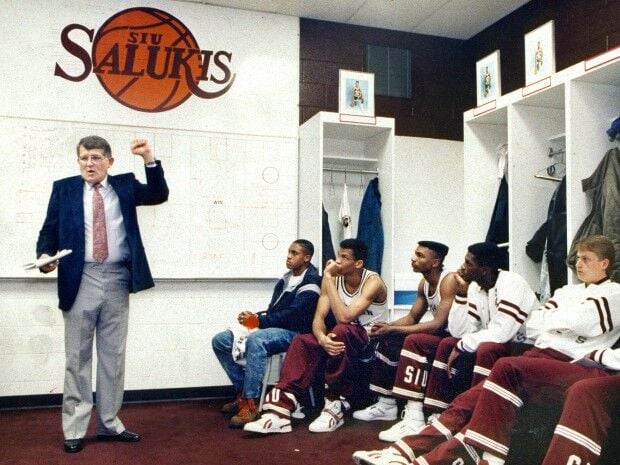 Southern Illinois was saddened to hear the passing of legendary basketball coach Rich Herrin (1933-2020) late on Christmas day.
The 87-year-old coach will forever be remembered in Benton after the high school renamed its home arena to "Rich Herrin Gymnasium" in the early 1970's. Herrin's 521 wins with the Rangers happened between 1960 and 1985, which was set up after coaching four years in Okawville (1956-1960) where he averaged nearly 24 wins a season.
Herrin also coached at Marion High School from 2002 to 2007, and amassed 677 career wins in 29 seasons before his five-year tenure with the Wildcats. His resume included coaching at Morthland College in West Frankfort before the school ultimately closed in 2018.
"I have been very fortunate to be a coach," Herrin told The Southern back in June when he was interviewed for the Top 10 Sporting Venues in Southern Illinois. During his interview, the Benton native reflected on his time coaching the SIU men's basketball team from 1985 to 1998 where he recorded 225 wins with 111 of those coming against Missouri Valley Conference rivals.
"What I went through during those first couple years of coaching was difficult because it was tough selling athletes to come play in Carbondale," he said. Herrin's hard work finally paid off when he was inducted into the Saluki Hall of Fame in 2000 and the Missouri Valley Conference Hall of Fame in 2010.
Those accomplishments never came easy for Herrin. He told The Southern about a 27-day period during his first month with the Salukis where he was away from home trying to recruit athletes to come play in Carbondale. In the end, he transformed Saluki Basketball into a program that made seven straight trips to the postseason, including three straight NCAA Tournament appearances from 1993 to 1995.
Herrin's memory will live on
Herrin's mentorship left lasting impressions on former players such as Nashville High School basketball coach Wayne Harre, who played at SIU from 1986 to 1988.
"I entered college as a walk-on, signed to go to Edwardsville," Harre said. "Then I wanted to get into agriculture and they didn't have what I wanted, so Coach Herrin called me and asked if I wanted to walk on. I knew my abilities weren't the best, but I played more than I could have hoped for."
Harre took advantage of his opportunity and it led to earning a scholarship offer from Coach Herrin in his second year.
"It's just something you think about," Harre added. "It's something I never thought could happen and it just did. Being around (Coach Herrin) every day at practice, he just pushed you and wanted you to do better. You wanted to play for him, wanted to please him, and he instilled a lot of that stuff in me."
Carterville baseballers sign the dotted line
Carterville High School's Jarrett Glenn and Braden Ingle announced both of their college destinations on Twitter only a few days before Christmas.
Glenn is heading to Frontier Community College as a 5-foot-11, 205-pound corner infielder that has been named second team all-conference. Ingle stands at 6-3, 215 pounds, and is packing his bags to pitch at Southwestern Illinois College in Belleville following graduation. Certainly a proud moment for Lions baseball coach Bobby Jackson.