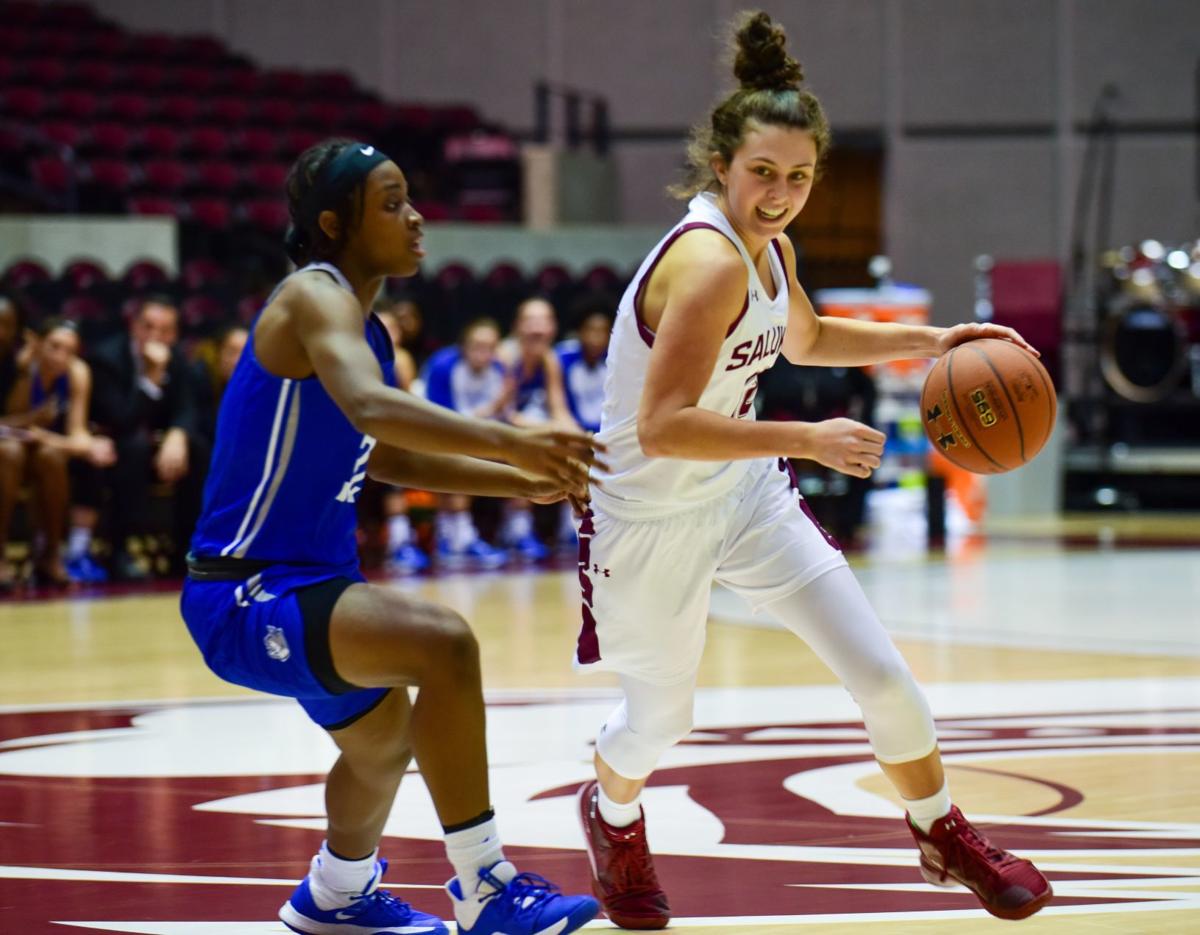 The 2-4 record the University of Tennessee-Martin brings to the Banterra Center for tonight's 6 p.m. game with the Saluki women is deceiving.
There are two Top 25 losses on the Skyhawks' ledger this season. UT-Martin dropped an 82-46 decision to 10th-ranked Mississippi State and also fell 78-55 to No. 22 Gonzaga. In addition, the Skyhawks own a win over IUPUI, a team that defeated SIU 81-78 Nov. 12.
Conversely, SIU has a 61-53 over Saint Louis, another team that has beaten UT-Martin.
"They're a very good team," said SIU coach Cindy Stein. "I don't think their record is indicative as to how good they are. They've played the No. 10 team in the country, the No. 22 team in the country. The numbers look like we're pretty evenly matched, it's going to be a tug of war."
Historically, the Salukis have struggled with the Skyhawks. This will be the 21st meeting between the schools. UT-Martin holds a 9-11 edge in the series. The Skyhawks eked out a 95-94 win last year at Martin. The home team has won each of the last three games in the series.
"I think our team is familiar with them," Stein said. "They are familiar with us. That lends itself to closely executed games. As a coach, you want to have a little more cushion, but they're good, so we'll have to be ready to play a great 40 minutes."
The Skyhawks have struggled away from home this season, shooting just 32.5 percent in their four road losses.
The Salukis will have to stop 6-foot-2 point player Chelsey Perry. The junior is averaging 14.7 points, 7.3 rebounds and 2.3 blocked shots per game. The Skyhawks also get double-digit scoring from guards Damiah Griffin (11 ppg) and Tamiah Stanford (10.2 ppg).
"All their kids can always score," Stein said. "They're always shooters. They throw a lot of random defenses at you. They try to make it chaotic. You have to play with poise and under control because they are always changing something up."
As for SIU, the Salukis (4-2) are off to their best start in Stein's seven seasons. The Salukis are coming off last week's hard-fought 61-53 win over Saint Louis. SIU is looking for its third straight win.
Makenzie Silvey is SIU's leading scorer so far this season, averaging 20.3 points per game. The junior guard is shooting 45.7 percent from beyond the arc. Nicole Martin has chipped in 15.5 points per game while Abby Brockmeyer is scoring 12.8 and averaging 7.3 boards per game.
Silvey is currently the leading scorer in the Missouri Valley Conference.
In addition, Brittney Patrick, Kristen Nelson and Gabby Walker are averaging about six points per game.
"We feel we have a much deeper team," Stein said. "We know that going into our conference play, if you've watched our conference teams. We have some great wins in our conference. Teams are so much better. If you don't have depth, you're going to get wiped. out. It's just too long a season to go with five or six kids."
Martin is on the verge of cracking the Top 20 in career scoring at SIU. The senior center is 21st on the list with 1,130 points, four points behind Theia Hudson and eight behind Angie Rougeau.
Game time is 6 p.m. at the Banterra Center.
618-351-5088
On Twitter: @LesWinkeler​
Be the first to know
Get local news delivered to your inbox!