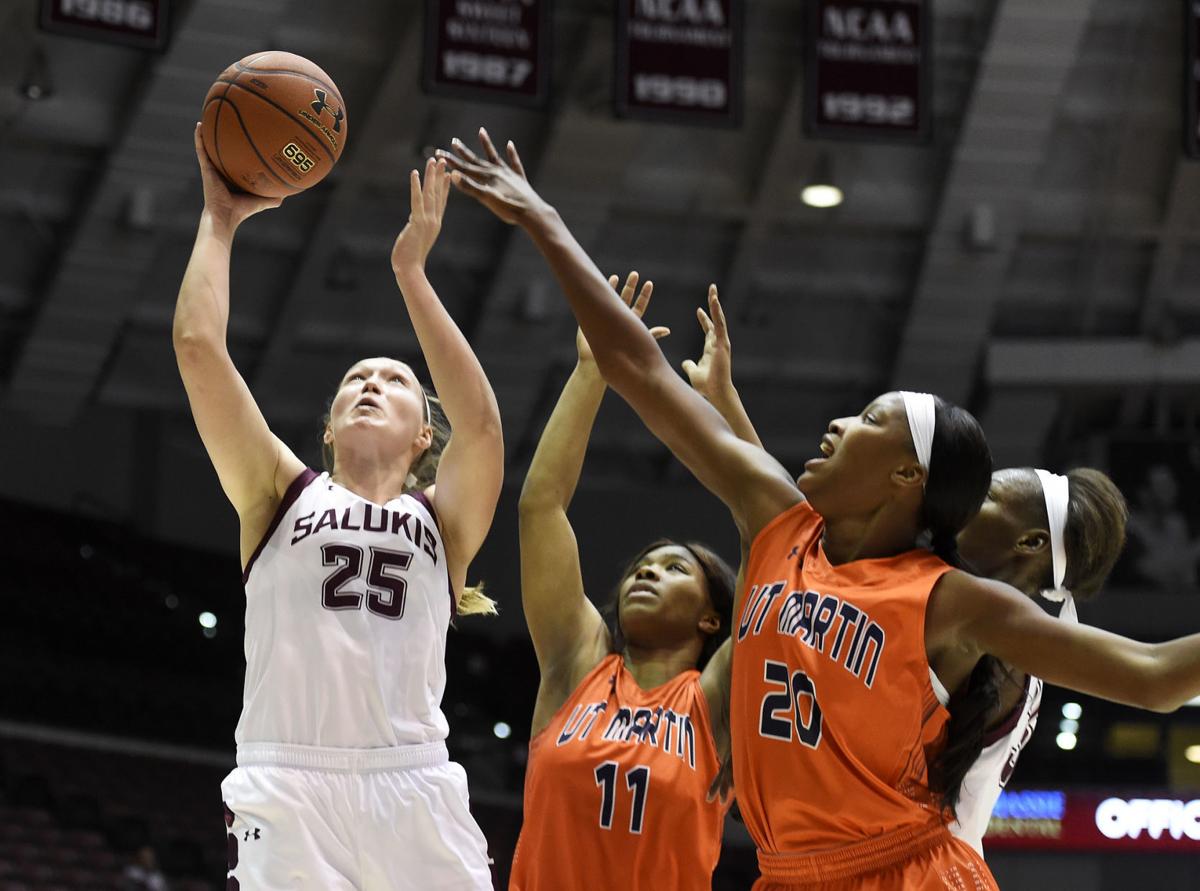 CARBONDALE — The Southern Illinois University women's basketball team will be completing the Ohio Valley Conference portion of its schedule today when the Salukis meet Murray State at 2 p.m.
So far this season, the Salukis have defeated Tennessee Tech and the University of Tennessee-Martin, while they lost to Southeast Missouri State last week. The schedule heavily laden with regional schools is neither an accident nor coincidence.
"I told them, we've been playing for the Midwest trophy," said SIU coach Cindy Stein. "Honestly, it happened when Tommy Bell was here. He was kind of depleting our travel budget and wanted us to play regionally. They are quality opponents. We go head-to-head on a lot of recruits with these teams. So we run into each other a lot."
The Salukis come into the game 5-3, still smarting from a 79-65 loss at SEMO last week.
"We did not play well," Stein said. "There wasn't any part of our game that we had a good showing. We got outplayed, outcoached and we needed to be better. They were a lot more prepared than we were. That falls on me."
This will be the 47th meeting between the Salukis and Racers. SIU holds a 41-5 edge in the series, including a 65-59 win at Murray State in 2018.
But, this will not be an easy game. Murray State will bring a 6-2 record to the Banterra Center. Their only two losses are to Louisville and Mississippi State, both Top 25 teams.
You have free articles remaining.
The Salukis will have to contain Murray State point guard Macey Turley who averages 19.1 points, 4.3 rebounds and nearly five assists per game.
"And she has a great supporting cast," Stein said. "They just beat Indiana State last Saturday, so they have some good wins."
The Salukis have played well at times this season, but performances have been uneven despite the fact SIU is a veteran team.
"I think the difference is because we are trying to play so many kids," Stein said. "We're trying to keep a good rotation and our depth. I think sometimes that lends itself to not gelling real early, so everyone is kind of feeling out what their roles are.
"I don't think any coach can say we're going to gel this time of year. Everyone is different. We've had teams that gelled early and fell apart late. I'm not worried. I'd prefer for them to gradually get there. If you're hitting on all cylinders early, that's hard to maintain. The biggest thing we have to get better at is, our defensive energy has to be there every game. That was what was lacking last Saturday. We didn't want to play defense. That's where we have to rely on our veterans to step up."
On a more positive note, the Salukis have been getting balanced scoring.
Makenzie Silvey is leading the team at 19 points per game. Nicole Martin is next at 13.8 and Abby Brockmeyer is averaging 12.6.
Following today's game, the Salukis return to action in the Compass Challenge at Northern Illinois. The Salukis will play Western Illinois at 4:30 p.m. Dec. 19.
618-351-5088
On Twitter: @LesWinkeler​