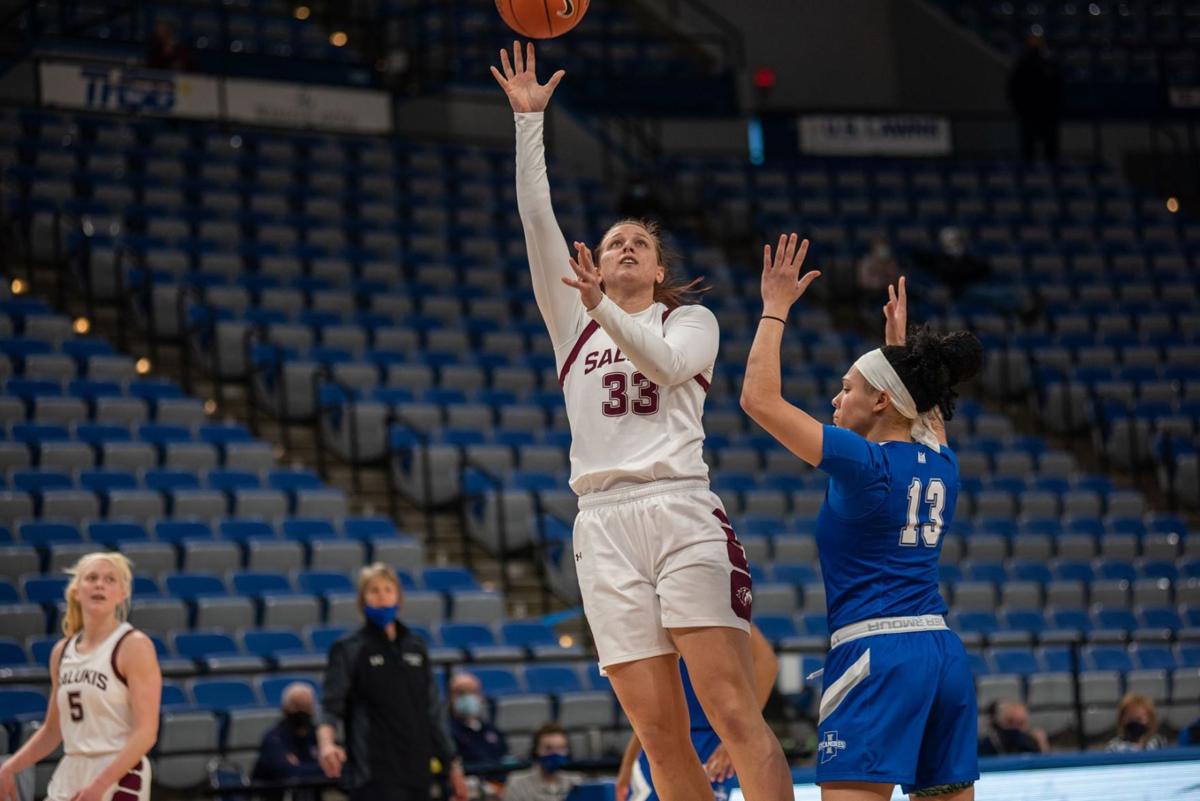 All hard work and no reward leads to an unsatisfied, downhearted basketball team.
Little wonder that the SIU women have felt pretty good at practice this week in preparation for Wednesday night's visit from No. 23 Missouri State. After all, winning really is the cure for what ails all.
Last weekend's 15 and 24-point wins at Indiana State didn't just stop a streak of eight losses in nine games for the Salukis (8-10, 5-8). They marked an offensive breakthrough roughly two months in the waiting.
And while any mention of last weekend should carry with it the caveat that the Sycamores are the Missouri Valley Conference's worst defensive team and were coming off a 23-day COVID-19 pause, it should also be noted that SIU hadn't topped 79 points all year until Friday night's 84-69 victory.
Also, it canned 54.8 percent and 55.6 percent from the field in those wins, notching assists on nearly three-fourths of their baskets. All those made buckets also took pressure off and improved the team's defense.
"I've always said that when a kid makes a shot, they run down the floor a lot quicker than when they miss," said Salukis coach Cindy Stein. "It brings a lot more energy and you rely on your instincts more. And basketball is also a game of instincts."
It is also, as former college basketball coach turned commentator Seth Greenberg is fond of saying, a make-and-miss game. And if SIU is to keep the Bears (15-2, 11-0) from clinching the Valley title outright on its home court, it will have to make at a much better pace that it did in last month's meeting in Springfield.
While that was the Salukis' first game after an 18-day coronavirus break, they also experienced the same problems nearly everyone else has when faced with Missouri State's height and physical play.
They hit only 26 percent from the field and managed a measly four assists on 13 field goals, a condemnation of a lack of ball and player movement. That SIU had the game within nine points in the last five minutes before falling 61-44 was solely because of a great second half defensive effort, not because it ever executed consistently on offense or finished at the rim.
"The biggest thing with Mo State is you have to handle the physicality of the game," Stein said. "They are bigger than we are, so it tends to be very physical."
On paper, the Salukis aren't all that well-equipped to deal with it. Abby Brockmeyer (sprained ankle) will miss her fifth straight game. Gabby Walker, Rachel Pudlowski and freshman Adrianna Katcher must battle successfully with taller timber while avoiding crippling foul trouble.
The path to victory for SIU looks something like this: Making 3-pointers early that would open up the lane for penetration or one-on-one post-ups, taking care of the ball and at least matching the Bears on the glass. They possess a plus 9.2 advantage per game and are second in Division I with a .787 defensive rebounding percentage.
The good news for the Salukis is that senior Makenzie Silvey is at the top of her game. She averaged 23.5 ppg last weekend at Indiana State, earning Valley Player of the Week for the first time in her career.
Stein, who more or less forecast a Silvey surge earlier this month, said this stretch is the first time she's resembled the sharp-shooter she was her first three seasons.
"It's the most comfortable I've seen her all year," Stein said. "That's the Mak we see in practice every day, so it was nice to see her play like that."
If SIU is to repeat last January's memorable 70-68 upset of Missouri State in the Bears' last visit to Carbondale, it's likely Silvey will have to stay in her comfort zone.