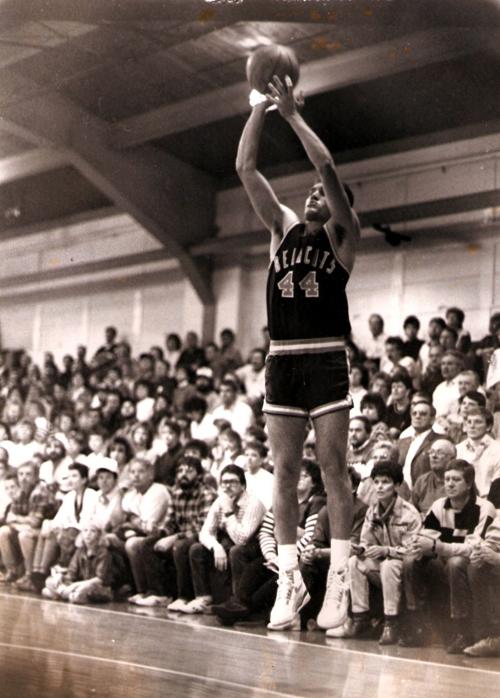 CHRISTOPHER — The Black Diamond Conference was filthy rich in talent in the 1980s. Four players who scored more than 2,000 career points each either finished their basketball careers or started them in that decade.
One of those four scoring machines was T.J. Wheeler of Christopher.
The pride of Buckner, a small village east of town that filters into the Christopher school district, Wheeler put together an amazing four-year run with the Bearcats. He scored a total of 2,528 points, ranking him 12th best in Illinois history at the time he graduated in 1990.
Wheeler first learned the game from his father, Tom, who enjoyed great success coaching the Bearcats. His inspiration, however, was Zeigler-Royalton basketball phenom, Sean Connor, who was five years Wheeler's elder. Connor was also a 2,000-point scorer for his career and took his talent to Notre Dame upon graduation.
"There were a lot of great players in Southern Illinois when I was growing up," Wheeler said. "There was Brian Sloan of McLeansboro, Bruce Baker of Benton, Monte Kuhnert of Du Quoin, Steve Bardo of Carbondale and Lucius Reese of Cairo among others, but Sean was my guy. I idolized him. I wanted to be like him and modeled my game after him. When he went to Notre Dame, I watched every one of his games on video. When he would come home for a visit, he would pick me up and take me somewhere to play. It might be Benton one night and West Frankfort the next. Wherever we could get a game. Sean was like a big brother to me."
Wheeler led the south in scoring both as a sophomore (29.3 points per game) and senior (32.7 points). He was also the only player competing in the Class A or small-school division to be named All-State three straight years by the Associated Press, Illinois Basketball Coaches Association and Chicago Sun Times.
Wheeler was a one-man wrecking crew of the record books at the Eldorado Holiday Tournament, being named to the All-Tourney team there all four years, and still holds the single-game scoring record of 51 points his sophomore year versus Egyptian. Altogether, he finished with 151 points that year at the tourney.
"I loved playing every game at the Eldorado Holiday Tournament," said Wheeler, who now sells sporting goods for Eastbay Team Sales in central and Southern Illinois. "That tournament was the best one out there as far as I'm concerned. The atmosphere was always great — lot of fans at every game. People would go to that tournament to watch basketball. It didn't matter who was playing."
Wheeler quickly added that there were some big conference rivalries, too.
"Definitely," he said. "With Zeigler-Royalton being so close and Sesser-Valier the same. We had some great games with those two schools. It made things fun for sure."
Listed at 6-foot-4, Wheeler was a shooting guard who could handle the ball against pressure, penetrate from the wing and baseline, or even post up a defender down low.
"As far as team success is concerned, the '88-'89 team, which was my junior year, was the best," Wheeler said. "We went 24-4. We ended up winning a share of the conference championship with Sesser-Valier and won our own regional tournament, beating a really good West Frankfort team in overtime."
Wheeler said he remembers quite a bit from that championship game.
"I remember hearing all the Christopher fans cheering when Illinois coach Lou Henson walked into our gym. The game went back-and-forth the whole night. Near the end of regulation, I missed a shot, but fortunately, Mike Reed rebounded and put it back in as time expired," Wheeler said.
"In the overtime, we were down one and I had the ball. I cut to the wing and pulled up for the shot. I hit the shot and was fouled. It might be the only shot I ever hit off the backboard."
The Bearcats advanced to the sectional tournament at West Frankfort, but lost the opening round to Norris City, a team led by another spectacular player in Reed Jackson.
"They beat us in the championship game at Eldorado, too," Wheeler said. "Still, it was a good year. We won a share of the conference and the regional."
The Bearcats were not too shabby in Wheeler's senior year either, posting a 19-6 overall record. Again, the Bearcats won a share of the league title with Sesser-Valier. And in the postseason, West Frankfort turned the table on Christopher, knocking the Bearcats out of the regional.
Wes Choate coached Wheeler during those two winning seasons. He replaced Rick Cook, who took over the superintendent reins at the school district.
"Coaching T.J. was a coach's dream because he is one of those few players who made everyone around him better players," Choate said. "Having a kid with an understanding of the game like he had is invaluable to a team's success."
Choate said Wheeler worked hard at his craft.
"Before I got to Christopher his junior year, T.J.'s dad and uncle (Steve) had convinced him that if he wanted to play Big 10 basketball someday, he would have to get stronger.
"He would lift weights nearly every day and then put on some weighted shoes while shooting 3-pointers," Choate said. "That allowed him to stay flexible in the upper body, while also strengthening his upper body and legs."
The 51-point game against Century at Eldorado his sophomore season wasn't the only time Wheeler touched 50 points. He blew up for 53 points in a game at Sandoval his junior year and tacked on 52 his senior year at home against Sesser-Valier.
Wheeler said much of his success with the Bearcats in basketball could be attributed to his teammates.
"A lot of my teammates — Scott Anderson, Randy Redding, Jake Crews, Chad Bushong, Richie Houghland, Derek Haskins, and Chad Woodland — and before them guys like Richie Towers, Donnie Miklos, Mike Winget and Randy Beltz — all gave up scoring opportunities when I played. Many of them set picks for me and helped to get me the ball in a position to score. I couldn't have done all that I did without them."
Wheeler was not just a one-sport athlete. He also competed in football and track. In football, he was the Bearcats' quarterback as a senior and defensive back. He made All-Conference as a defender.
In track, he was more decorated, having qualified for the state meet his sophomore through senior years. As a senior, he placed fifth in the 110-meter high hurdles.
He graduated with school records in the high hurdles, low hurdles and high jump.
"I didn't have a choice when it came to track because my dad coached the team," Wheeler said with a chuckle. "There were times I would hide from him because I didn't want to run. He would be on the south end of the track and I would be on the north end. He usually would catch up to me at some point, though."
POST CHS: It was a tough decision, but in the end, Wheeler accepted a scholarship offer from the University of Illinois over the likes of Michigan State, Rice, Stanford, Minnesota and SIU.
"The SIU visit was a great one. I knew Coach Rich Herrin and his assistants, Rodney Watson and Ron Smith. Three of the players — Rick Shipley, Eric Griffith and Matt Wynn — took me around campus. I liked it a lot. But it was always my dream to play for the U of I. It was hard, though, telling Coach Herrin that I wasn't going to be a Saluki. He told me not to worry about it and to 'make Southern Illinois proud.' And that's what I tried to do."
Wheeler said he got some playing time with the Fighting Illini as a freshman, actually starting a couple of games.
"I started about every game my sophomore year, was in and out of the lineup my junior year, but then started every game my senior year," he said.
"Our best team was my senior year. We were a preseason Top 10. That was the year that Deon Thomas was a senior, too. We had a chance to do some good stuff, but we just couldn't put it all together for whatever reason. Georgetown beat us in the first round of the NCAA tournament. And we didn't win the conference either."
For his career, Wheeler tallied 883 points and added 368 rebounds with 264 assists. He was invited to participate in pro camps hosted by the Chicago Bulls and Indiana Pacers. Wheeler was also drafted in the fifth round of the CBA by Rapid City, South Dakota.
Wheeler earned a bachelor's degree in marketing. He and his wife, Deanna, reside in Tolono, near Champaign, with their four adult children.
"I come home to Buckner to see my parents (Tom and Lynda) about every week and check to see if any of my clients down here need anything. My job allows me the opportunity to stay involved with sports, and I like that."