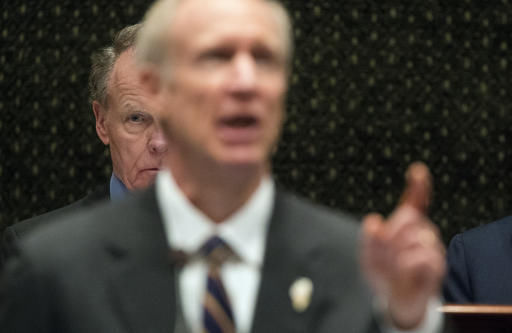 Starting today, The Southern and its sister papers throughout Illinois embark on the "State of the Standoff," a three-part series that looks at those most affected by the failure of state leaders and lawmakers to make tough budget decisions.
SPRINGFIELD — First-term Republican Gov. Bruce Rauner and long-serving Democratic House Speaker Michael Madigan agree that Illinois' long-term budget deficits are a major threat to the vitality of the state.
Where they diverge is how to address those deficits, and that fundamental disagreement has been at the root of an impasse that has plagued the state for the past two years.
Rauner came into office vowing to "shake up Springfield," which he argued was controlled by special interests and entrenched politicians, namely Madigan, who's been speaker for all but two of the past 34 years and also leads the state Democratic Party.
The new governor's prescription was the "turnaround agenda," a set of policies, such as changes to workers' compensation laws and collective bargaining rights, that he said would jump-start Illinois' economy and bring more money into the state's coffers.
While he acknowledged that tax increases of some kind would be needed to balance the budget, he said he'd only sign on if the Democratic-controlled legislature agreed to some of his proposals.
Madigan, meanwhile, argued that much of what the governor wanted ran afoul of the Democratic Party's core values. He accused Rauner of holding the budget-making process hostage to advance his personal agenda.
The speaker's prescription has been a combination of spending cuts and tax increases to bring the budget into line. Madigan has said Democrats don't have the votes to pass a tax increase on their own.
More recently, he's proposed a 50 percent reduction in the corporate income taxes, coupled with provisions to make sure every company pays something, and increased investments in higher education and infrastructure to spur economic growth. But Madigan isn't tying that to budget negotiations.
In separate interviews with the The Southern's Springfield bureau, Rauner and Madigan showed that their positions haven't significantly changed since the last comprehensive state budget expired after June 30, 2015.
"The reality is our system in Illinois has been broken for a long time and has needed significant changes," Rauner said. "The reason I ran for governor was to change it. We need more jobs. We need better funding for schools. We need to have balanced budgets."
Among the changes Rauner has pushed are term limits for elected officials and an independent commission to redraw legislative districts once a decade. He said those actions would send a message to businesses and taxpayers that Illinois is changing.
Madigan and many Democrats counter that those ideas have nothing to do with the budget and should be addressed separately.
The speaker notes that, despite their political differences, he was able to reach compromises with Govs. Jim Thompson, Jim Edgar and George Ryan, the previous "card-carrying Republicans" who held the office during his tenure.
"All three of them were very successful in working with a Democratic legislature, identifying governmental problems, acknowledging political differences, and then working through all of that and coming to agreements that would be in the best interest of the people of the state of Illinois," Madigan said, adding that Rauner could learn from his GOP predecessors.
Both leaders said they've attempted to compromise, often to no avail.
One situation that typifies these attempts was a proposal early in Rauner's tenure to privatize some operations of the state Department of Commerce and Economic Opportunity.
Madigan said House Democrats supported the effort but wanted to put in a three-year sunset provision to re-examine the setup because similar arrangements in other states, including Wisconsin, have run into problems and scandals.
Rauner said the Democrats' proposal might have made for a good headline but wouldn't have been effective because the new organization wouldn't be able to attract talented people if they thought it might go away in a few years.
Instead, Rauner helped launch an independent, not-for-profit corporation last year to work with the Department of Commerce and Economic Opportunity to attract businesses to the state.
Looking back at the past two years, neither Rauner nor Madigan could offer an example of something he could have done differently that might have brought the standoff to a swifter end.
But looking forward, they both said they have some degree of optimism that a resolution may be in sight.
Rauner said he's "heartened" by the Senate's discussion of a "grand bargain" on the budget and other issues, including some changes to workers' compensation laws and term limits for legislative leaders.
He's also encouraged that House Democratic leaders are talking about the need for economic growth and that the House passed a bill at the end of the previous legislative session that would've required voter approval for future property tax increases.
While he's made specific items on his agenda prerequisites to a budget deal in the past, Rauner said he's not insisting now that any specific item be included.
"The critical thing is that whatever compromise we work out, it needs to be real and needs to really make a difference," Rauner said.
Madigan, meanwhile, said his "optimism is a little tempered with reality and hope" based on his four decades in Springfield.
"When people want to be reasonable, you can come to an agreement," he said.