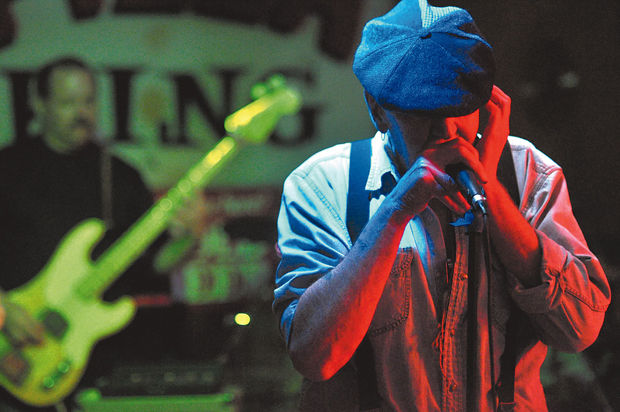 High energy, house rockin', and outrageous, Tawl Paul (a.k.a. Paul Frederick) and his band Slappin' Henry Blue have been testifying to the blues for several decades on the Carbondale Strip and throughout the area. Once you've heard Tawl Paul's deep gravel voice deliver a Howlin' Wolf or Robert Johnson standard -- or have experienced his electric stage presence -- you'll understand why newcomers to Carbondale hear over and over again, "You've got to go see Tawl Paul!"
"The blues is just a basic human experience," Frederick said. "We all get the blues no matter who we are. I think people really relate to that. Other musical trends come and go, but it always comes back to the blues."
Tawl Paul Frederick has been singing the blues for almost 40 years. Legend has it, his uncle used to take him to see Muddy Waters and Howlin' Wolf when he was growing up in Chicago. Paul started out performing on the street in Carbondale.
"I just love singing and entertaining," Frederick said. "It's a part of my life and I love doing it. I just can't escape it."
In front of all the guys with the instruments is the guy with the instrument, the voice. When the music begins, Tawl Paul is more than a singer; he's the ringmaster, directing the chaos around him. It's Paul who calls the shots when he steps up to the mic.
So, on a Saturday night at a roadhouse in Murphysboro or a weekend at PK's, or even an evening at the Pinckneyville Moose, it's all about the music for Slappin' Henry Blue. You're not going to see a lot of ego, or hungry guys trying to make their way out of town. At the core of it, you're going to see five guys playing their hearts out, showing the audience what the blues is all about and Tawl Paul, front and center, the conduit for the energy.